'Al Rojo Vivo' debuts dynamic, layered new look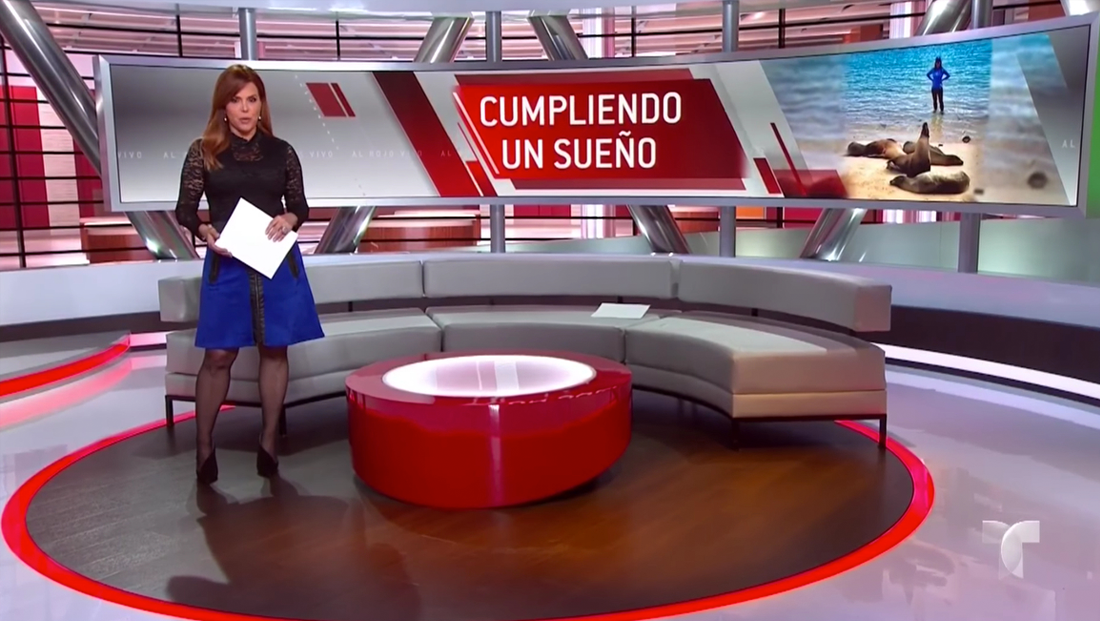 Telemundo's entertainment newsmagazine "Al Rojo Vivo" has a vibrant new look that mixes depth and an LED panel with a bit of television magic.
"I've always believed the best use of virtual reality is when its mixed with both real and virtual set components, masking some of the minor deficiencies that virtual technology still has to iron out. It also leaves viewers maybe guessing as to what is real and what is computer generated," said Telemundo's director of network news operations Jeffrey Liebman.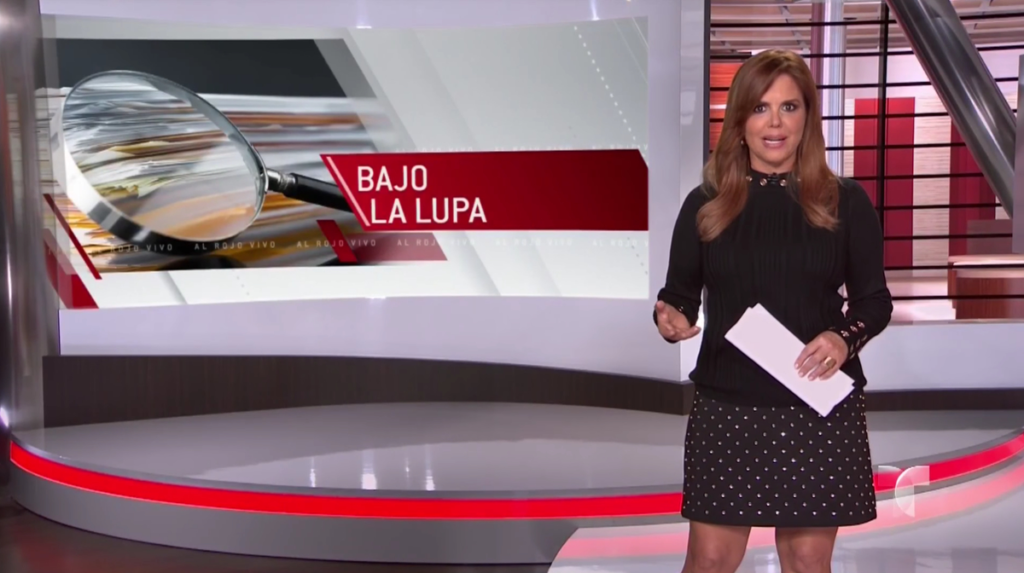 The rounded new set features multiple anchor areas, including a sofa and standup area in the center of the studio backed with a curved LED band behind it.
The set uses a combination of warm, dark woods for the upper framing portions of the set that transitions to glossy white vinyl for the flooring. The furniture is all custom, including a sleek couch and modern red center table.
The set, designed in house by Alex Perrera and fabricated by Propmasters in Miami, serves as the home of the Maria Celeste Arraras-hosted program.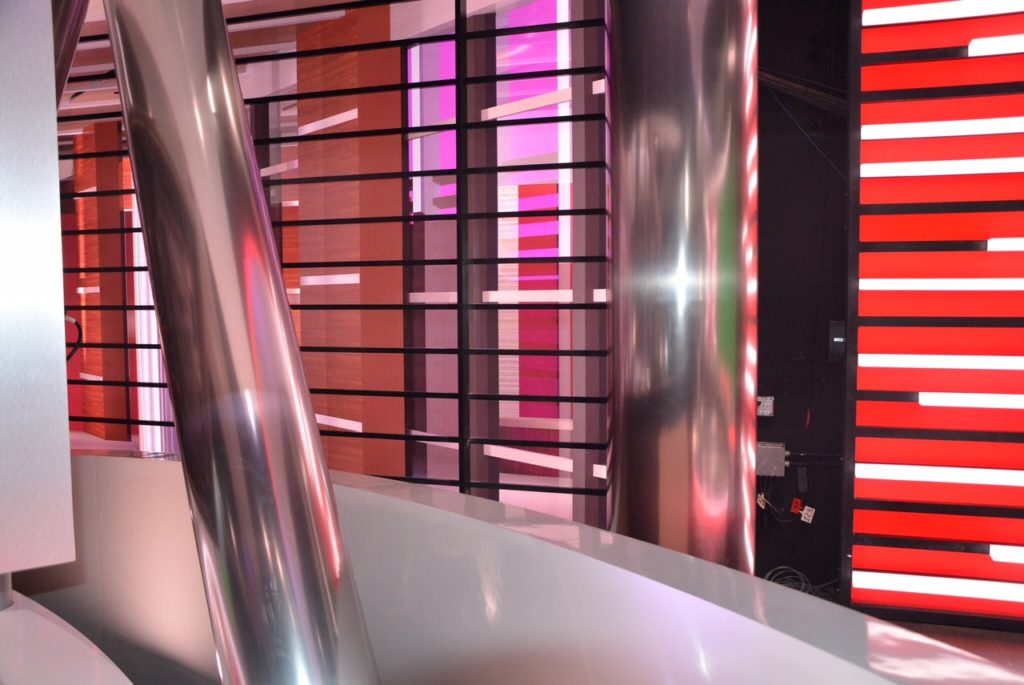 Surrounding this screen is a mix of structural horizontal and vertical bands that allow an additional layer of background to show through.
"(This) was meant to reflect a combination of a modern, techy meets outdoor window effect. The challenge with any duratrans is how to keep to the color palette at the same time not adding too much that it becomes distracting," explained Liebman.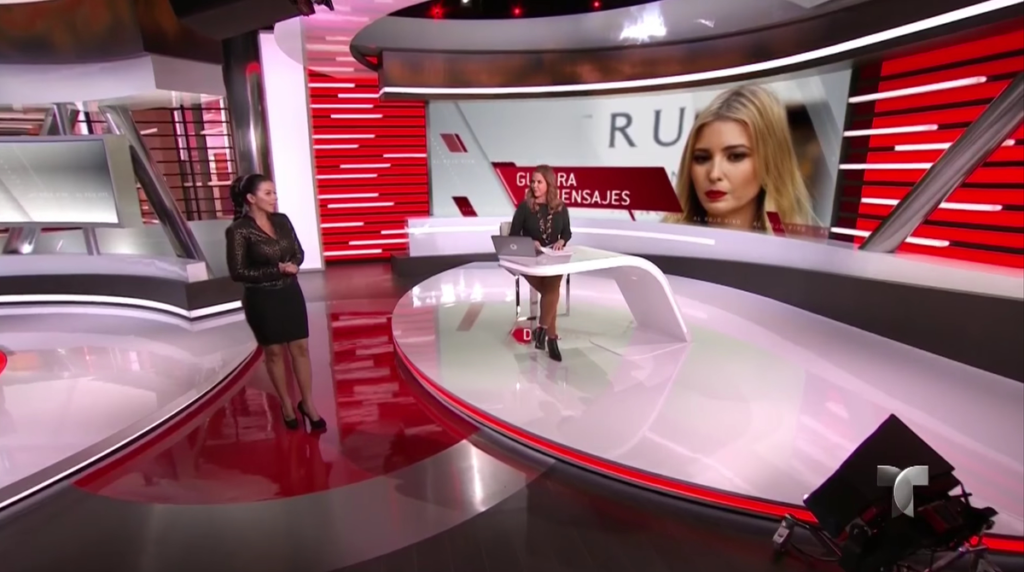 Two additional venues include a standup area with curved chroma key wall used to insert topical graphics and a small, ribbon-like anchor desk also situated in front of a green screen.
Executive Producer Pilar Garibotto and Senior Producer Ricdamis Garcia wanted a set that could incorporate just about anything, including possible musical acts, so the various venues are as flexible as possible.
The set uses a combination of Leyard LEDs and virtual reality technology provided by ChyronHego.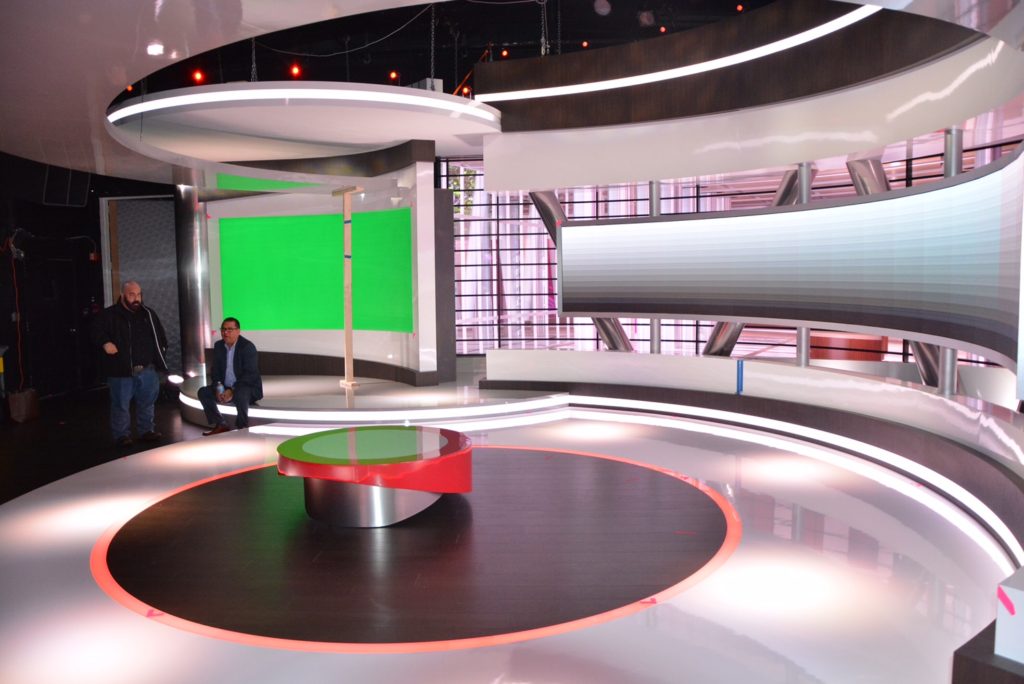 In the seated anchor desk area, the see-through walls are replaced with bold internally lit horizontal slats accented with standout white sections.
The anchor desk, meanwhile provided to be a key part of the project that stretched the creative team's muscles.
"(Alex) wanted it to almost seem as if it was floating. We went back and forth on how to anchor it to the set, knowing the talent may at some point be putting a lot of weight on it," said Liebman.
It couldn't bow and had to support itself, so the team at Propmasters come up with the solution to anchor the desk to the bottom of the circular stage riser, keeping much of the platform that keeps the desk in place hidden, explained Liebman.
The latest in design, production and engineering
Subscribe to NewscastStudio for the latest delivered straight to your inbox.