Imagine Communications broadens boundaries of innovation at IBC2017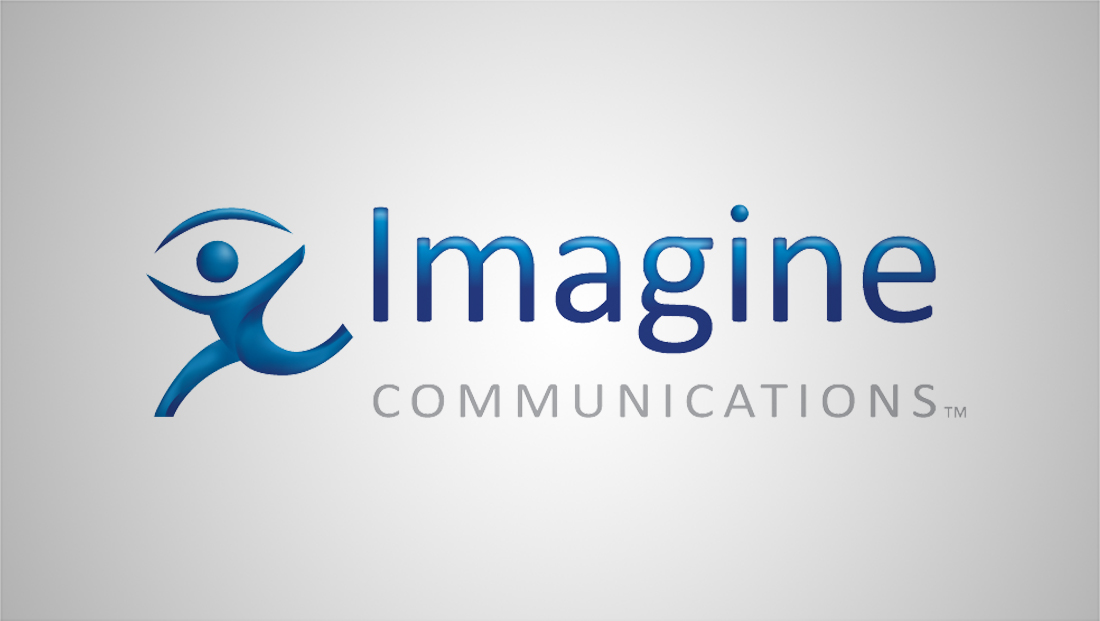 Subscribe to NewscastStudio for the latest news, project case studies and product announcements in broadcast technology, creative design and engineering delivered to your inbox.
Imagine Communications will shine a spotlight on how it is assisting all segments of the media and entertainment ecosystem in the migration of workflows to a more agile technology foundation at IBC2017.
Imagine Communications will use IBC2017, the media and entertainment industry's largest European tradeshow and exhibition, which begins Sept. 14, 2017, in Amsterdam, to provide real-world proof points of how it is assisting several of its customers — through unprecedented openness and the practical application of innovation — to move mission-critical live, playout, distribution and business operations to software-based, virtualized environments based on commercial off-the-shelf equipment.
"For the past several years, Imagine Communications has been leading the evolution toward and embracing the power and efficiencies of IP, software and cloud, delivering the agility, flexibility and responsiveness our clients require to compete in today's hypercompetitive market," said Imagine CEO Charlie Vogt in a statement. "Imagine's bold vision and direction, first articulated at IBC2014, has fully evolved into market-leading advertising, playout and automation, networking and OTT solutions that are being deployed around the world."
Imagine Communications will once again present a series of knowledge-sharing seminars featuring thought leaders from across the media and entertainment and IT industries. In addition to showcasing commercial deployments of next-generation solutions, the IBC2017 ImagineLIVE Power Sessions, as well as a series of Master Classes, will explore critical and timely technology trends, including microservices, cloud, all-IP production, the latest standards, next-gen advertising management and inventory optimization.
Presentations and master classes will be conducted at the Imagine Communications stand (Amtrium, 4.A01) throughout the event.
An additional IBC2017 objective for Imagine Communications is to demonstrate how the company is assisting broadcasters, distributors and other media companies in stretching the boundaries of their businesses and generating new monetization opportunities through the creative integration of broadband networks into their content distribution strategies.
The ability of broadcasters to complement over-the-air transmissions with the two-way capabilities of Internet-based distribution, for example, holds the potential to redefine the competitive positioning of broadcasters in the media & entertainment ecosystem.
Imagine Communications will also unveil additional details of its Open Zenium program, introduced at NAB in the spring.
The Open Zenium program is designed to stimulate innovation through a commitment to collaboration and transparency by sharing source code to the Zenium microservices library with a community of Imagine customers and partners.
Zenium is the company's pure microservices platform for building smarter, more efficient and futureproof media operations.
Open Zenium provides media companies with the ability to customize, optimize, modify, design and deploy next-generation workflows and services of unparalleled efficiency, scalability and performance, as well as gain access to a vibrant software community backed by teams of developers, architects and DevOps engineers.
IBC2017 will also mark the European debut of several product innovations from Imagine Communications, including the Selenio Network Processor, an all-IP-capable processing solution optimized for handling uncompressed UHD signals based on the SMPTE ST-2110 specification for transporting media over IP networks.
SNP is designed to usher in a new era in live production, optimizing both studio and mobile facilities to take full advantage of the performance, agility and efficiency benefits of IT-based infrastructures, while at the same time easing the upgrade of operations to support UHD picture quality.
The most recent enhancements to Versio™, the company's integrated playout solution, will also be featured at IBC2017.
Imagine Communications is spearheading the gradual and managed transition to next-generation architectures across four major pillars — live, playout, multiscreen and advanced advertising management solutions — through the practical application of innovation that oversees every step in the customer's migration of their workflows to more agile and flexible environments.
In addition to the Imagine SNP, featured live production solutions include the hybrid SDI-IP Platinum IP3 router and UHD-ready Epic MV multiviewer. Imagine solutions empower media companies to transform sports, in-venue and other live production operations by leveraging standard IT equipment without squandering investments in traditional broadcast technology or sacrificing performance.
Imagine Communications' production and contribution portfolio provides ultra-low latency encoding and decoding and the delivery of standards-based uncompressed media over IP for HD and UHD, as well as third-party lightweight compression technologies.
Imagine's live production portfolio also supports the most recent UHD processing technologies, including up-down conversion, high dynamic range image quality and precision timing.
Imagine Communications will also participate in the IBC2017 IP Showcase, a cooperation of multiple standards organizations and the Alliance for IP Media Solutions dedicated to demonstrating the interoperability of the ST-2110 specification, currently being drafted, and highlighting the creative and business-building benefits of IP technology.
Imagine Communications' Versio playout and graphic workflow solutions support compressed or uncompressed IP-based playout, advanced multichannel and UHD playback and branding.
Also featured will be the latest interface and integration advances available on the modular cloud-native and hybrid playout and master control solutions, which seamlessly unify playout, automation and graphics and support fully virtualized deployments, including cloud environments.
Showcasing its storage capabilities, Imagine will demonstrate the capabilities of Versio IOX, which provides sharable and scalable storage — SAN and NAS — throughout the content lifecycle while offering the highest levels of digital asset protection.
Imagine's multiscreen delivery portfolio is among the most comprehensive available and supports high-density and high video quality transcoding and delivery for OTT linear and on-demand services, all supported by advanced dynamic ad insertion capabilities.
An end-to-end OTT infrastructure solution, which includes transcoding, middleware, packaging and client apps, will be showcased at IBC.
The company's next-generation DAI and unified distribution portfolios have been designed to enable content distributors to consolidate and simplify their infrastructures to reduce costs and explore new monetization opportunities.
Imagine's end-to-end, multiplatform ad management portfolio features open, modular systems that help manage, connect, deliver and optimize ad revenue.
Highlighted demonstrations include sales, scheduling and analytics for linear and nonlinear monetization, as well as ground-breaking inventory optimization and other advanced ad management capabilities enabled though Imagine's next-generation and modular xG solutions portfolio.
The company will also demonstrate the first-of-its-kind integration of playout and scheduling achieved through the unification of its Versio and xG Schedule solutions, as well as hyperlocalized monetization models that leverage IP-based delivery networks.
Subscribe to NewscastStudio for the latest news, project case studies and product announcements in broadcast technology, creative design and engineering delivered to your inbox.