See CNN's makeshift anchor setups after its NYC studios are evacuated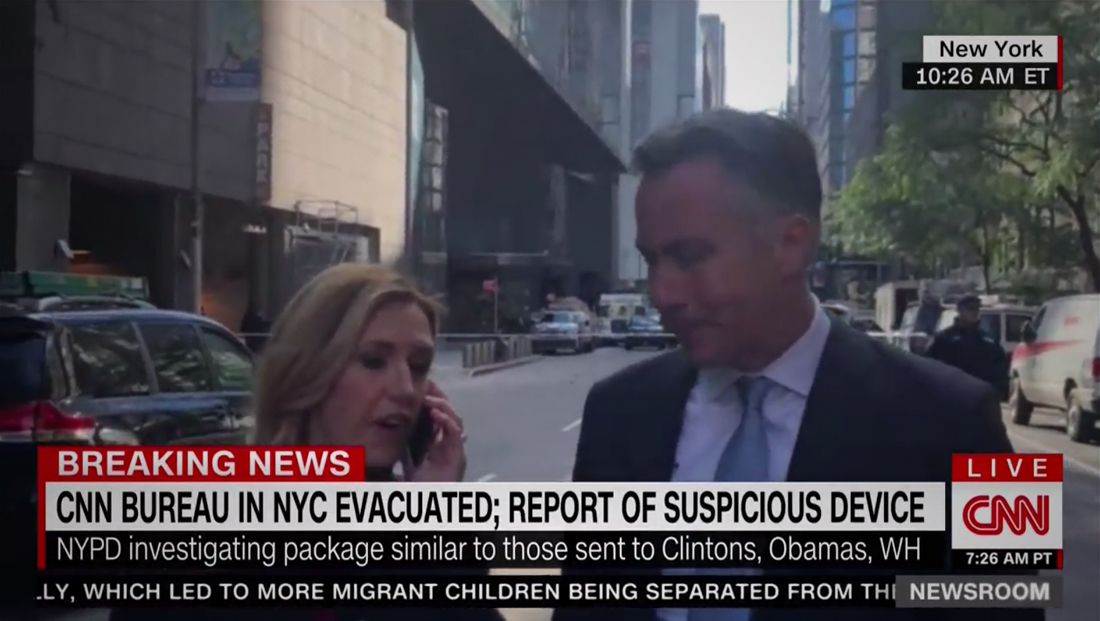 After CNN's New York City offices were evacuated due to a "suspicious package," anchors Poppy Harlow and Jim Sciutto were forced off the air — with the network's Washington, D.C. bureau taking over coverage.
The network took what appeared to be an extended commercial break, with anchor Rene Marsh eventually appearing on screen, taking over "CNN Newsroom."
.@CNN anchoring newscast from the street after NYC studios are evacuated — audio appears to be coming from phone line, while video appears to be some sort of stream pic.twitter.com/cGX5zTAw39

— TVNewsMix (@TVNewsMix) October 24, 2018
She eventually tossed back to Harlow and Sciutto, who were using a handheld camera and their mobile phones to broadcast from outside the Time Warner Center in New York.
Both the audio and video quality were choppy and it appeared the anchors were essentially using their phones as makeshift microphones and IFBs.
As they were reporting, the police ordered everyone to move back farther, so the two began walking on air down the street with law enforcement visible around then.
CNN anchors @PoppyHarlowCNN and @jimsciutto discuss being evacuated from the studio during live broadcast https://t.co/NZ3giaXDzk

— TVNewsMix (@TVNewsMix) October 24, 2018
The pair, along with Kate Bouldan, would eventually relocate to a makeshift live shot location outdoors — with a high quality, locked down shot.
However, all three were sharing a single handled microphone and appeared to be using their mobile phones and earbuds as makeshift IFBs.
During "Inside Politics," Harlow and Sciutto recounted the experience for viewers, including the fact that both of them thought it was a drill.