MSNBC puts Russia witnesses in 'lineup'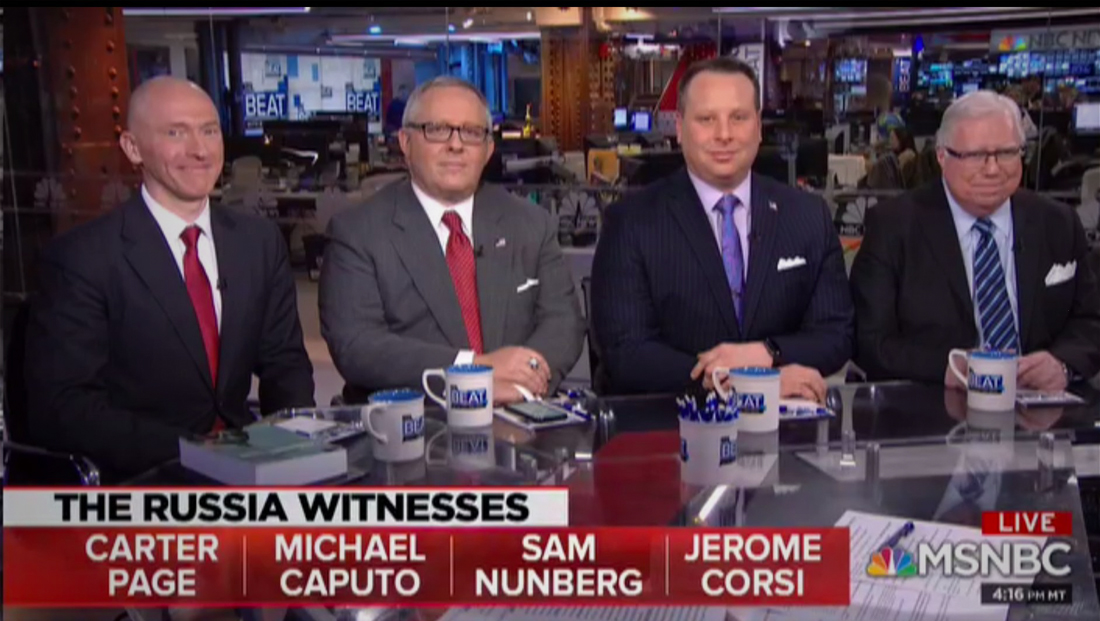 MSNBC's "The Beat" with Ari Melber gathered a four member panel of individuals who have been questioned as part of Robert Mueller's probe — and lined up them, quite literally, all in row.
The four men, Carter Page, Michael Caputo, Sam Nunberg and Jerome Corsi, are considered "witnesses" and have been involved in the Mueller investigation in one way or another, though none have been officially charged with any wrongdoing or crime.
"The Beat," which was originating from NBC's Studio 4E, as normal, managed to cram in all four men — plus Melber and crew — into the glassed in studio area that sits adjacent to a large working newsroom.
When the control room took a wide four shot of the four, allusions to a police lineup were all but obvious — save for the smiling faces.
In addition, the network created a somewhat unique four part lower third — with each man's name stacked into one fourth of the network's normal lower third banner design.
A somewhat mysterious tagline, "The Russia Witnesses," were placed above their names.
Although it's certainly not uncommon to include four (or more) guests in a row on a set, it was an interesting choice to seat the men this way.
The latest in design, production and engineering
Subscribe to NewscastStudio for the latest delivered straight to your inbox.