NewscastStudio gets quoted on 'Strahan & Sara'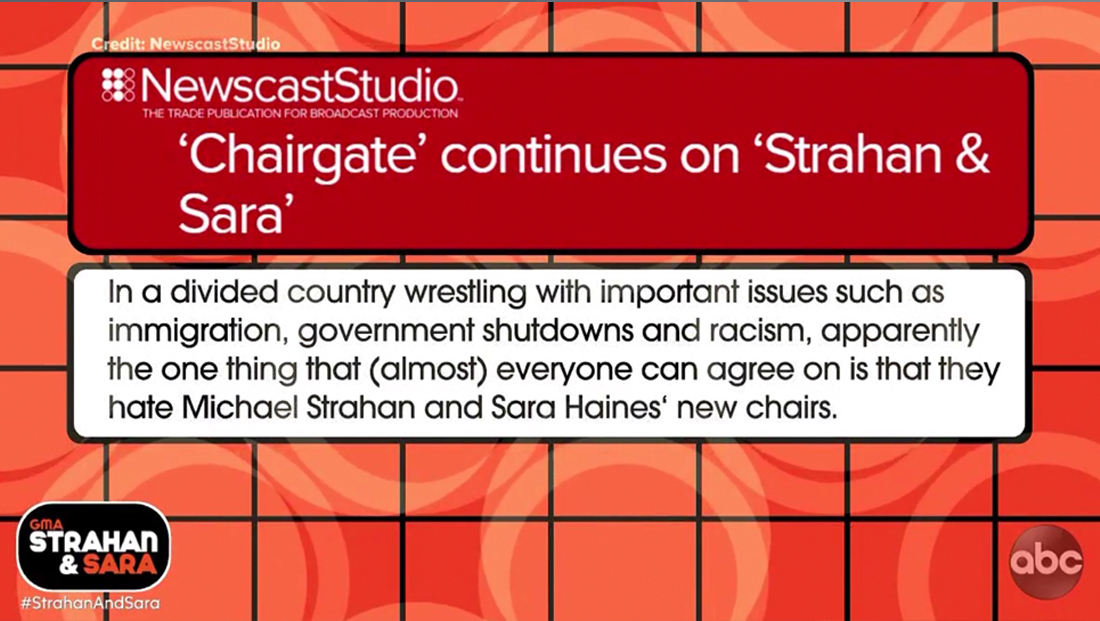 After covering the updates and subsequent debate over Michael Strahan and Sara Haines' chairs on the revamped version of "GMA Day" called "Strahan & Sara," NewscastStudio found itself briefly in the limelight Friday, Feb. 1, 2019.
During the start of the "Strahan & Sara" the show opened, like it has all week, with a brief discussion over the debate that is irritating Americas everywhere — the new chairs on the show's set.
"So much so that it's even making news, so check this out," Strahan said.
A full screen graphic featuring a screen capture of NewscastStudio's headline from Thursday's coverage of the scandal appeared on screen along with a pull quote of our story's lede:
In a divided country wrestling with important issues such as immigration, government shutdowns and racism, apparently the one thing that (almost) everyone can agree on is that they hate Michael Strahan and Sara Haines' new chairs.
If you're not caught up, see our coverage of the original debut of the now reviled chairs, plus day two and day four of "Chairgate."
Watch our (few) seconds of fame here: