Cable news goes big for State of the Union coverage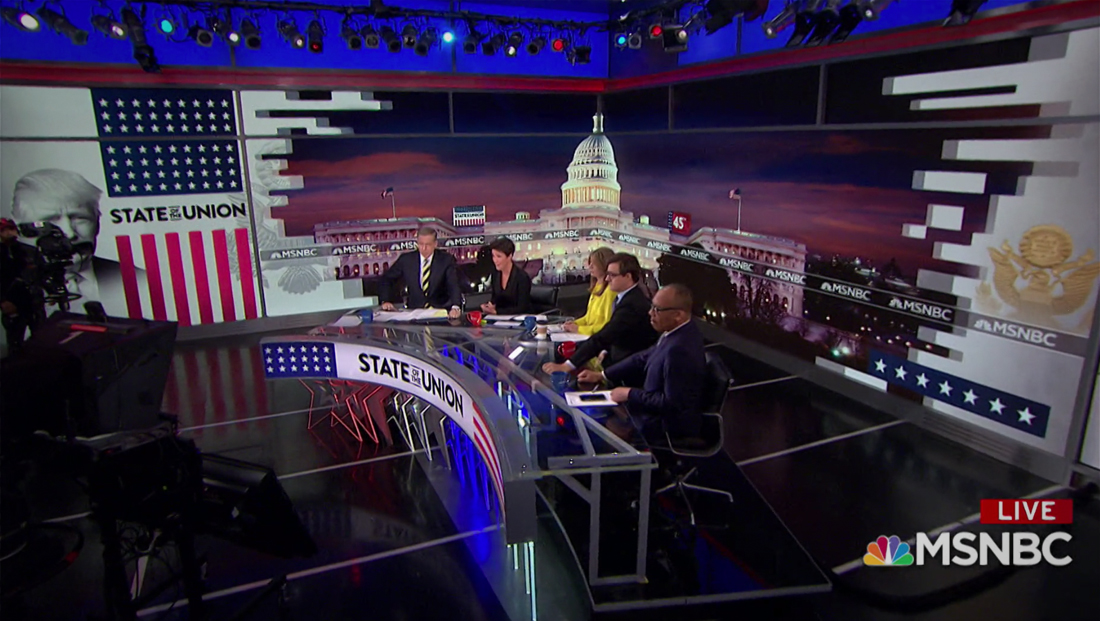 Cable networks offered extended coverage Tuesday, Feb. 5, 2019, for the State of the Union, including several hours of what amounted to "pre-game" coverage.
MSNBC had Brian Williams and Rachel Maddow sitting in the corner of the MSNBC side of Studio 3A with a dramatic image of the Capitol behind them.
The pair used MSNBC's curved "star desk."
Other either side of the video wall, as the LED panels ended, staggered-blocky "cutouts" were used to create the feel of two solid walls that morphed into a view of the Capitol. One side of the simulated white-ish walls features the NBC State of the Union logo while the other included a presidential seal icon.
.@BWilliams and Rachel @Maddow's background mirrored the one used during the 2018 elections — two faux "billboards" were added on either side — one reading "#SOTU" and the other with a large "45" pic.twitter.com/yqo3DGOTkr

— NewscastStudio (@newscaststudio) February 6, 2019
Of note, NBC digitally inserted "billboards" over its anchors shoulders that appeared to be perched on the top of the Capitol wings or somewhere nearby, similar to what the network did on election night 2018 with its floating number boxes.
Nice used of the curved LED segment on the MSNBC set https://t.co/ImAT69Htaf

— NewscastStudio (@newscaststudio) February 6, 2019
The network also used its additional video ray, including the curved element and freestanding monitor, during coverage.
CNN used its standard D.C. desk that's often used for both regular and political programming, but also had talent positioned throughout its large main Washington studio. pic.twitter.com/35AmnLIqX4

— NewscastStudio (@newscaststudio) February 6, 2019
CNN used its primary Washington studio, which includes multiple venues, including standups, smaller discussion tables and the large, curved desk it used for larger panels.
Here's Fox's setup for the #SOTU coverage — with the Capitol in the background pic.twitter.com/smFknVweFP

— NewscastStudio (@newscaststudio) February 6, 2019
Fox coverage was from the same building that normally houses NBC's and C-SPAN's operations as well. Unlike NBC's studios, however, Fox did not suffer any damage.
Martha MacCallum and Bret Baier co-hosted the network's coverage with a view of the Capitol dead center behind them.