How the networks previewed State of the Union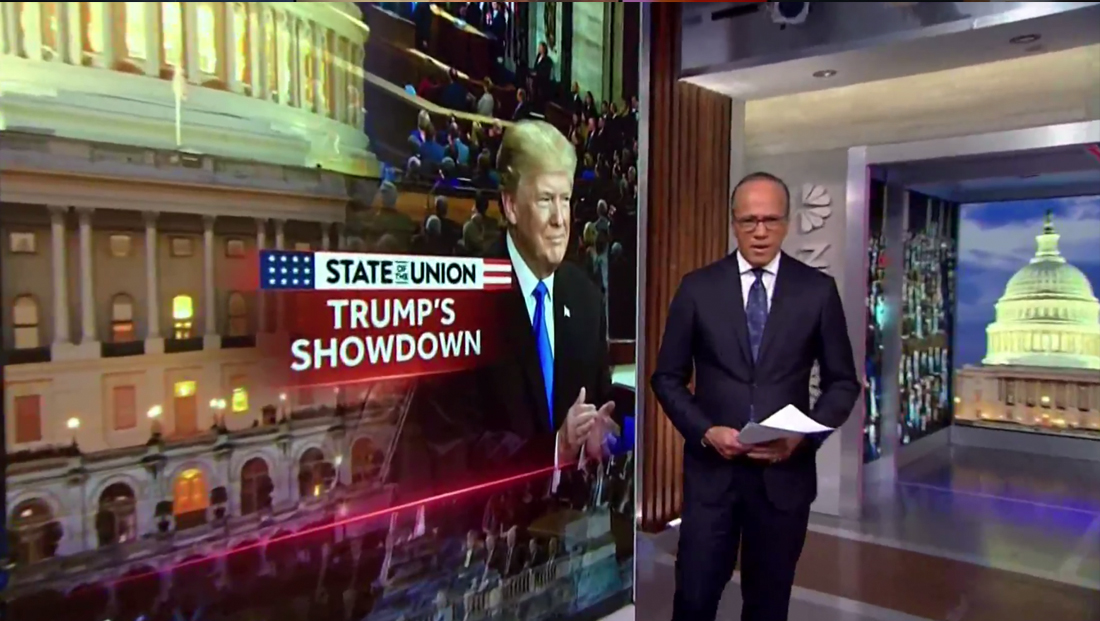 All three networks lead with extensive "pre-game" coverage of the State of the Union Tuesday, Feb. 5, 2019.
"NBC Nightly News" was the only broadcast not to anchor from Washington, D.C., possibly due to the damage its Capitol Hill studios sustained Jan. 20.
Instead, anchor Lester Holt opened the broadcast from in front of the studio's video tower as normal.
With a starry Capitol backdrop on one wall, @LesterHoltNBC had @SavannahGuthrie and @chucktodd join him in studio for #SOTU preview. The pair's position gave a little-seen view of the "jigsaw" video panels and backlit wall behind this area on the '#NBCNightlyNews' set pic.twitter.com/mNMIbG6shv

— NewscastStudio (@newscaststudio) February 6, 2019
He was then joined in-studio by Savannah Guthrie and Chuck Todd, who were seated in a far corner of the studio that doesn't appear on air that much. Viewers were able to see the LED "jigsaw" wall of square panels layered with backlit panels and frosted glass behind them — with a topical or branded graphic fed to each.
.@JeffGlor anchored the '#CBSEveningNews' from Washington pic.twitter.com/RnWEzZ8b7Q

— NewscastStudio (@newscaststudio) February 6, 2019
"CBS Evening News" anchor Jeff Glor originated the broadcast from the network's studio and included an in-studio interview with newly hired political commentator Jeff Flake.
Instead the normal pre-recorded loops of the Capitol used during "Face the Nation" on the same set, CBS fed what appeared to be a live feed of the Capitol behind Glor.
'#ABCWorldNewsTonight' also originated from DC Tuesday — meaning @LesterHoltNBC was only anchor back in NYC — possibly due to the damage at NBC's Capitol studios pic.twitter.com/eKfoEwiRXf

— NewscastStudio (@newscaststudio) February 6, 2019
ABC's David Muir also anchored "World News Tonight" from Washington, opting for a standup location with a view of the Capitol behind him.