CyanView to showcase updates to universal camera control system at NAB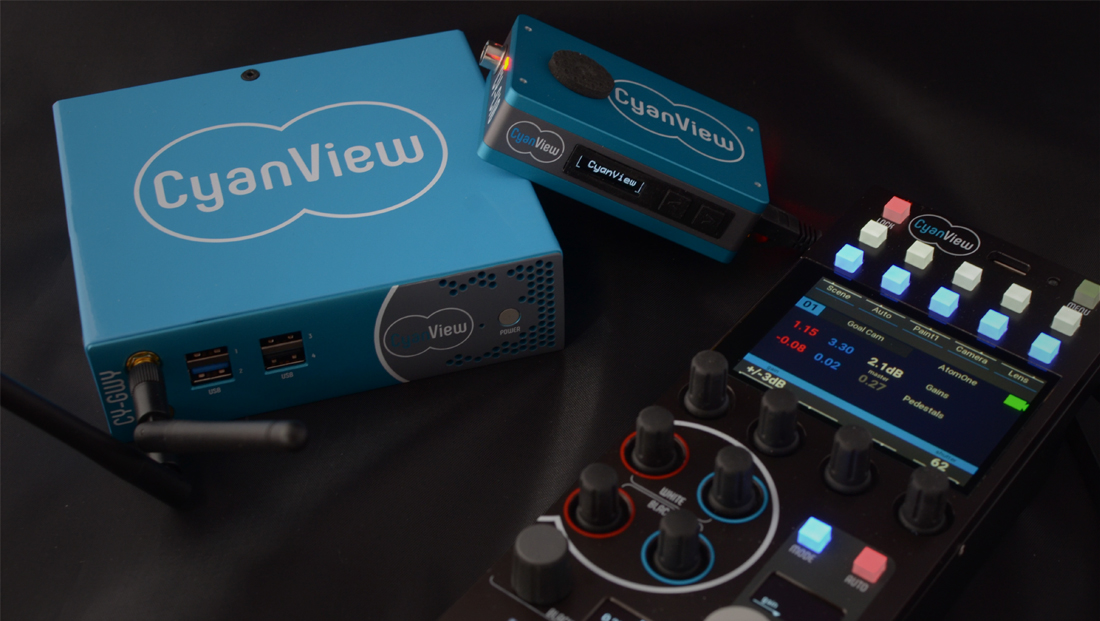 Subscribe to NewscastStudio's newsletter for the latest in broadcast design, technology and engineering delivered to your inbox.
At this year's NAB Show, CyanView will be announcing new products as well as discussing with visitors to its booth (C8630) the progress the company has made over the past 12 months in expanding the range of cameras controllable via its universal camera control system.
CyanView will also be talking about the features it has added that greatly increase the scope, functionality and flexibility of its solution.
"CyanView's growing ecosystem of feature-rich modules means that we can now deliver system camera control to a whole range of different cameras without connection limitations – giving enormous flexibility to productions," said David Bourgeois, founder and CEO of CyanView in a statement. "Even for live productions, color matching is now much easier. Choosing the best camera for the job should be a creative decision – and minimally constrained by operational considerations."
Making its debut at NAB is CyanView's new Cy-RI0 remote interface.
"Now that the industry understands what we at CyanView are able to achieve, customers are asking us for more," continued Bourgeois. "Specifically, we have been asked to take what we've done with our multicam live control solution for mini-cameras, and make it available for other cameras – such as ENG camcorders and D-Cinema cameras. Our customers wanted more flexibility in situations where a typical system camera can't be used: wireless and remote production or using smaller cameras and camcorders that don't have a dedicated CCU. They'd also like to leverage cellular networks for mobile video transmission. They want to control cameras wherever they are – in a car, on a motorbike, on board a helicopter. They'd like to be able to control drone-based cameras."
"The Cy-RI0 is our response to those requirements – a remote interface that has the ability to control any camera over any communication channel, bringing remote capabilities to the current ecosystem."
The architecture developed by CyanView for the Cy-RI0 provides a great deal of simplification for remote productions. Camera control protocols are all handled by the RI0 unit itself: all data communications with the cameras and other accessories are handled locally, without latency or bandwidth constraints.
In addition, all cameras can be controlled by a single RI0, effectively providing an access point to a camera network from a remote location using a single connection.
Control via IP (local or remote, cabled or via wi-fi), Bluetooth, 4G (via a dongle or using the built-in access point of systems such as Live U or Mobile Viewpoint) and USB are all possible using the Cy-RI0.
The Cy-RI0 is extremely flexible," added Bourgeois. "There's a lot of demand to have control alongside units like Live-U because that's a very affordable way to have wireless video anywhere – but there has been no control solution for this.
Being able to control cameras over 4G is unique: for marathons or cycling, for example, it will now be possible to control a camera on a motorbike without requiring a helicopter in the air – and similarly with controlling a drone-mounted camera."
Digital cinema cameras have a different need because these cameras were not designed to be painted live. The Cy-RI0 or Cy-CI0 solve that problem with camera control and a dedicated CCU – the Cy-VP4 – to deliver all the features of a system camera to a D-Cinema camera.
Also being announced in Las Vegas is the Cy-GWY-IO. A mini — a little bigger than a matchbox — version of CyanView's Cy-GWY gateway, it includes 16 x GPI for tally and touchdown, and enables an unlimited number of cameras to be connected. The Cy-GWY-IO provides a cost-effective solution for budget productions using the EVA1-Live or small standalone setups, such as a pair of goal cameras.
CyanView is also announcing that the range of mini cameras that can benefit from its control system now includes units from Blackmagic, CIS, Dream Chip, IOI, Marshall and Toshiba, as well as PTZ cameras from Lumens, Marshall, Panasonic and Sony.
Since NAB 2018, CyanView's Cy-VP4 camera control unit has also evolved into a universal CCU that can be combined with any camera head to bring live system camera features to smaller camcorders and D-Cinema cameras. Beyond this, the Cy-VP4's built-in secondary correction capabilities — such as multi-matrix — enable a variety of cameras to be matched, providing the flexibility to mix different types of camera within the same production.
Being showcased at NAB 2019 the results of a collaboration CyanView undertook with Panasonic. A firmware upgrade for Panasonic's EVA1 camera now enables EVA1-Live multicamera control with the advance.
[nab-2019]
The latest in design, production and engineering
Subscribe to NewscastStudio for the latest delivered straight to your inbox.