'Good Morning America' gets new set to match its new graphics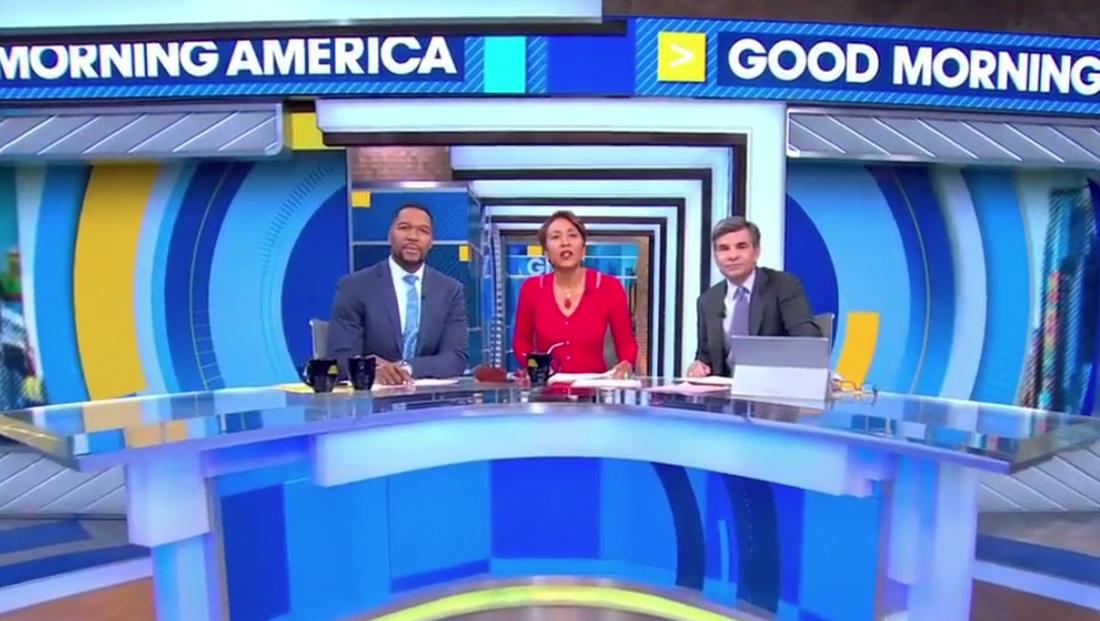 ABC News' "Good Morning America" had a good April Fools' Day trick up its sleeve for its competitors — a new set that ties into the graphics the show debuted earlier this year.
The show, designed by Seth Easter, retained its anchor desk, but changed up most of the first floor studio space that it typically uses for the first part of the broadcast — an update that included bringing in numerous new video walls and panels.
The new home base features the old horseshoe-shaped anchor desk backed with a "hallway" framed by a row of dramatic upside-down L-shaped internally lit structures.
This passageway occupies the space previously used by the show's "Social Square."
Farther back is an additional video wall that appears prominently on air behind the center anchor position.
On either side of the opening are additional LED panels partially wrapped in two curved framed with diagonal reveal lines that, thanks to a lighting effect, become glowing lines that echo the diagonal lines in the show's graphics.
The asymmetrical look also includes a "wraparound" video wall segment camera left. The wall appears to continue "down" the hallway, which also includes a circular element ringed by edge-lit segments that mirror the ringed hash marks in the graphics package.
Faux brick and metallic elements complete the look. The space, located at Disney's Times Square Studios, also incorporates walls with small square-shaped wood "tiles" and wood finishes with thin horizontal striping, many of which match the look upstairs.
What makes the new home base unique is that, instead of just using a single large video wall, the LED segments are broken up by real scenery — as well as the use of depth — to create a layered, structural look that still gives the show the flexibility to change out backgrounds easily.
By combining bold ring graphics that appear to "ripple" out from the portal in the middle of the wall, the look also draws the eye in to the talent.
The space also features a larger, more prominent LED ribbon running around the top of most of the set, which mirrors the header elements found on the studio's second floor.
The ceiling of the main set also features internally lit slats suspended from the studio grid.