Never.no enhances audience engagement for broadcasters across the globe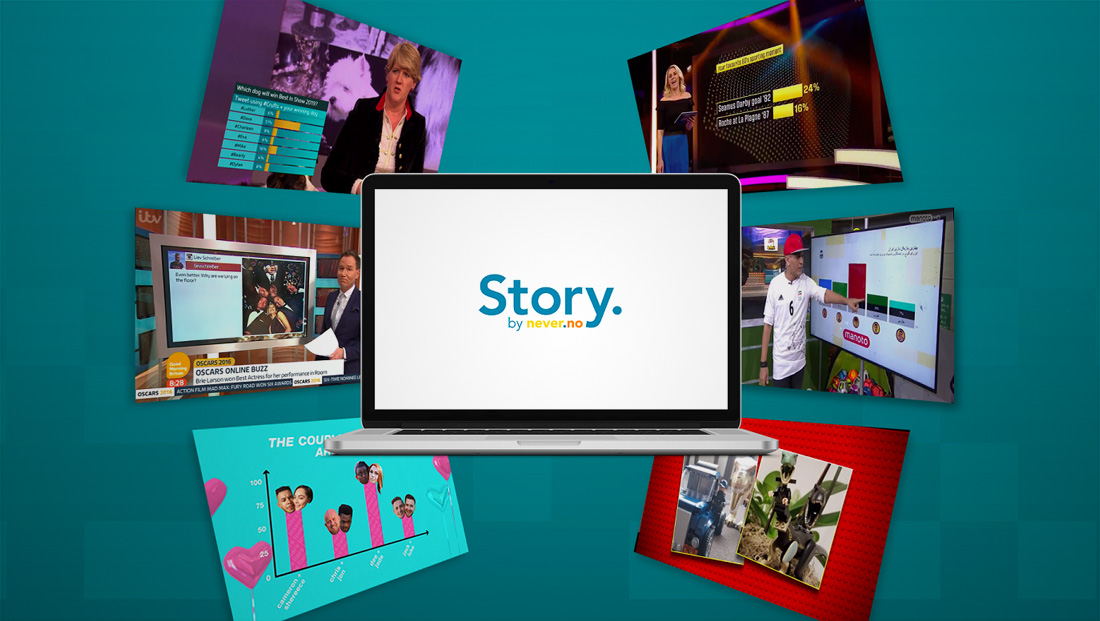 Subscribe to NewscastStudio's newsletter for the latest in broadcast design, technology and engineering delivered to your inbox.
Never.no has introduced new offices and support teams in the U.S., United Arab Emirates and Australia alongside its existing offices in the U.K. and Norway — while also spotlighting key implementations of its Story platform.
With the goal of making TV social and advertising dynamic, Never.no's platform helps broadcasters and advertisers personalize content, increase TV viewership and engage audiences and consumers. Story, the company's social TV platform, is used by the world's top broadcasters and brands — including Sky, QVC, Televisa, Univision and PlayStation, Specsavers and Danone.
NBC used Never.no Story to generate dynamic ad spots for the "Lego Jurassic World Secret Exhibit."
The two-part, CG-animated television special, seen by over 2 million viewers, gave the audience a chance to interact and share their Lego creations with the show and other viewers.
The video supplied by the client contained spots where the dynamic content would be ingested efficiently in real-time.
Viewers responded to the call-to-action to share their Lego photos via social media with the Story platform aggregating the incoming audience content.
Selected photos were then integrated into the video template and rendered to broadcast quality within minutes. Digital previews were also rendered using Story, giving the team the opportunity to approve and make creative and legal decisions on the spot.
Never.no's platform gave producers the opportunity to easily collect social content from the audience, weave that into the creative and generate final video ready for on-air delivery.
British broadcaster Channel 4 created live polls and social engagement using Story for its live content of Crufts, the world's largest dog show.
The four-day event was captured and broadcast live with real-time engagement and interactivity with dog loving viewers and owners, by capturing Twitter, Facebook and Instagram posts that were integrated into the live feed and read aloud by presenter Clare Balding.
The interactivity element of the programming enhanced the creative content by using Story to seamlessly pull poll results and social interactions into the live broadcast without pre-planning — a further example that established linear TV broadcasters still have a role to play in enhancing viewers experience through engagement.
"Never.no's social engagement platform Story helped build the audience interaction around our Crufts TV coverage. At Channel 4, we're continuously trying to enhance the viewer experience by creating more engaging and interactive content. We saw thousands of viewers engage and interact, creating viral content and broadening the reach of the Crufts story and brand," said Antonia Howard-Taylor, executive commissioner at Channel 4, in a statement.
Following the recent expansion into the Asia-Pacific region and announcement of the new Never.no office in Brisbane, Australia, Never.no teamed with SBS Australia for its broadcast of the 41st annual Sydney Gay and Lesbian Mardi Gras.
The network used Story to manage viewer-generated social content for the event.
Collecting a range of audience engagement across social platforms, comments were pulled together through Story, enabling the production team to pick the best content and integrate into SBS's live two-hour feed.
"It's exciting to expand Never.no's activities in the broadcast and ad space to Australia. We've seen great success around the world with innovative campaigns that engage audiences across TV and digital. We look forward to seeing what broadcasters, agencies and brands can achieve with our solutions here in Asia-Pacific," commented Jenna Rogers, head of business development for APAC at Never.no.
The Australian network will also be utilizing Story during the broadcast a major event in European music culture — The EuroVision Song Contest — in May, where they will feature social posts of Eurovision party pics from viewers and audience reactions to rate performances.
Visit Never.no's booth SL5122 at NAB in Las Vegas for demos of Story and for more information on how it empowers broadcasters to provide their viewers with interactive experiences with their favorite programs.
"We're excited by the rapid growth of the company in 2019, it's been our aim to implement key hubs around the world to work with our clients as closely as possible, so it's been fantastic building close relationships with our partners across key markets. Broadcasters and content producers are looking for more ways to grow audience engagement, we're proud to be working with innovators that push the boundaries between the content and audience, by seamlessly integrating audience engagement into creative coverage. We look forward to working with new colleagues and showcasing our partners fantastic work at NAB 2019," said Scott Davies, CEO at Never.no.
[nab-2019]
The latest in design, production and engineering
Subscribe to NewscastStudio for the latest delivered straight to your inbox.