Telemetric spotlights next gen remote camera control product at NAB Show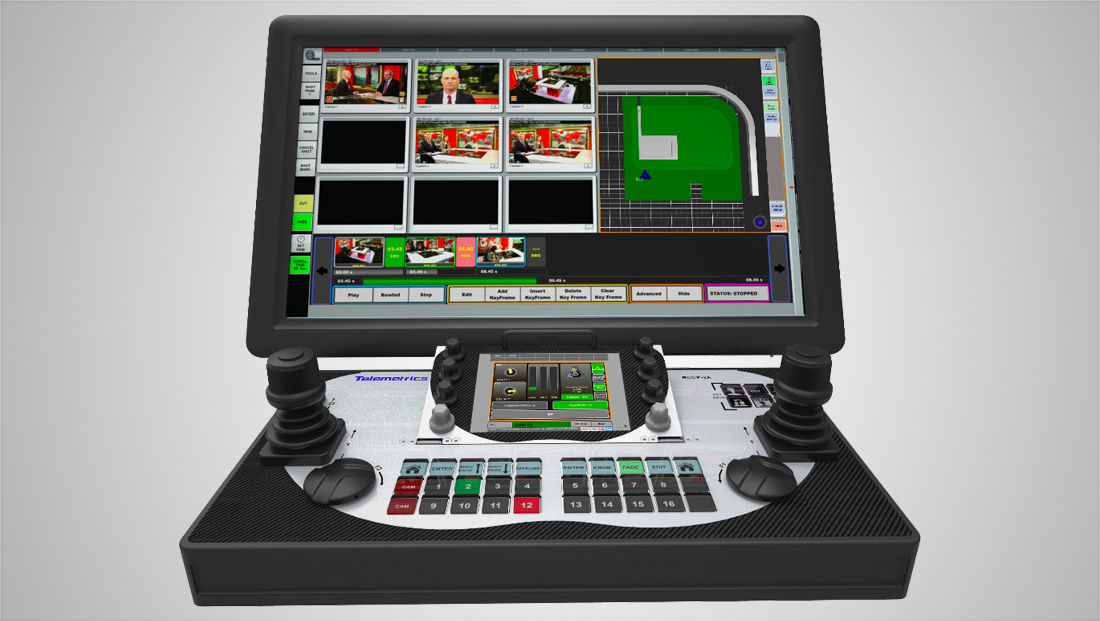 Subscribe to NewscastStudio's newsletter for the latest in broadcast design, technology and engineering delivered to your inbox.
At the 2019 NAB Show Booth C9138 Telemetrics is showcasing the next generation of its Remote Camera Control Panel, the RCCP-2A.
The RCCP-2A takes all the field-proven experience of its predecessor RCCP-1A panel and adds more intelligence and a fully customizable user interface with more features including a series of new TeleKeys that automatically adapt to what the user is doing in real time.
The RCCP-2A's illuminated dynamic graphical TeleKeys automatically change to show options relevant to the operator's task at hand, and its fully customizable joysticks, wheels, and knobs make it easier to operate robotic cameras, elevating columns, and OmniGlide roving pedestals.
Additionally, six TeleKeys on the top row of the main button panel automatically present user determined commonly used functions related to the current operation.
A separate group of Hot TeleKeys provide fast access to favorite camera angles and other system parameters for on-the-fly changes and individualized program settings.
The RCCP-2A can also easily store and recall specific projects or individual user preferences as profiles to help manage production workflows and streamline camera control operations.
"We've continued to improve the user interface of the RCCP to make it more intuitive for the operator," said Michael Cuomo, vice president of Telemetrics in a statement. "With the new TeleKeys, everyday functions on the controller are much quicker — instead of having to reach to the touchscreen, those functions are right at the operator's fingertips."
While its predecessor RCCP-1A includes a single joystick, the RCCP-2A features two fully configurable joysticks that allow control of the PT heads and camera framing and the camera's movement along a track system or, if used with the Telemetrics OmniGlide Roving Platform (RRP-1), control its XY plane as well as the camera's elevation on a pedestal (such as the Telemetrics Televator elevating pedestal).
The second joystick also accommodates left- and right-handed operators.
The Telemetrics RCCP-2A Remote Camera Control panel will be shown with new improvements to its reFrame Automatic Shot Correction technology — available in the Studio (STS) and Legislative (LGS) versions — for use in TV studios as well as the corporate presentation and AV market.
This facial recognition software not only ensures that on-screen talent remains in frame despite their moving about or slouching in their seat, but can also run a production in fully automated mode — switching cameras when pre-defined adjustments are required without human intervention.
Powerful additional enhancements to the STS Studio software will also be on display at NAB, including a new Studio View that enables users to work with a 3D display of their studio environment and quickly see the location and orientation of Telemetrics robotics products and set pieces within that space.
A 3D model of the user's studio can be imported into the panel to be processed and integrated with the software in order to make the operator's job a lot easier.
The Studio View also includes "Go Zones' that help to restrict the OmniGlide's movements and avoid problems, without having to manually touch the rover.
Both the STS and LGS software packages also now include a Robotics Status display to show all major robotics parameters — such as pan and tilt angles, elevation height, rotational status, lens information, and OmniGlide positional data — for the currently selected camera, at a glance.
[nab-2019]
The latest in design, production and engineering
Subscribe to NewscastStudio for the latest delivered straight to your inbox.