CNN tweaks how it shoots Studio 17N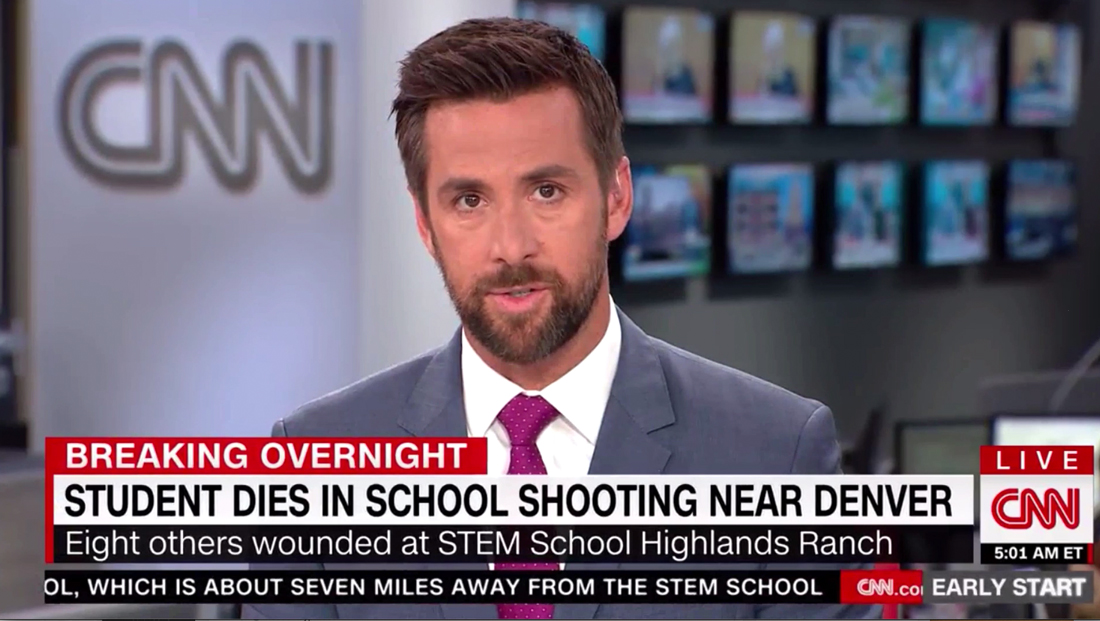 Just a day after debuting from its new Husdon Yards studio, CNN's "Early Start" — and other two anchor shows originating from Studio 17N's newsroom set — switched up their shot framing.
As NewscastStudio noted when the set debuted Monday, May 6, 2019, the network was using a unique "reverse" way of shooting one shots of anchors when using the newsroom as the main background.
Starting Tuesday, however, the network switched to a more traditional cross shot, which also significantly changed what appears behind each anchor.
Though the previous blocking had the advantage of keeping the large backlit wall and video wall at the rear of the newsroom behind anchors, it also resulted in some odd cropping of the video wall graphics.
Starting Tuesday, Briggs is now framed against the monitor array on the camera left side of the newsroom, while Romans appears with the frosted glass walls of edit booths behind her.
Of the two, Briggs' one shot (the camera left one) has a bit more visual interest and also has the added advantage of featuring a CNN logo mounted on the wall.
The wall is also well lit — with the monitors casting dramatic shadows and subtle accents on the pillar with the CNN logo.
Starting today, CNN "Newsroom" is live from the brand new set in Hudson Yards pic.twitter.com/y6oH3c8RMS

— Oliver Darcy (@oliverdarcy) May 6, 2019
The camera left one shot has similar framing used on single anchor shows when the anchor moves to the camera right side of the large anchor desk in front of the curved freestanding video wall there.
The camera right backdrop, meanwhile, is a bit bland — it's mostly a blurred backdrop of empty workstations, glass, light switches and only a few monitors in view to liven things up — and no CNN branding visible.
The CNN newsroom was designed by Clickspring Design with lighting from The Lighting Design Group.
The latest in design, production and engineering
Subscribe to NewscastStudio for the latest delivered straight to your inbox.