CBS 2 Chicago dabbles in 'double' top stories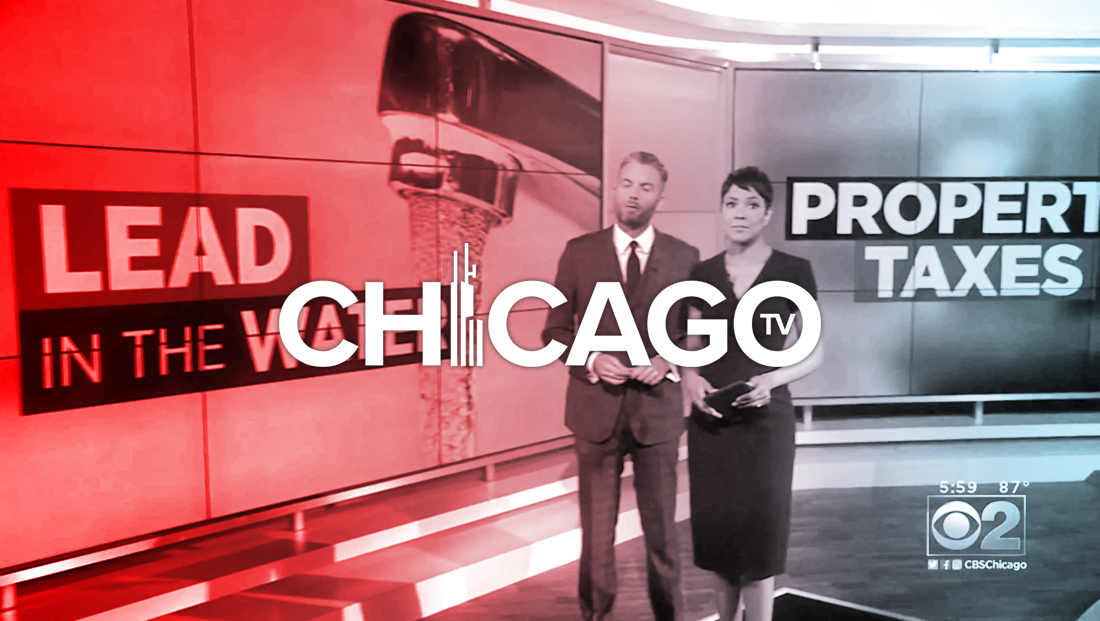 [chitv]
Chicago's WBBM offered a "double top story" format on its July 9, 2019 6 p.m. newscast.
The broadcast started, as it often does, with three teases with anchor voiceovers.
Two of the stories featured in the tease, property tax hikes and levels of the element lead in water, were featured in the teases.
Next, the station cut to a shot of anchors Brad Edwards and Irika Sargent standing between the station's two large in-studio video walls.
The words "Property taxes" were shown on the video wall that also serves as the primary anchor desk background.
As they started speaking, the camera moved to reveal a "Lead in the water" headlined graphic on the other video wall.
The station also mixed in its "Always investigating" tagline, which it has been heavily emphasizing lately.
It appeared on both the three box graphic the station used as well as in the lower thirds.
In addition to having two top stories — the station also combined this with a team coverage approach, using three reporters to cover the two stories.
Jim Williams covered the water story with a live shot and package — before returning to Sargent in the studio.
Sargent had moved to stand next to the large video panel normally used for weather to introduce what appeared to be a "look live" and package on taxes from reporter Tim McNicholas.
Next up Edwards and Sargent appeared behind the anchor desk to introduce a package from Pam Zekman, who then appeared in studio for a debrief.
Of course, speaking in a strictly practical manner, it's not really not possible to have two "top" stories since, by definition, one story always has to go first.
In this case, the water in the lead story was technically the "top" story, though CBS 2 News dedicated more time and resources to the property tax one — which isn't an uncommon way to stack local newscasts.
The latest in design, production and engineering
Subscribe to NewscastStudio for the latest delivered straight to your inbox.