Jane Lynch 'moved' into new house for 'Hollywood Game Night'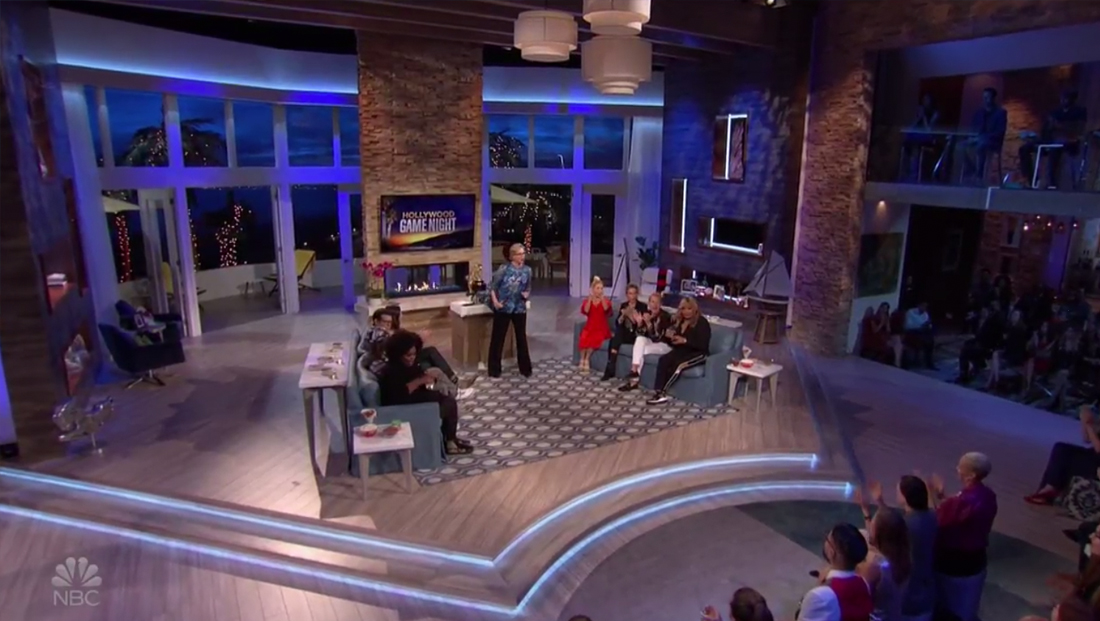 As part of an ongoing tongue-in-cheek backstory, "Hollywood Game Night" Jane Lynch "moved into" a new "house" for this season of the show — which translates, in the real world, to an updated set — but the exact "moving day" gets a bit fuzzy thanks to how the show aired.
The new digs updated the mid-century modern look the show previously used — with the storyline being that Lynch has moved into a new beachfront home along the Pacific coast.
The new set's debut is a bit confusing — the episode entitled "Jane's New Diggs" (the spelling of "Diggs" is inspired by celebrity guest Taye Diggs) that appeared to officially introduce the new set — aired July 18, 2019.
However, it was officially labeled as the fifth episode of the sixth season — and two previous episodes of the show also featured the new set (and Lynch mentioned her "new house" during those as well) aired before it.
The show's sixth season, at least according to its numbering, actually started back in 2018 — then taking a break until the summer.
Episodes aired before the break, however, featured the old set.
The whole lack of continuity in the "move" may have been driven by two factors: A special "Red Nose Day" edition of the show that aired in May, weeks ahead of the show's summer debut, and decisions by the network to change what episode aired when.
The "New Diggs" episode also featured a sponsored tie-in featuring Lynch yelling characteristics of Blue Diamond Almonds to her "valets" — the assistants who help out with games but largely remain silent — in a thinly veiled game.
Tins and bowls of the almonds were also placed around the set for the episode, including on the side and sofa tables.
The latest in design, production and engineering
Subscribe to NewscastStudio for the latest delivered straight to your inbox.