ESPN's latest 'Who's In' campaign spotlights the fans of college football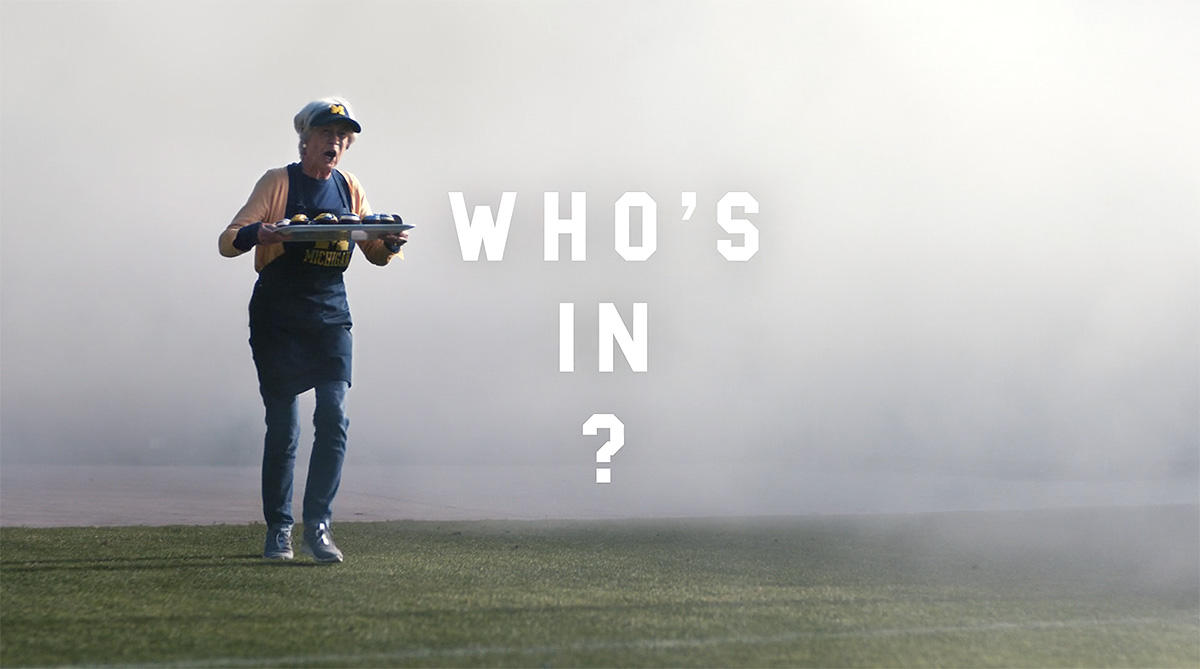 As the new season of college football officially gets underway, ESPN is again asking who will make it to the playoffs in the next installment of its "Who's In" ad campaign.
Celebrating fans and their role in the game of college football, the spots were directed by Peter Berg, who has previously worked with ESPN on other initiatives including the open for "Monday Night Football," and from agency McKinney.
225 extras representing 23 different teams appear across the spots which ESPN notes capture "the passion, traditions and dedication of the fans who embody the soul of college football."
"I am a huge college football fan and was thrilled to have to opportunity to channel my passion into this project," said Berg. "This campaign has brought together all of the great elements that make up college football – true avid fans from all over the country who love their teams alongside team mascots brimming with excitement and in turn creating a truly authentic vibe."
The "Who's In" campaign launched with the College Football Playoffs in 2014 and airs across ESPN and ABC.
Project Credits
ESPN
Laura Gentile: SVP, Marketing
Emeka Ofodile: VP, Sports Marketing
Pallav Tamaskar: Senior Director, Sports Marketing
Willis Hulings: Associate Director, Sports Marketing
Margaret Davis: Manager, Sports Marketing
Alexa Dettelbach: Associate Manager, Sports Marketing
Willi Anderson: Coordinator, Sports Marketing
Caroline Tilton: Coordinator, Sports Marketing
McKinney
Chief Creative Officer: Jonathan Cude
Group Creative Director: Lyle Yetman
Creative Director(s): David Sloan and Jordan Eakin
EVP, Director, Content Production: Regina Brizzolara
Senior Producer: Nick Brenton
Integrated Producer: Kara O'Halloran
Business Affairs Manager: Miriam Hughes
Chief Strategy Officer: Walt Barron
Strategy Director: Kevin Murray
Account Director: Ryan Gardiner
Account Supervisor: Maggie O'Donnell
Account Manager: Meghan Moloney
Production Company: Film 47
President: Vic Palumbo
EP: Helga Gruber
Director: Peter Berg
Producer: Kevin Baird
DP: Bradford Young
Editorial: Exile Edit
Editor: Max Koepke
Assistant Editor: Ling Chua
Producer: Grace Hammerstein, Charlotte Delon
EP: Sasha Hirschfeld
VFX: The Mill
EP: Heath Raymond
Producer: Bugs Russell
VFX Supervisor – Gavin Wellsman
ESPN Music Supervision:
Music Director: Kevin Wilson
Mix: Sound Lounge
Audio Engineer/Mixer: Justin Kooy
Producer: Alicia Rodgers