'Extra' debuts new host, new newsroom home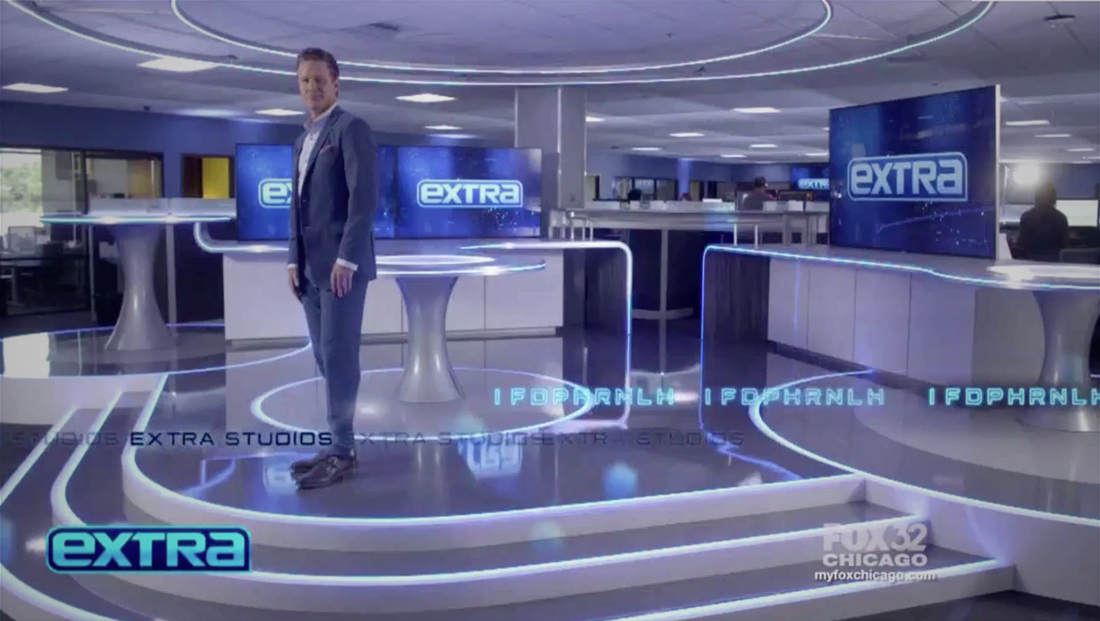 After a bumpy start involving its name, "Extra" debuted with a new host, Billy Bush, hosting the show from a newsroom set.
The show has been trying to market itself with "hard news" style promos — including ones that aired under the old name of "ExtraExtra."
That theme seems to be carried through with the show's new set, which is a sort of looks like a space age kitchen installed in the middle of a newsroom.
Bush now hosts from a raised platform that includes futuristic circular tables and spans of counter-like credenzas with flat panel video screens installed behind them.
There's also a movable four-panel video array off to one side and circular ceiling elements and other accents created with bright blue light.
The newsroom workstations are occupied during some parts of the show, though it's not exactly a bustling hub of activity.
In addition, the set appears to be located within a space that has a relatively standard ceiling height — and likely wasn't designed as full fledged studio originally.
The show's new open uses the new single "Extra" logo design along with bright blue typography, random microtext accents as well as an emphasis on talent and their home bases, which include Hollywood, New York, Nashville, Las Vegas and simply the "Extra Studios."
Notably, the "extra extra" audio signature is gone from the graphical elements edited in to segments — replaced by a single "extra," possibly stemming from the result of a potential lawsuit over the show's attempt to change its name to "ExtraExtra."
In at least one clip, however, a celebrity appears on screen "singing" the "extra extra" line.
Stylistically, the new Extra combines behind the scenes editorial and purportedly impromptu office meetings in a style that seems to mimic the style of "TMZ Live."
Typically these shots — as well as behind the scenes footage of hosts on set — are shown in black and white.
In addition, the show has updated graphics that match the bright and dark blue color scheme — along with lighter dots and a stylized "X" element.
Bush also treated viewers to a brief tour of the new set and adjoining offices.