NBC reporter's son wanders on camera during breaking news — and people loved it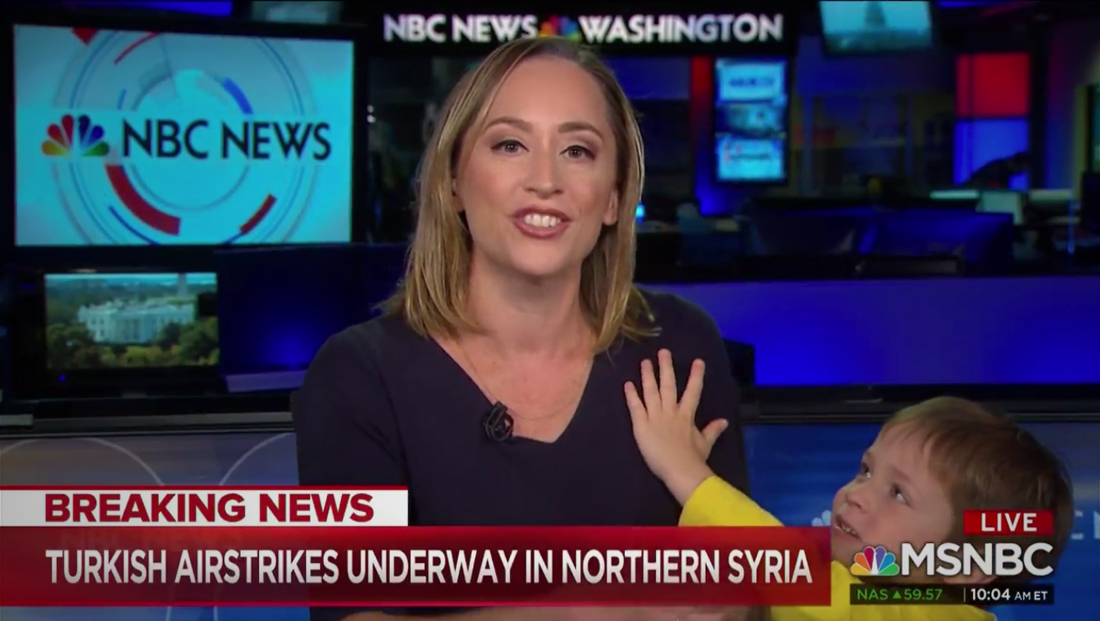 Courtney Kube, who covers national security and the Pentagon for NBC News was appearing on "MSNBC Live with Hallie Jackson" reporting on Turkish airstrikes against Northern Syria when she got a little visitor on set.
Kube was delivering her report NBC News' primary flash cam position the overlooks its Washington, D.C. bureau newsroom.
Midway through her report, her son, wearing a bright yellow shirt, wandered onto set and began reaching out to her.
Kube later explained that she was called into work to cover the breaking news, but that didn't give her time to drop off her twin boys at preschool.
When her son first wandered into camera view, it appears Kube noticed him one of the studio's monitors that show reporters sitting at the camera position what's on the air.
He then reached out to her and can be heard calling to her.
"Excuse me, my kids are here … live television," she said while gently trying to move her son off camera.
The control room smartly cut to a fullscreen map of the region in question.
Although Kube lost of train of thought briefly, she quickly recovered and was able to continue offering updates on the airstrikes and background information that some reporters probably couldn't handle after dozens of takes.
Her son has already been dubbed the "MSNBC Kid" by social media.
Kube's colleagues and viewers, meanwhile, have posted encouraging words for her and how she, as a working mom, was stuck in a logistics nightmare — but still did her job while showing compassion in getting her son off set.
Best part of the programming so far this morning. Although she might have been surprised & stressed abt her surprise on-camera guest, I loved the way she looked at her child with a big smile and lots of love. That's a mom with her priorities straight. #MSNBCKids #KidsMakeItBetter

— LindaC (@LDCDee) October 9, 2019
The incident echos one where Robert Kelly (the "BBC Dad"), appearing on BBC from his home office, was interrupted by his children during a live interview about two years ago.
NBC's Washington bureau is currently located within WRC, its owned television station in the market.
However, the network is planning to move the bureau and studios for "Meet the Press" and other D.C. based programming for NBC and MSNBC to an expanded facility inside the building the houses its current Capitol Hill operations.
The network had studio and office space on the upper floors of the building that were damaged in a fire in January.
In July, the network announced it had leased ground floor space in the same complex and would create a windowed "Today" style studio.