NBC Chicago gets 'photobombed' by CBS truck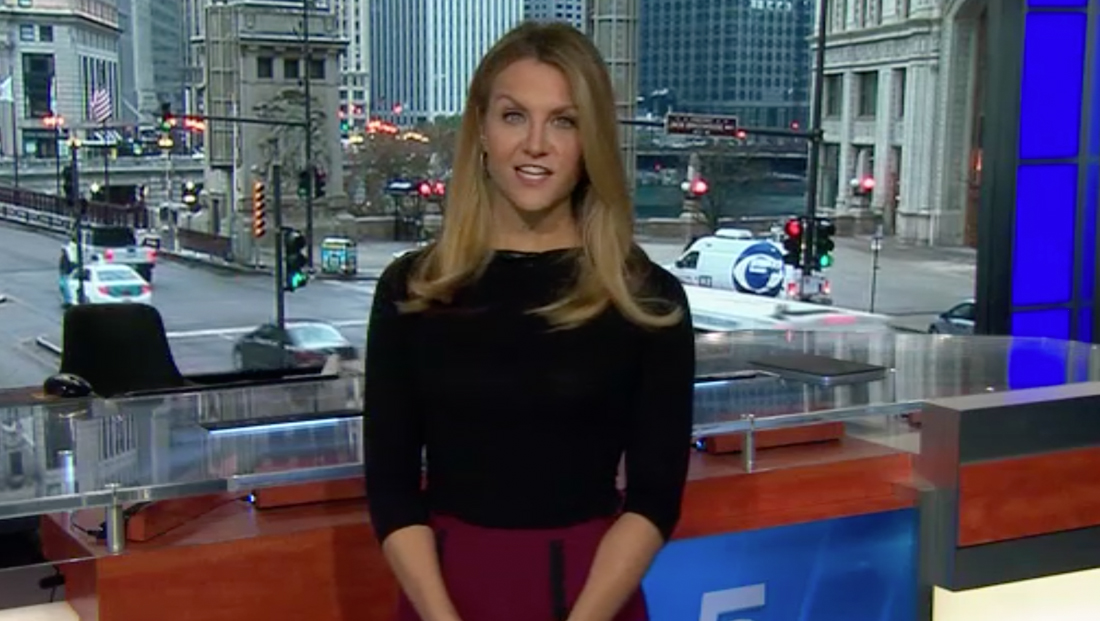 One Chicago TV station managed to "photobomb" another station's video wall background with one of its live trucks.
It all took place on the Thursday, Nov. 14, 2019, edition of "The Rundown," a video news summary NBC owned station WMAQ offers.
Kye Martin, who is the station's morning traffic anchor but also does reporting and hosts segments like this, typically stands in front of the station's anchor desk with the seamless video wall installed behind its anchor desk.
While WMAQ's morning newscasts have mostly switched to an animated background instead of the (usually) live camera feeds used behind other newscasts, "The Rundown" typically doesn't.
Thursday's "Rundown" featured a feed from a camera NBC has placed along Michigan Avenue showing part of the Wrigley Building and river.
It just so happened that, when WMAQ taped Thursday's "Rundown," a CBS 2 WBBM truck appeared to be parked in front of the Wrigley Building, complete with a giant blue CBS eye logo highly visible just over Martin's shoulder.
It's not immediately clear if the WBBM truck was simply "in the right place at the right time" or why no one at NBC 5 noticed it.
One unique point about this situation is that WBBM managed to "photobomb" WMAQ by a "degree of separation" if you will.
The truck wasn't actually parked behind Martin — but rather was captured by a camera that was then fed to the video wall background behind her.
In fairness, it's not uncommon for competitors' logos to appear on each other's air — such as during press conferences when mic flags from most major stations are captured on camera.
Other reporters, often wearing station gear and sporting a station mic with flag, will sometimes show up on other stations' video in cases when a throng of press is chasing after someone (who's usually trying to avoid them) for comment.
In some cases, if this mad dash takes place in a parking lot, it's not uncommon to see other stations' vehicles in stalls.
In addition, when the space designated for press is tight at a newsworthy locale, it's sometimes possible to see another station or network's reporter doing a live shot, standup or waiting to go on air behind another's setup.
The latest in design, production and engineering
Subscribe to NewscastStudio for the latest delivered straight to your inbox.