eSports integration brings higher level of production challenges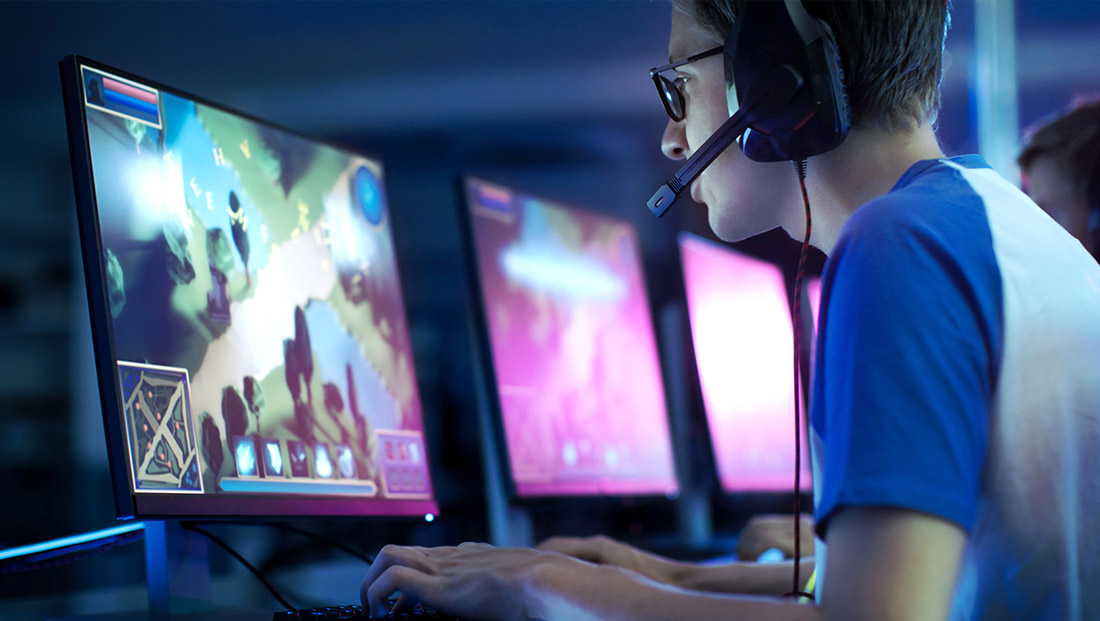 Subscribe to NewscastStudio for the latest news, project case studies and product announcements in broadcast technology, creative design and engineering delivered to your inbox.
The eSports industry continues to experience massive growth. Broadcasters want to be part of the action, but creating a studio to accommodate competitive gaming is a serious commitment. It's a challenge to create engaging, interactive content with high production values, all while balancing an extraordinary number of video and audio sources.
Consider, for example, a typical five-on-five eSports competition. Ideally, you have a POV camera for each gamer, plus you'll need a live feed from each of their consoles. That means you already have 20 video sources, plus you'll need studio cameras to cover the commentators, audience, wide shots of the venue, etc. If you include a secondary studio, perhaps a "lounge" where players can socialize and watch other competitors in an informal setting, you'll need even more cameras.
To accommodate so many potential inputs, we recently built an eSports control room around a Ross Video 4 M/E Acuity switcher, along with a Ross Ultrix 144×144 router and EVS replay server. A Ross XPression with the Inception social management system handles CG and graphics, and easily integrates viewer feedback into live productions. A wall of multi-viewers was installed to monitor the dozens of potential sources.
Audio presents its own challenges. After all, each gamer needs a mic, each commentator needs a mic, and each game console needs a dedicated audio input. We addressed the quantity of sources with a Calrec Brio console with Dante AoIP connectivity.
Productions get more complicated when you manage the private communication between team members. Proper audio routing is vital to the integrity of the game. You can't let one team hear the strategic communications from the other team.
We solved the audio routing issue by installing two completely separate intercom systems. The first, a Riedel Artist 128 matrix with Clear-Com FreeSpeak II wireless intercom system, is a dedicated intercom system for the production crew. The second Riedel system was configured (and officially sanctioned) to keep team communications separated between teams, but allows the audio from all players to be shared with the broadcast audience.
LED walls are common set pieces for eSports productions; they can show customized elements to create different on-screen looks for various competitions, as well as display highlights from the game action. Unfortunately, moire patterns on LED video walls and other on-set displays can be a huge problem. With physical and DSP filters to minimize or eliminate moire patterns, Ikegami cameras are leading the industry for eSports applications, so we chose HDK-99 cameras with FUJINON lenses for the main studio.
Integrators also need to be wary of potential sync issues. By its very nature, eSports creates a complex production chain. For example, from ingesting graphics-based content from multiple gaming consoles to distributing the live production, your encoders will be tested throughout the competition. Encoding is just one area where sync can fail. If the home audience is viewing video that is out of sync with the audio, you'll get complaints. But if the team audio lags behind the game action, the competition could be invalidated and you could lose business.
Finally, don't overlook storage. We outfitted master control with a Quantum SAN large enough to record a three-day tournament for 10 hours a day with up to 16 ISO cameras in real-time. Plus, we included a Quantum LTO-8 archive with 1 PB of tape storage.
eSports continues to grow in popularity, and it's bringing video production to the next level. However, there is a noticeable lack of technical expertise specific to eSports in the industry. Broadcasters with facilities designed for news or talk shows may find themselves unprepared to handle the production requirements of eSports. The innate complexity of design brings with it a number of technological challenges. Systems integrators need to be ready to lead facility build efforts and answer questions that customers may not even know to ask.
Subscribe to NewscastStudio for the latest news, project case studies and product announcements in broadcast technology, creative design and engineering delivered to your inbox.