ViacomCBS is selling off CBS's longtime 'Black Rock' headquarters space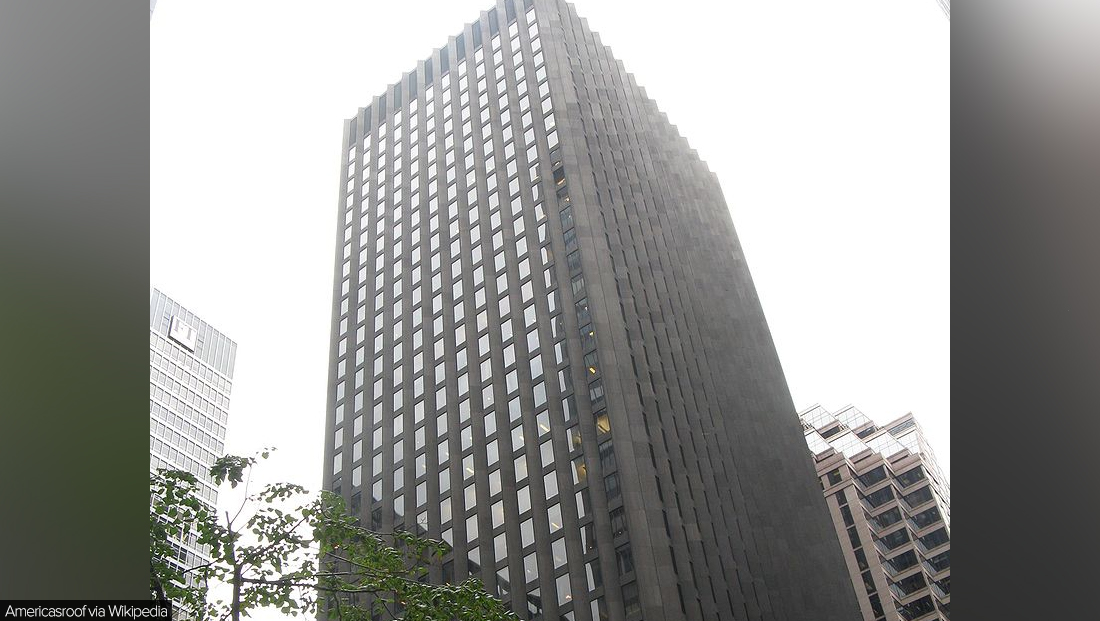 After completing its merger with Viacom, the longtime CBS headquarters building is going up for sale.
The building, commonly referred to as "Black Rock," but more officially as the CBS Building, is located at 51 West 52nd Street at the corner of Sixth Avenue (Avenue of the Americas).
The 38 floor building was designed by Eero Saarinen and completed in 1964.
It's just over 491 feet high and sports about 820,000 square feet of leasable space.
The building has been the home of CBS Corp. since it was completed, but was never used for full service TV broadcast facilities, though radio broadcasts have operated out of it.
The network's news and sports divisions operate out of the CBS Broadcast Center on West 57th Street and CBS Interactive runs out of a building on 28th Street.
All told, CBS only uses a few floors in the building — mainly for executive offices and backend administrative functions.
Initial reports suggest CBS will vacate these floors and likely move to the nearby Viacom building at 44th Street and Broadway near Times Square.
"Black Rock is not an asset we need to own and we believe that money would be put to better use elsewhere," said ViacomCBS CEO Bob Bakish.
A leaseback option does not seem likely.
Much of the projected $500 million in costs savings touted as part of the merger will come from removing duplicative administrative functions, so the combined companies will likely require less office space.
At one time, CBS, NBC and ABC all operated corporate offices near in this general vicinity, though ABC left the area after being sold to Disney. Since then, Fox's two cable networks have also built major broadcast facilities in the area.
Other broadcast companies in the New York area have made key real estate moves lately.
After initial buying floors in 30 Hudson Yards, WarnerMedia sold back the space to real estate investors and immediately signing a 15 year leaseback.
These floors are used mostly for CNN and WarnerMedia offices.
Disney, which currently operates from a sprawling campus near Lincoln Center, has sold this facility but leased in back until a new building at 4 Hudson Square (which is a different project than Hudson Yards) is completed.
That deal includes a 99 year lease from Trinity Church.
NBCUniversal, meanwhile, runs mostly out of 30 Rockefeller Center and bought 1.6 million square feet it occupies there in 1996, with other portions leased.
The building is home to NBC News and a variety of support and administrative offices.
CNBC operates out of Englewood Cliffs, New Jersey, from a building that is also home to NBCUniversal master control and other backend support operations for the company's slate of broadcast and cable channels.
NBC Sports moved out of 30 Rock to a new facility in Stamford, Connecticut, in 2013.
NBC previously ran MSNBC for a separate facility in Secaucus, New Jersey. During that time, the main NBC newsroom was also based in there, with smaller newsrooms for specific programs set up back at 30 Rock.
Correction: An earlier version of this story contained a headline that may have been unclear that ViacomCBS has never used Black Rock as headquarters, only CBS Corp. has.
The latest in design, production and engineering
Subscribe to NewscastStudio for the latest delivered straight to your inbox.