CNN running impeachment vote 'rundown'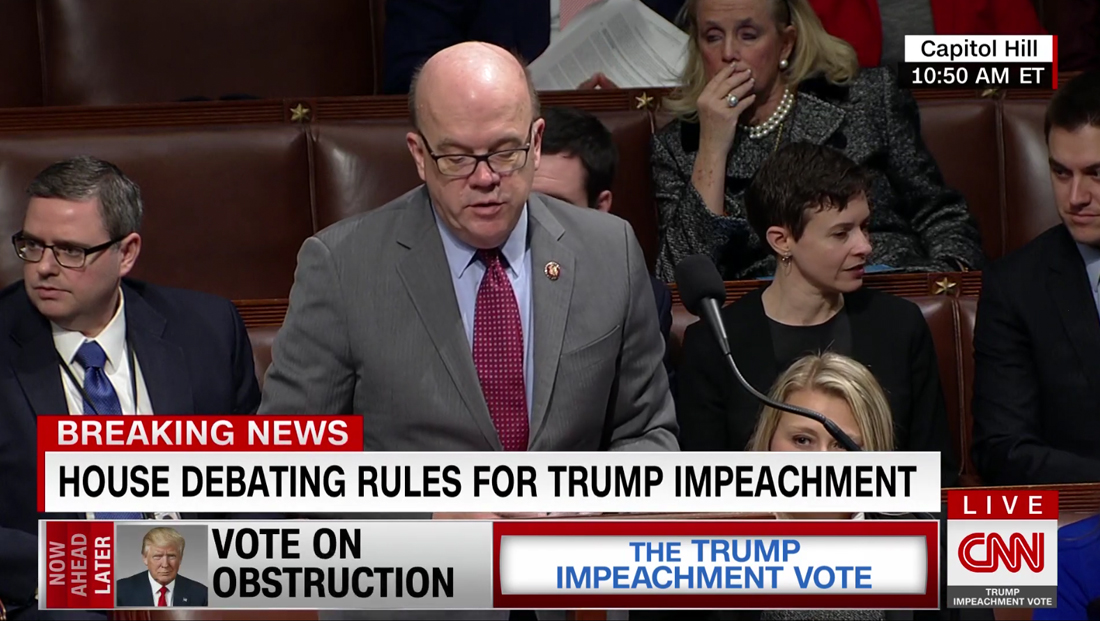 In the hours leading up to the big impeachment vote, CNN ran a "rundown" bar that insistently reminded viewers what was happening "now," "ahead" and "later."
The graphic was roughly split in half between the rundown content and a large, red framed graphic reaching "The Trump Impeachment Vote" and occupied the approximate footprint of the network's normal lower thirds.
The bar was similar to other ones CNN uses to promote upcoming shows and during special coverage to provide additional information which, in turn, causes the normal lower thirds to be pushed up and shrunk slightly.
The graphic includes "sliding" animation that shuffles between the "tabs" — which also include imagery. During at least some of the coverage, the content in the "ahead" and "later" tabs rotated through more than one upcoming event.
The idea behind the banner is presumably to keep viewers' interest or remind them to tune in later during the dry, mainly procedural speeches and a whole lot of "yielding."
As of this writing, Fox and MSNBC are also running live streams from the House chamber, but are sticking with their normal lower thirds, though MSNBC has added a full width but static banner reading "Impeachment: White House in Crisis" similar to how it does with other special coverage.
CNN also wiped out its normal dayside schedule on many listing grids in favor of a generic program entitled "Impeachment Vote."
MSNBC and Fox both stuck with their normal programming titles but offered continuing coverage. Fox, as of this writing, did not include any special impeachment graphics in the "sliver" of its lower thirds — instead keeping the normal show branding in this spot.