How the network websites covered lead up to impeachment vote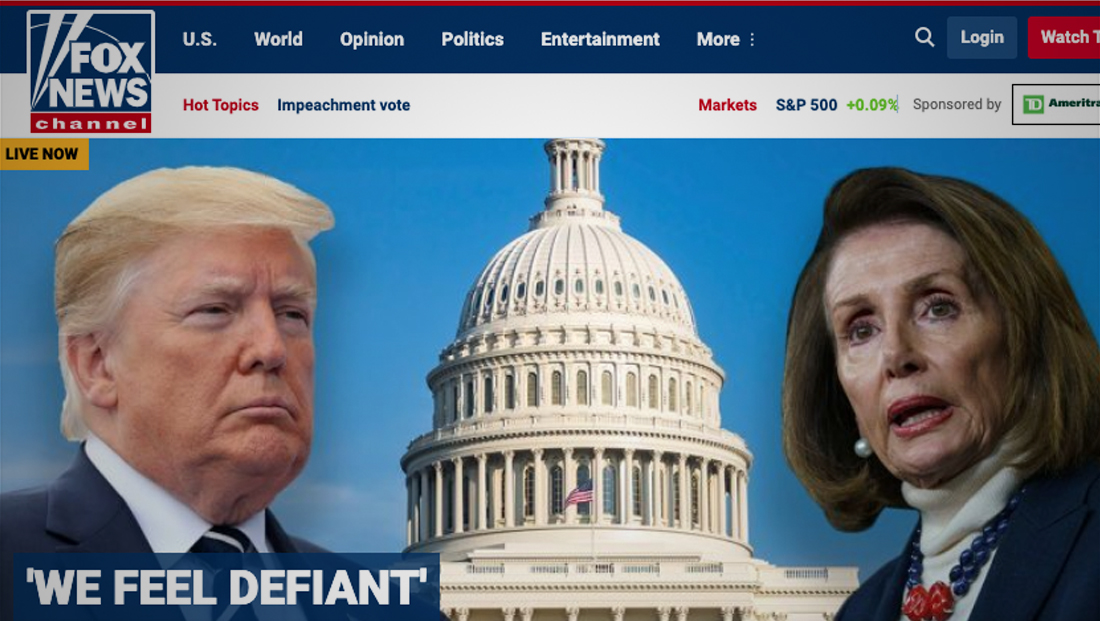 As impeachment proceedings dominated network and cable coverage Wednesday, Dec. 18, 2019, the websites of major networks devoted significant space to the coverage of the events inside the Capitol as well.
Here's how each of the major U.S. networks headlined the story as of around 3:45 p.m. eastern:
ABC News: "House debates impeachment ahead of vote: ABC News Live"
CBS News: "House Democrats appear set to impeach Trump"
CNN: "House debates impeachment"
NBC News: "House debates impeachment ahead of historic vote"
MSNBC: "House debates impeachment ahead of historic vote"
Fox: "'We feel defiant': GOP lawmaker says party ready to fight ahead of impeachment votes"
The networks then broke down coverage into a variety of analysis, live blogs and related stories.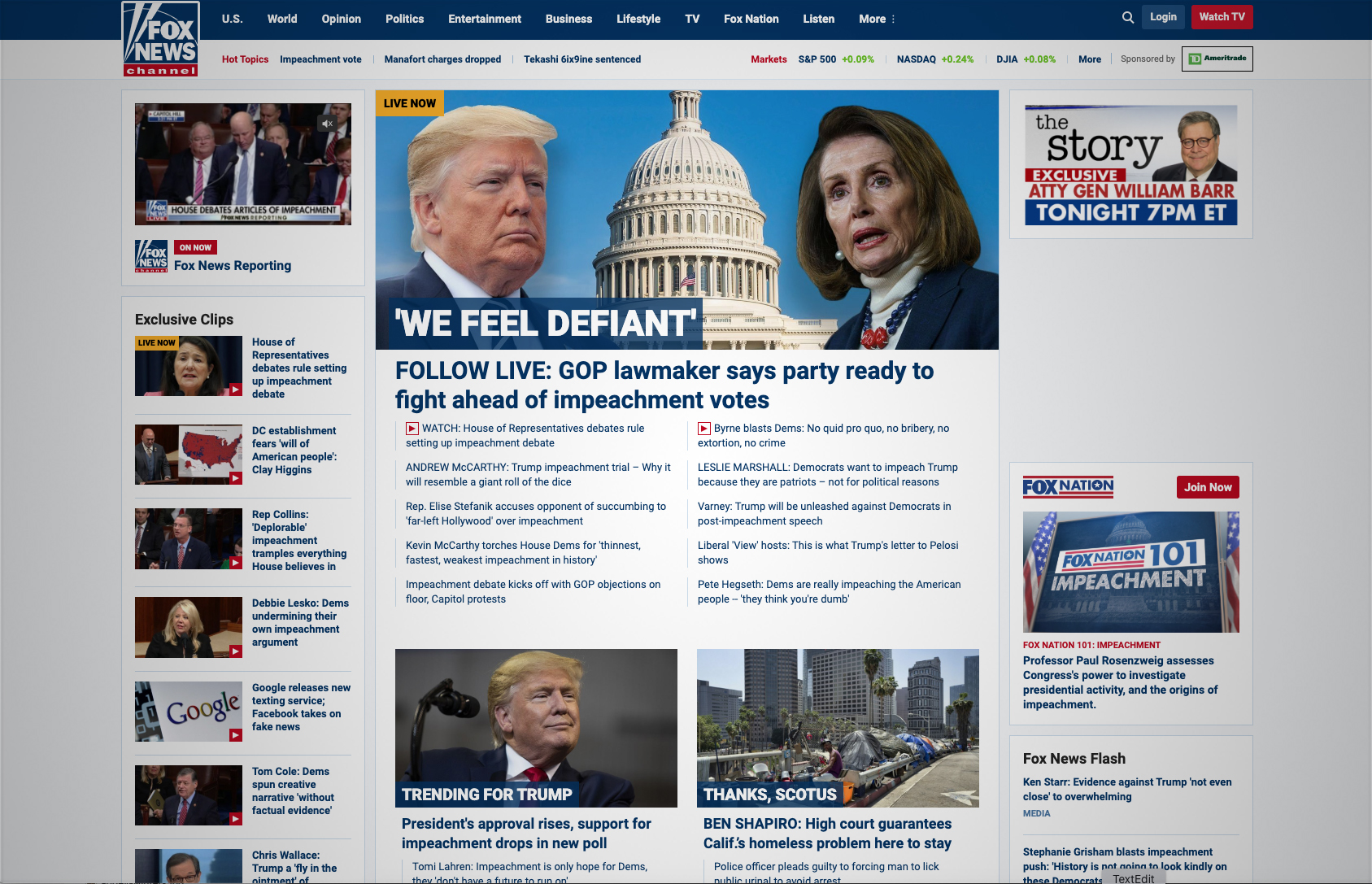 Fox's website included a composite image of Donald Trump and House Nancy Pelosi with the Capitol dome between them. Under the main headline were these links:
A link to the live stream labeled "House of Representatives debates rule setting up impeachment debate"
An analysis piece titled: "Trump impeachment trial – Why it will resemble a giant roll of the dice"
"Rep. Elise Stefanik accuses opponent of succumbing to 'far-left Hollywood' over impeachment"
"Kevin McCarthy torches House Dems for 'thinnest, fastest, weakest impeachment in history'"
"Impeachment debate kicks off with GOP objections on floor, Capitol protests"
"Byrne blasts Dems: No quid pro quo, no bribery, no extortion, no crime"
"Democrats want to impeach Trump because they are patriots – not for political reasons"
"Varney: Trump will be unleashed against Democrats in post-impeachment speech"
"Liberal 'View' hosts: This is what Trump's letter to Pelosi shows"
"Pete Hegseth: Dems are really impeaching the American people — 'they think you're dumb'"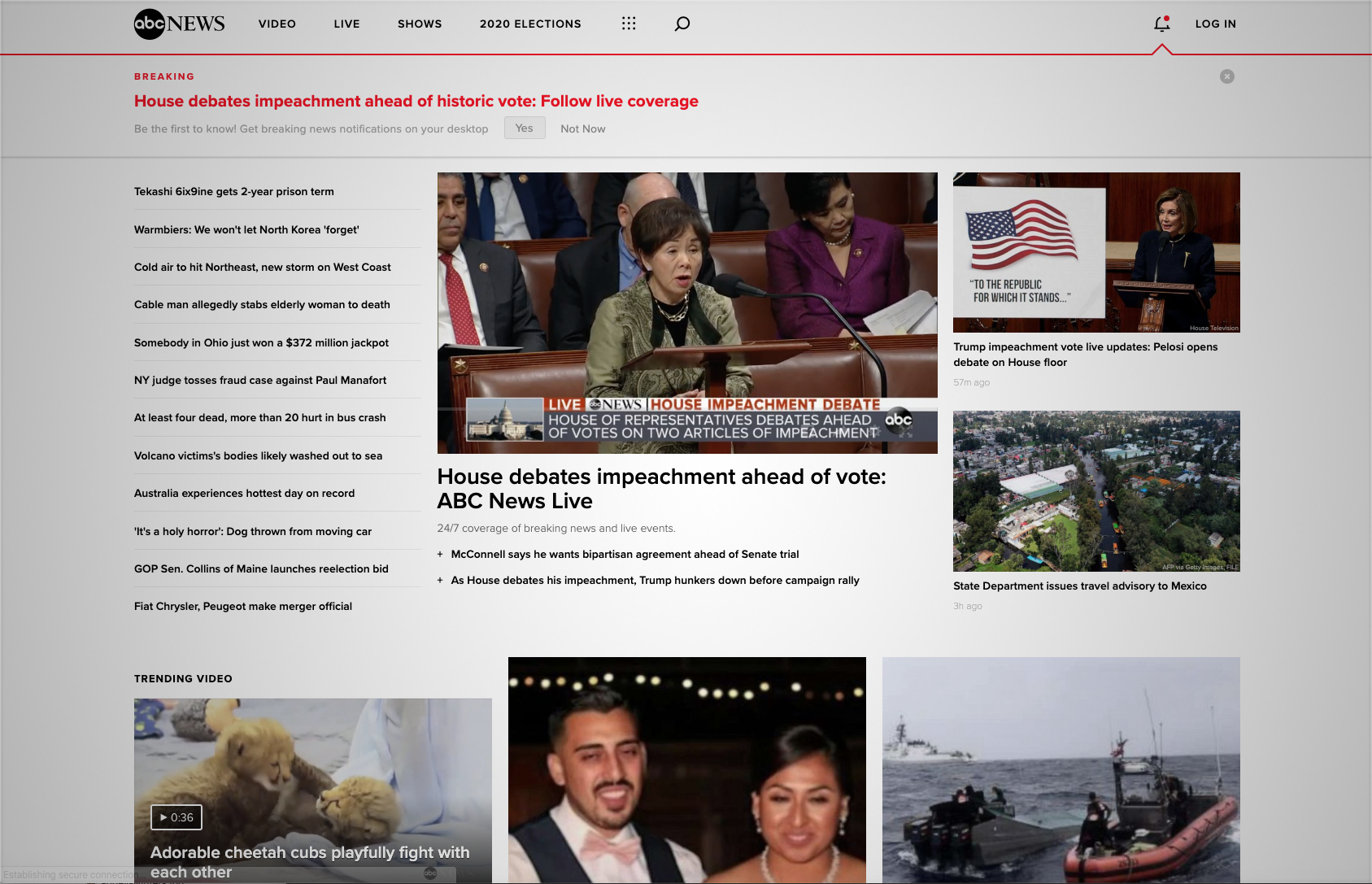 ABCNews.com featured a live stream front and center along with these related headlines:
"McConnell says he wants bipartisan agreement ahead of Senate trial"
"As House debates his impeachment, Trump hunkers down before campaign rally"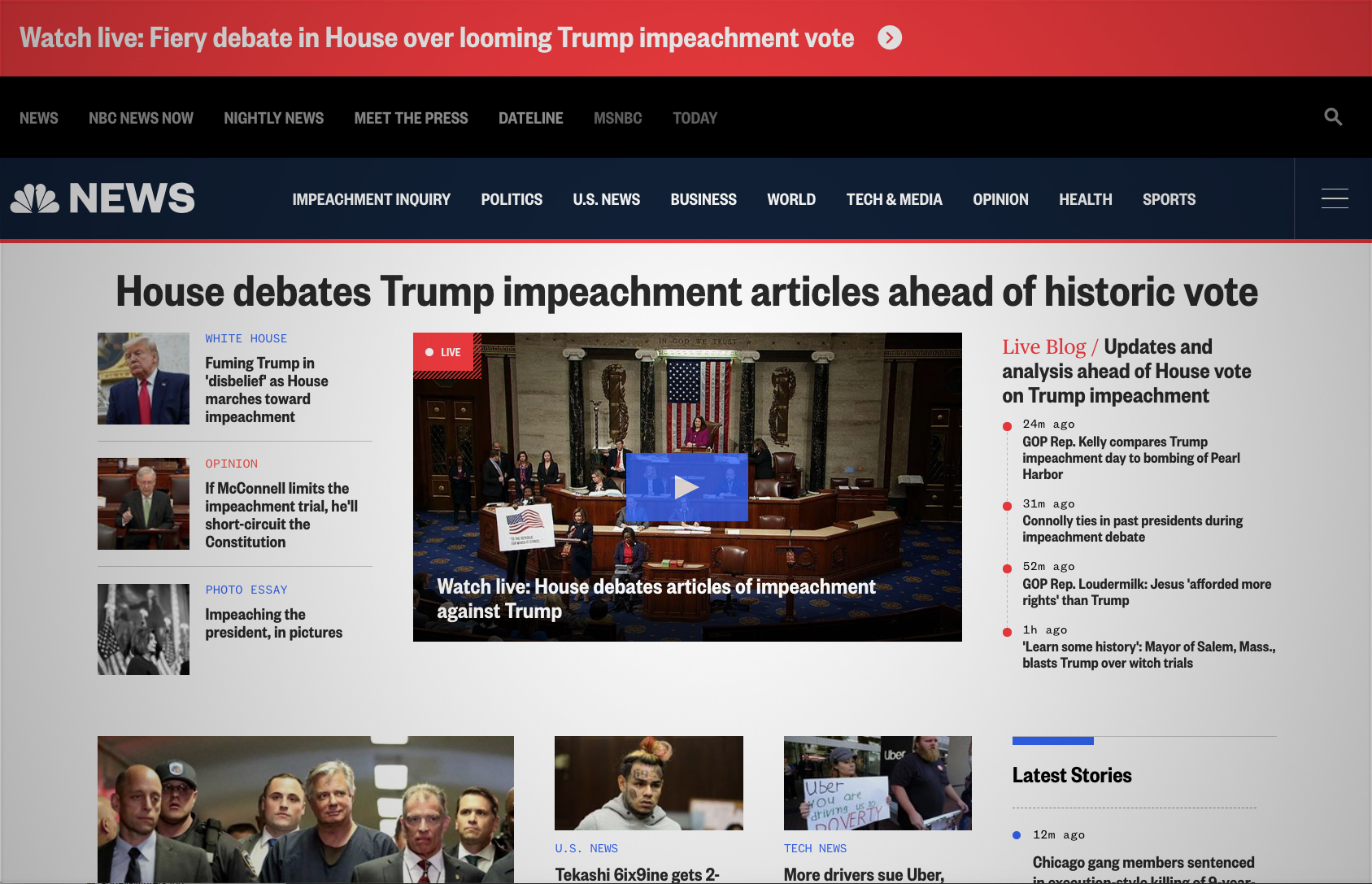 NBCNews.com also put the stream in the main space, along with three related headlines:
"Fuming Trump in 'disbelief' as House marches toward impeachment"
Opinion piece: "If McConnell limits the impeachment trial, he'll short-circuit the Constitution"
"Impeaching the president, in pictures."
There was also a live blog with updated comments from both Democrats and Republicans running along the right side of the site.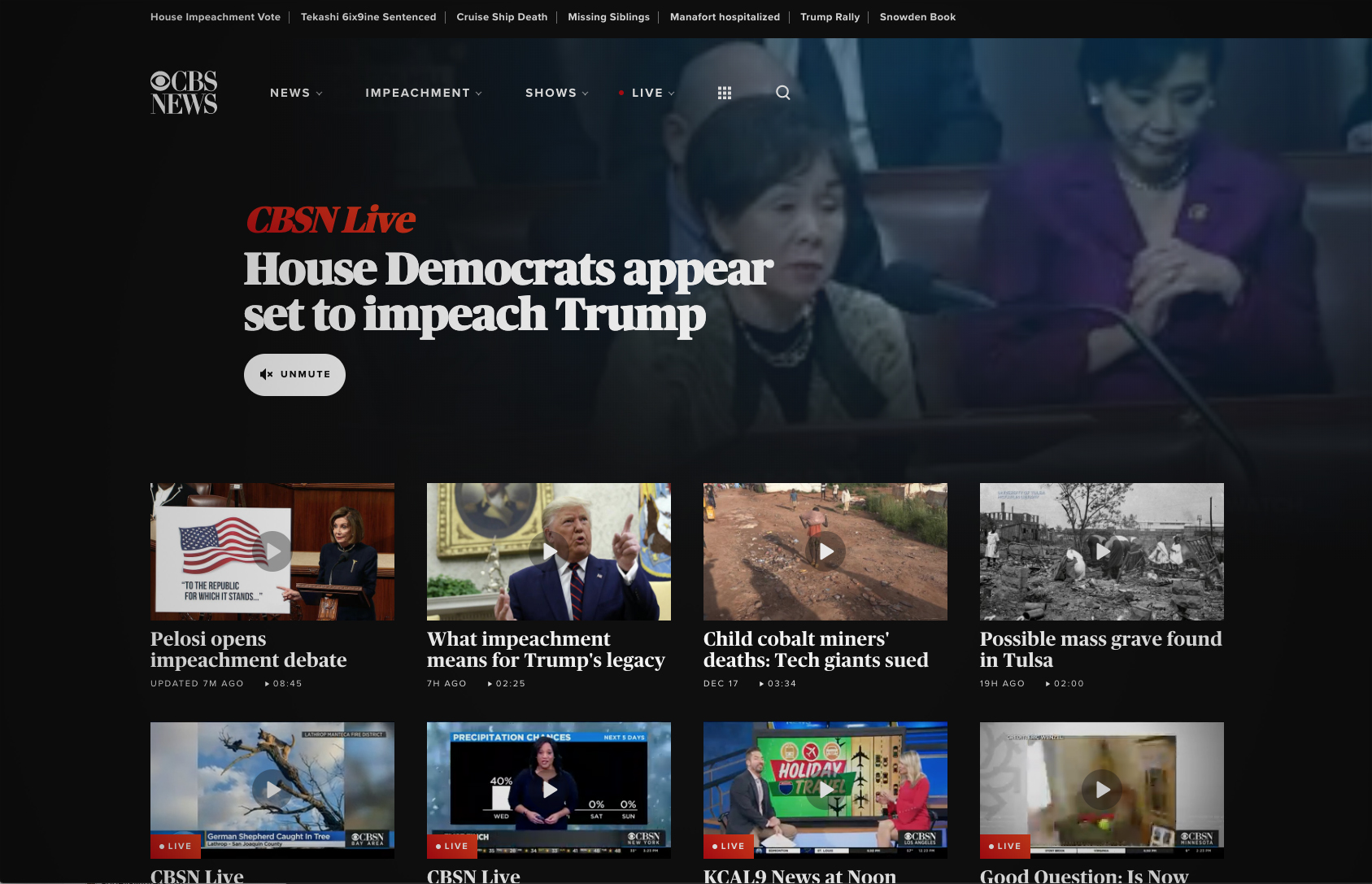 CBSNews.com included two additional stores:
"Pelosi opens impeachment debate"
"What impeachment means for Trump's legacy"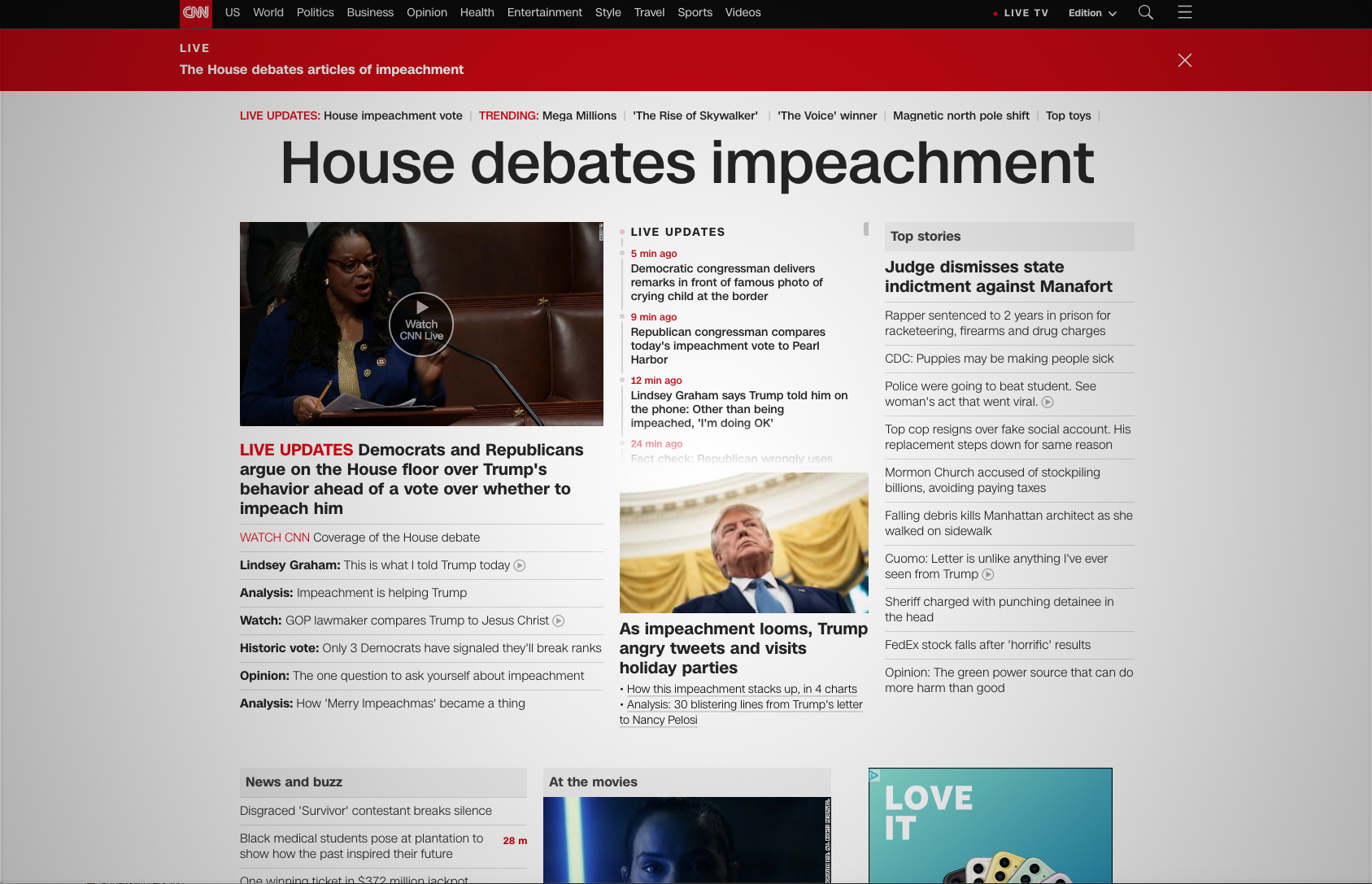 CNN.com also had a live blog stream, along with these headlines:
"Democrats and Republicans argue on the House floor over Trump's behavior ahead of a vote over whether to impeach him"
"Lindsey Graham: This is what I told Trump today"
"Analysis: Impeachment is helping Trump"
"Watch: GOP lawmaker compared Trump to Jesus Christ"
"Historic vote: Only 3 Democrats have signaled they'll break ranks"
"Opinion: The one question to ask yourself about impeachment"
"Analysis: How 'Merry Impeachment' became a thing."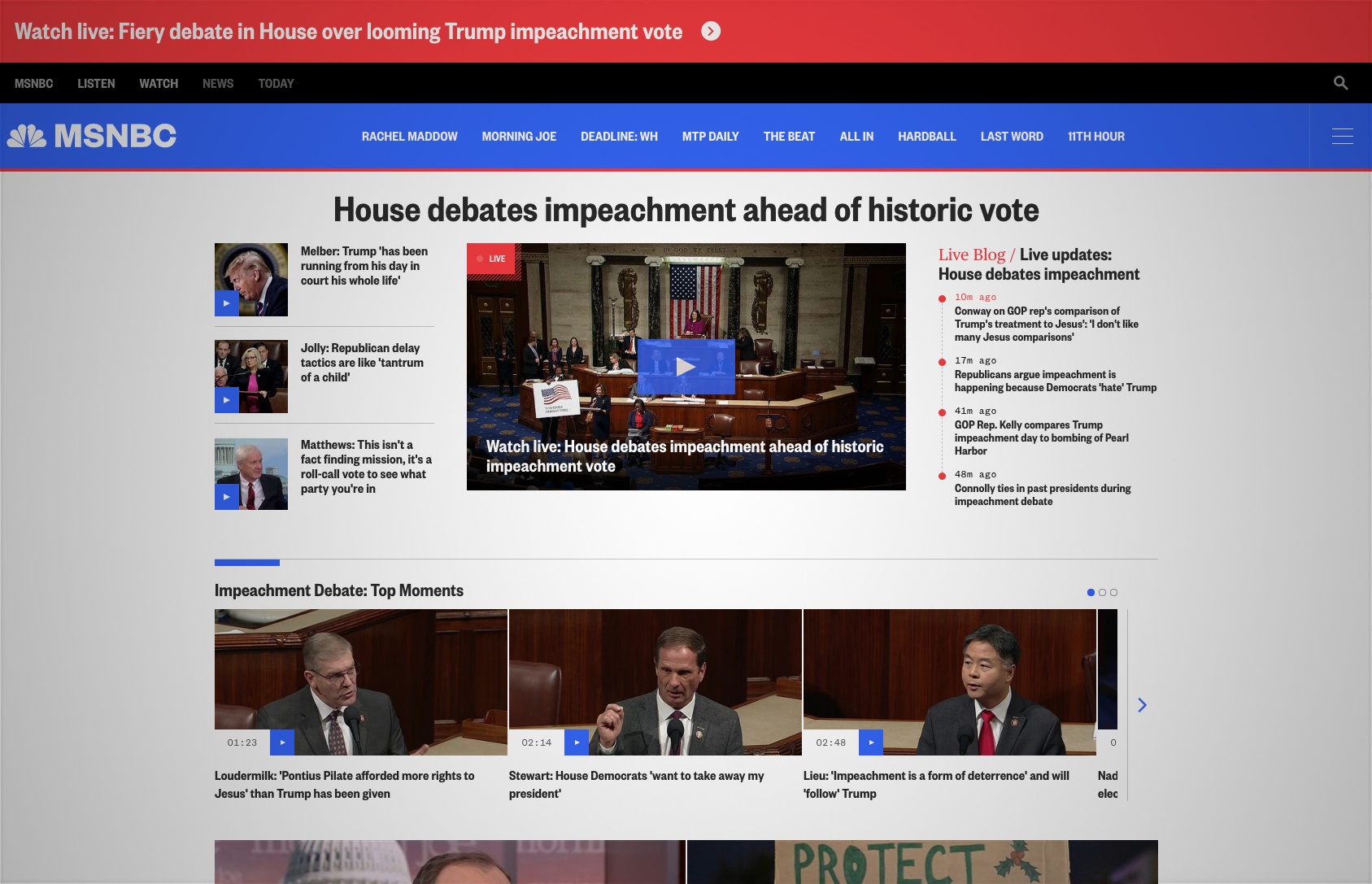 MSNBC.com, like it frequently does, emphasized video clips, including:
"Melber: Trump 'has been running from his day in court his whole life'
"Jolly: Republican delay tactics are like 'tantrum of a child'"
"Matthews: This isn't a fact finding mission, it's a roll-call vote to see what party you're in."
The site also included a similar live blog stream as NBCNews.com did.