'PBS NewsHour' Politico debate uses simple look — except behind the candidates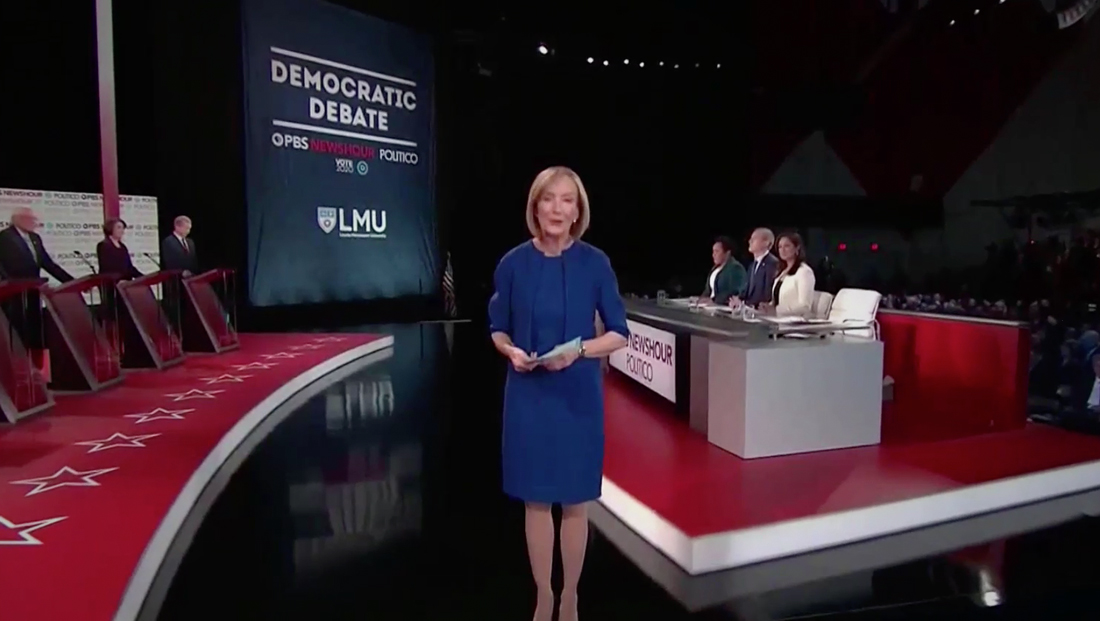 "PBS NewsHour" and Politico hosted the final debate of 2019 Thursday, Dec. 19, 2019 (a debate that almost didn't happen) with a mostly simple and clean look for its motion design.
PBS opted to kick off the crux of the broadcast with "NewsHour" anchor Judy Woodruff introducing the candidates and moderators.
Woodruff introduced the candidates one by one as the handheld camera moved in on each one, in turn, standing behind his or her lectern.
The show then aired an extended open that included audio clips on key issues from each of the seven candidates featured.
The open used the same deep blue, star, "2020" and red and white stripe accents used in the promos.
Like most PBS programming, the debate included an underwriter spot — in this case, Ancestry.com — before the broadcast began.
Lower third graphics were also kept dark blue, while the looping background behind candidates features repeating "PBS NewsHour," Politico and Democratic National Committee logos in repeating lines.
The lines had varying levels of transparency, with every fourth line behind the darkest.
The lines were animated to move slowly in both directions.
Compared to the rest of the design, this step and repeat style look was the most cluttered look of the night, though the transparency effects and camera lensing did help the look from becoming overly obtrusive.
At times, however, the two way animation would create a bit of a dizzying effect when a candidate moved left or right or a camera had to adjust to keep the candidate centered in the frame.