ESPN to air 15 versions of CFP National Championship in MegaCast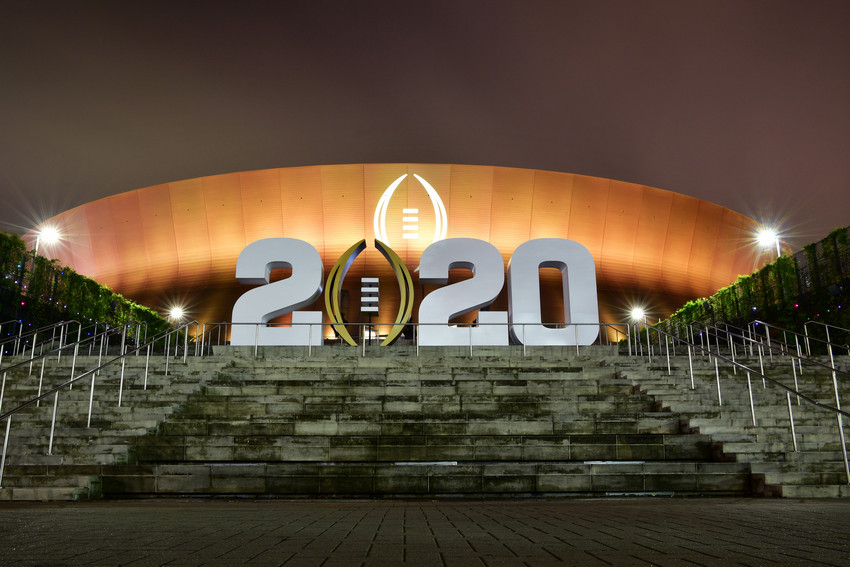 Subscribe to NewscastStudio for the latest news, project case studies and product announcements in broadcast technology, creative design and engineering delivered to your inbox.
LSU will face Clemson in the College Football Playoff National Championship game on Monday, January 13, 2020, at the Mercedes-Benz Superdome in New Orleans.
ESPN will have the marquee event that caps off the college football season surrounded with 15 live broadcasts of the game across its networks and streaming platforms, known as a MegaCast.
The main telecast, airing on ESPN, will feature multiple innovations for this year's broadcast including pylon cameras, multiple Skycams, cameras on officials and new virtual reality graphics along with over 100 microphones to capture audio throughout the Superdome.
"The College Football Playoff National Championship is the pinnacle of our college football season," said senior vice president of production Lee Fitting.
"This one telecast is a blend of our best technology and innovation, providing viewers an experience that is befitting to the magnitude of the game. I couldn't be more proud of our entire team's work, from commentators to reporters, producers, technical staff, operations and more, in preparing to showcase the game to the world.
This is ESPN's sixth year producing a MegaCast for the championship game.
Some of the options include:
Field Pass on ESPN2 – Free-flowing commentary of the game, anchored by Adam Amin and Steve Levy, who will roam the sidelines of the Superdome. Multiple guests will join Amin and Levy throughout the telecast, including college football analysts Pat McAfee and Dan Orlovsky. Field Pass will once again be offered as an alternate pregame show, also on ESPN2.
Coaches Film Room on ESPNU – Follow every play of LSU-Clemson through the minds of those who live and breathe the game every day. Participating coaches will be announced later this week
Command Center on ESPNEWS – Multi-angle presentation, which includes up to four different vantage points at any one time, with statistics and real-time drive charts supplementing the game action.
DataCenter on Goal Line – A catch-all viewing option, as ESPN's main telecast will be surrounded by real-time stats, analytics, social media commentary and player information.
Hometown Radio on ACC Network and SEC Network – ACC Network has the Clemson Radio call and SEC Network has the LSU Radio call, as both networks pair the hometown audio with the ESPN main telecast. This MegaCast feed is presented in conjunction with Clemson Tigers Network powered by JMI Sports and LSU Sports Radio Network.
Sounds of the Game on ESPN Classic – Allows viewers to imagine themselves inside the Superdome, as the game presentation will feature all the natural audio from the stadium, including the band performances.
Refcast on ESPN App – A Bristol-based production where John Parry (former NFL referee), Matt Austin (former SEC referee), Judson Howard (Pac-12 replay official) and Dave Cutaia (former Pac-12 referee and conference supervisor) provide reaction and commentary from a referee's perspective. An additional referee may be added to the presentation.
Skycast on ESPN App – The popular view from above the action and behind the offense on most plays. New this year, replays will be shown regularly throughout the presentation.
All-22 on ESPN App – Watch the game the same way players and coaches study film, with a vantage point high above the field of play. The angle allows for the 22 players on the field to be seen at all times, providing the ability to distinguish how plays develop.
Techcast on ESPN App – An array of ESPN camera angles all on one screen, as viewers can enjoy as many as 12 angles of gameplay simultaneously.
Subscribe to NewscastStudio for the latest news, project case studies and product announcements in broadcast technology, creative design and engineering delivered to your inbox.