ABC News airs special tribute to Kobe Bryant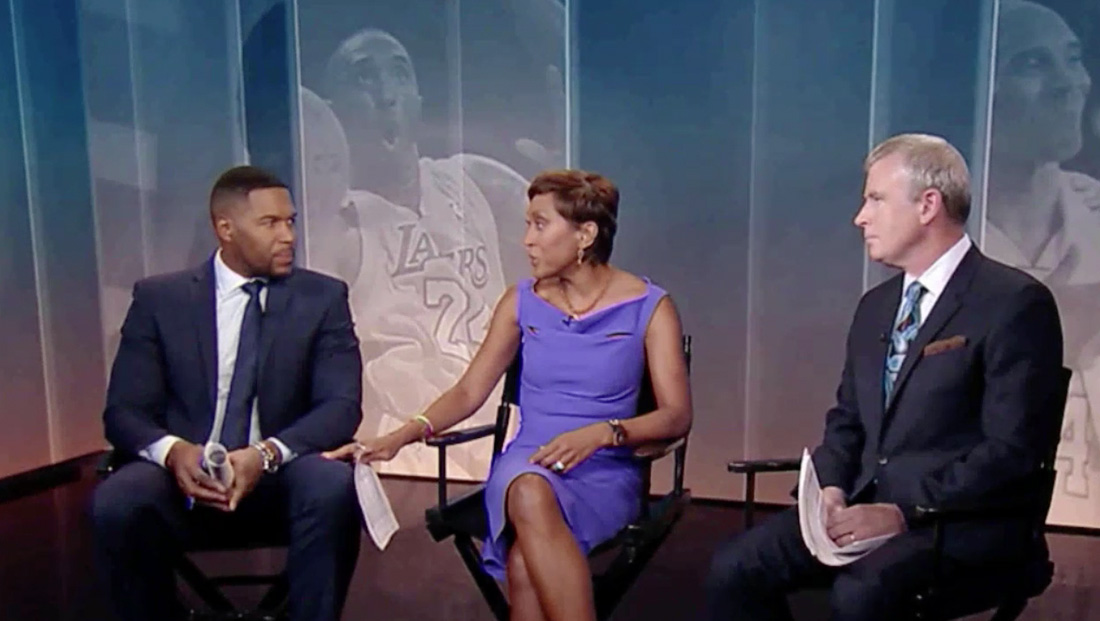 ABC News partnered with its sister sports network ESPN to simulcast a special looking back on the life of Kobe Bryant Sunday evening.
The special originated from the studio normally used by "ABC World News Tonight" and "ABC World News Now" but sans the anchor desk.
Robin Roberts, a former sports reporter for ESPN, was joined by "GMA" co-anchor Michael Strahan, an ex-NFL player and personal friend of Bryant, and ESPN and ABC Sports reporter Tom Rinaldi.
The trial sat in director's chairs in front of the L-shaped video walls installed in the studio.
A blue and gold color scheme with vertical animated lines blended with imagery of Bryant was fed to the video wall, while a logotype using Proxima for Bryant's name and Trajan for the "Death of a Legend" line.
ABC used this headline on "World News Tonight" Sunday and "GMA" the next morning as well.
This typographic combination has been used for a variety of other ABC topical logotypes, including, most recently, Donald Trump's impeachment trial.
The special used a smaller and unceremoniously "smooshed" version of the logo as bug along with two line insert graphics that appeared next to the bug with a vertical red line.
For fullscreen graphics, the vertical line and color scheme used on the video wall was used, but without photos.