Morning shows sport Kobe Bryant's team colors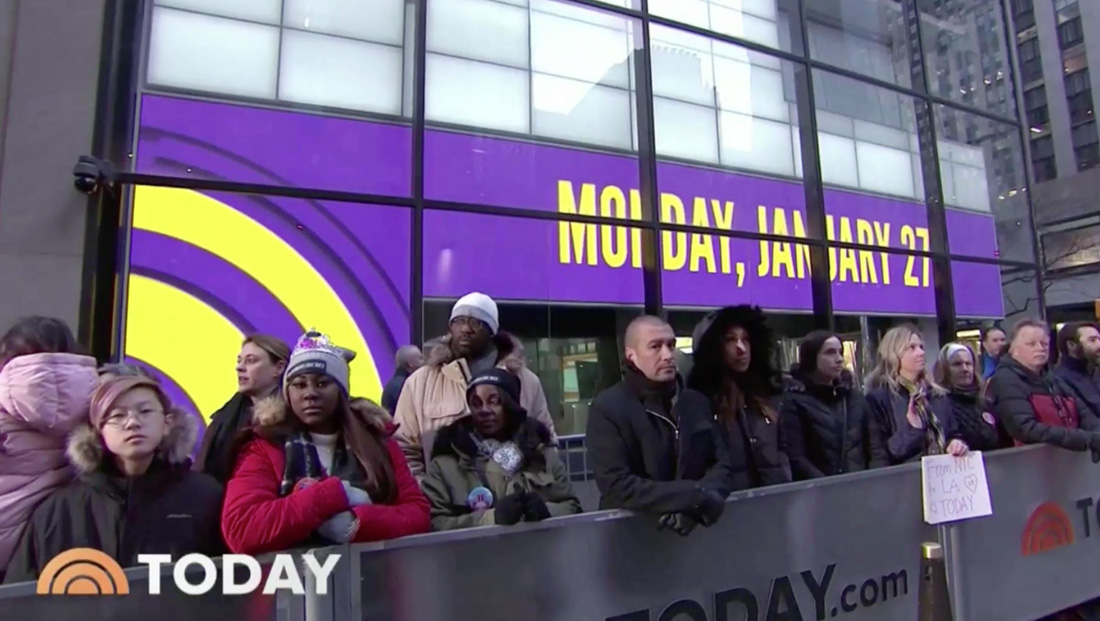 The network morning shows all lead a busy news day with the death of NBA legend Kobe Bryant — while also shuffling with coverage of the Coronavirus and impeachment trial Jan. 27, 2020.
NBC News' "Today" used the red breaking news color scheme to tease the story, but the show turned the LED video walls that face Rockefeller Plaza with purple and gold, Bryant's team colors.
The show also used a similar color scheme on the curved video wall inside the studio to showcase social media reactions and photos of Bryant's career.
In addition, the sunrise icon sculpture and integrated other lighting in the video wall area also used a yellow and violet color scheme.
ABC's "Good Morning America" used the logotype it used on its special Sunday as part of an extended tease that occupied most of the headlines that run before the show starts.
The network also showed off a photo collage of Bryant on the camera left video wall.
It's also worth noting that anchors Robin Roberts was wearing violet and yellow, while Michael Strahan sported a purple tie.
"CBS This Morning" also lead with the story and included it in its "EyeOpener" segment.
After "EyeOpener," the broadcast showcased a photo of Bryant, his name and dates on the video panel ribbon mounted on one wall of Studio 57.
The seamless video wall behind the main anchor desk also featured a purple and gold toned topical graphic.