Q&A: Creating an interconnected broadcast facility for Big Whig Media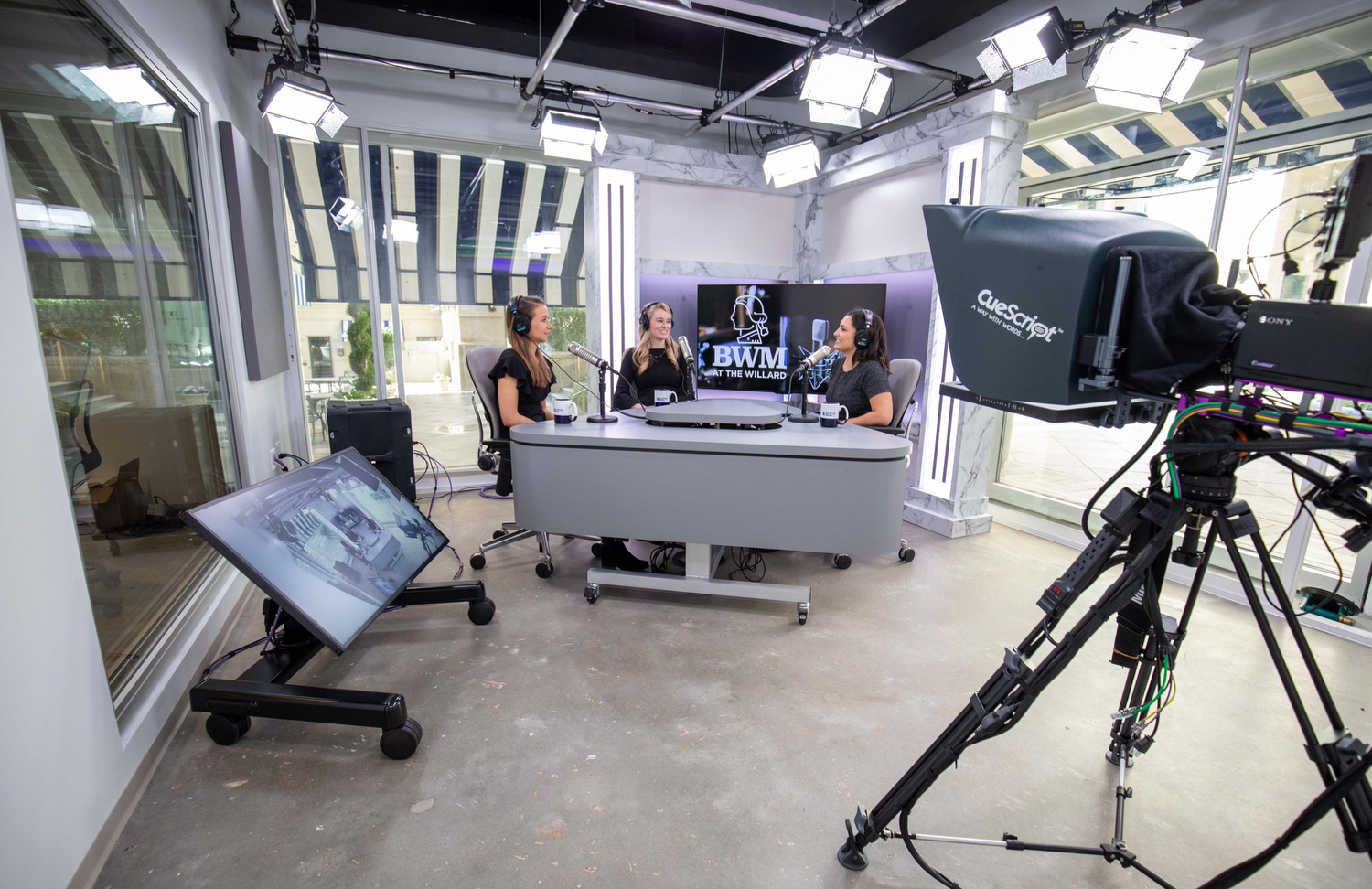 Subscribe to NewscastStudio's newsletter for the latest in broadcast design, technology and engineering delivered to your inbox.
Located at the historic Willard Hotel in Washington, D.C., Big Whig Media's new broadcast production facility aims to be a resource for those looking to create content.
"Big Whig Media was started because we saw a lack of places to create good content as the explosion of digital media was taking place around us. Our goal was to create a location that anybody could come to and use to create high-quality content, whether that be a streamed podcast, digital ads, a live TV interview, or even a full TV production," said Cassie Scher of Nahigian Strategies, the parent company of Big Whig Media.
"Our target audience is anybody looking to create content, do media training, produce a show, air a podcast, or anything else you could do in front of a camera, including associations, PR firms, government agencies, political campaigns, media outlets, news agencies, corporations, or individuals."
We recently had a chance to speak with Chuck Heffner, Digital Video Group's VP of broadcast systems, about the project and its interconnected production spaces.
What was the project scope?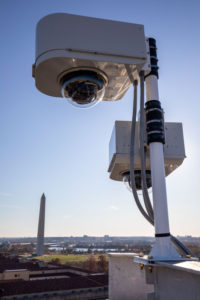 The project included one main studio, a podcast studio, three uplink studios, one central video production control room, four dedicated non-linear post-production rooms, a talent green room, a technical equipment core, remote ENG live production and two remote-controlled outdoor roof cameras.
How did the multi-modality of the facility influence the build-out and infrastructure?
It was very important to design each production area of the facility to operate as a stand-alone entity.
However, each area or room also was required to interface to the entire system such that the entire facility could be interfaced seamlessly for a project that required all of the facility's live production capabilities, such as operating both larger studios simultaneously, (plus) the uplink rooms, post-production recording and playback, and live video from the field via Skype or LiveU.
What technology was used in the broadcast studio?
The broadcast studio technology consisted of three Sony HXC-70 broadcast cameras systems which included Ross Cambot 520 PTZ remote-controlled heads and Cuescript teleprompters and time code displays, a Lectrosonic wireless microphone system, a Clear-Com wireless IFB system, a Marshall POV camera, a Yamaha RIO1608 stage box, a DVG custom IO service panel, and NEC and Sharp on-set displays.
What technology was used in the podcast/radio studio?
The podcast studio consisted of a Sony PXW400 ENG camcorder, an ElectroVoice RE-20 and Sony ECM-77B wired microphones, a Marshall POV camera, a Yamaha RIO1608 stage box, a DVG custom IO service panel, and NEC and Sharp on-set displays.
What technology was used in the control room?
The production control room technology consisted of a Ross Graphite production system which included a 2ME Carbonite production switcher, one channel of XPression character generator and two channels of clip servers, one channel of Ross Xpression Live character generator, a Ross Carbonite Black Solo production switcher, two Yamaha QL1 audio mixers, a Ross Cambot PTZ remote camera control system, a Sony PTZ remote camera control system, Sony video monitoring, Genelec audio speakers, two CueScript prompting workstations, Clearcom party-line intercom and two independent IFB systems, two AJA Kipro Ultra recorders, an AJA Helo streaming encoder, an AJA FS2 frame sync/scaler, a Tektronix waveform monitor, JK Audio hybrids, a Marshall POV camera, and Interpretive Woodwork and Design's custom-designed operator consoles.
What sets this installation apart from other recent projects?
The Big Whig Media at the Willard project needed to incorporate multiple commercial production requirements—live broadcast, podcast, uplinks, post-production, and media distribution—in a very tight space, while providing a high level of production capabilities and quality.
In addition, the system needed to support operation with a minimum amount of technical personnel.
The latest in design, production and engineering
Subscribe to NewscastStudio for the latest delivered straight to your inbox.