Industry Insights: The future of audio mixing in broadcasting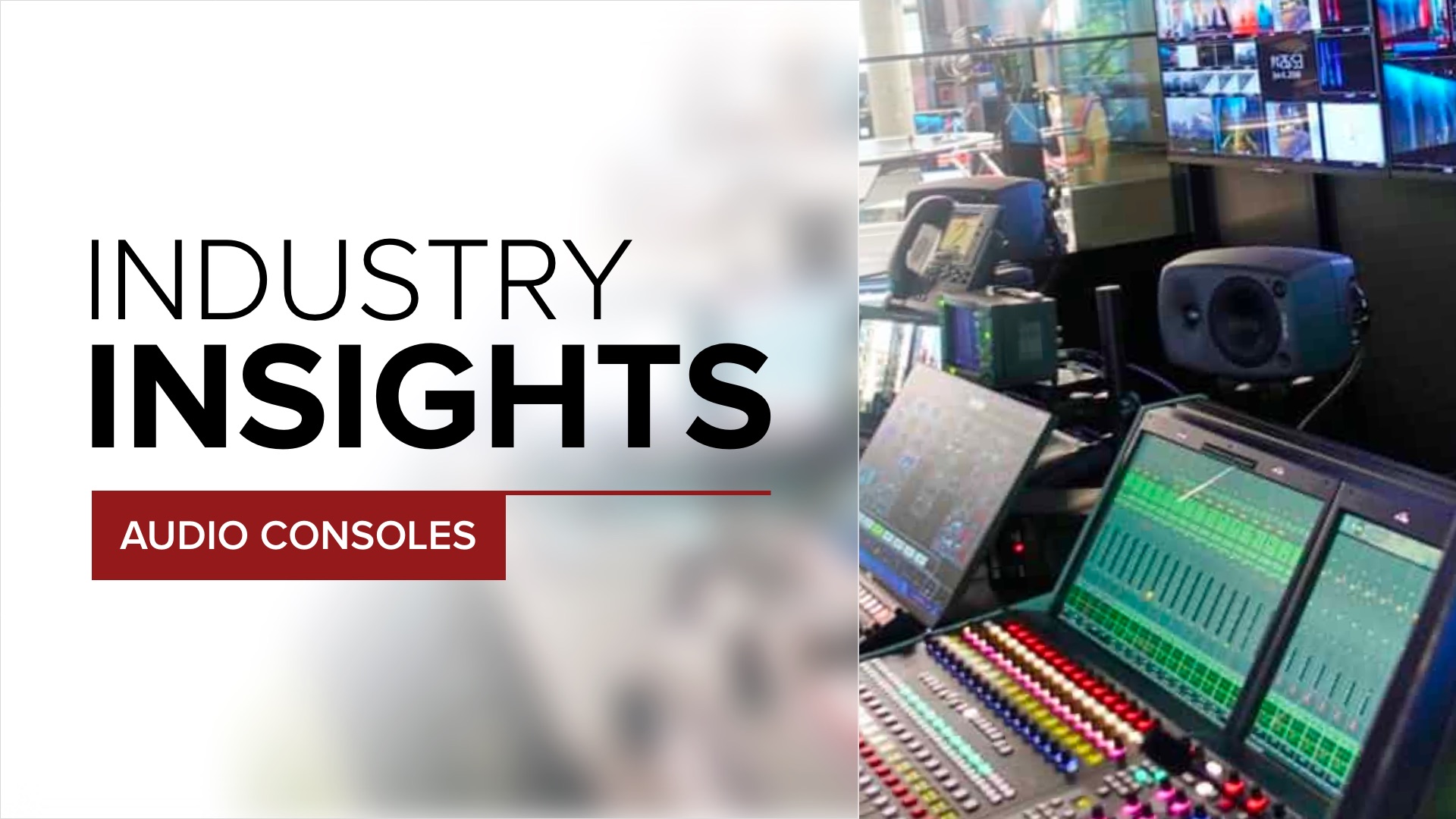 Subscribe to NewscastStudio's newsletter for the latest in broadcast design and engineering delivered to your inbox.
Is this move also accelerating the move towards virtual audio consoles?
"Absolutely, for most audio engineers don't have enough space to set up a big production console at home. A customizable touch-based front-end is crucial for whatever can securely be done remotely or in a confined space. Basing the GUI on HTML5 is an additional asset. As a manufacturer that caters to a variety of areas in the broadcast sector, we have been able to draw inspiration from our radio product line in that respect. Cross-fertilization is key," Struck responded.
"We will see the long-term effects that COVID will have on the audio console market in the next few years. We don't believe the change will be immediate. However, broadcasters can expect there will be a change and need to get ready for it," said La Rosa.
"We don't think it's accelerating that move, but it is definitely broadening the definition of what an audio console is. Virtual working has been possible for a number of years, and it's built into many Calrec products, such as the Apollo, Artemis, VP2, RP1 and Type R. Working infrastructures are clearly more flexible with the adoption of virtual consoles. As we continue to develop and expand our products with features to make the final mix a better product – such as easier ways to deliver immersive audio – manufacturers and developers will need to keep virtual consoles front of mind," Letson said.
"There is a wide misconception people have of the term 'virtual.' By 'virtual audio consoles' we could refer to two classes of products: 1) hardware mixing platforms with software control capabilities, that make them suitable for touchscreen-based operation, and 2) completely software-based mixing platforms where the DSP mixing component is a real-time application running on a virtual machine, or even in the cloud," added La Rosa. "While these two product classes are often confused, the paradigm shift between the two is great. Developing the first class of products simply requires an evolution of existing hardware products with the implementation of modern control technologies that make them compatible with browser-based control workflows. This is nothing new and has already being addressed by most manufacturers. Developing the second class of products requires a huge R&D investment and a very strong know-how in some areas of audio processing, which only a few companies have. Luckily for us, this is where we specialize! "
How do you envision audio workflows in the control room of the future?
"Simplifying IP setups is certainly a hot topic, to empower operators through more flexibility in a more intuitive way. Comprehensive touchscreen-based console control will be expected by up-and-coming audio engineers who grew up with tablets and smartphones. Another trend I see is that audio, video and control will continue on their journey towards tightly integrated synergy. The LiveView thumbnails on our consoles cater to this need for more information and control at the sweet spot," said Struck.
"In a word? 'Interoperable.' The move to SMPTE 2110 will be crucial and as an industry we're already there; Calrec's ImPulse and Type R products are both fully IP and SMPTE 2110 compliant. Most of the technology we've been working on as an industry has been creating the equivalent of a BNC or XLR cable, i.e. getting signals over a network. To move this on, wider NMOS support is vital. NMOS is a standardized mechanism for discovery/advertisement (IS-04) and connection management (IS-05), and brings together discovery and connection management on an IP network. This will make network configuration between devices from different manufacturers super simple," Letson responded.
"I think the workflows will be more and more object-oriented versus signal-oriented. The production industry started pushing into this direction a long time ago. Interactive, on-demand programs will require the control room to dynamically adapt to monitor delivery of content over multiple and variable transmission channels, which will require monitoring metadata as well, in real time," said La Rosa.
What other trends should we be looking for in the year ahead?
"No doubt virtualization and an unyielding drive towards efficient resource utilization in a dynamically scalable environment, irrespective of the location of the processing tools and operators. Next-generation audio seems to have been put on a backburner by the current situation, but I expect it to boom in the not-so-distant future. We are happy to see that a lot of our strategic decisions are panning out nicely. On a personal note, I believe we are all in dire need of more social contact. Achieving that in 2021would be a big step forward. The rest will follow," Struck said.
"In TV news we're seeing an increase in headless and virtual working with station automation systems. Products like ImPulse, VP2 and Type R tie into the move towards unmanned audio rooms in news operations, using station automation systems like Ross Overdrive, Sony ELC and Grass Valley Ignite. Calrec's Serial Control Protocol (CSCP) provides a successful transition to this model, allowing the audio console to be configured and driven entirely from the production control room's vision switcher and remote fader panel," Letson answered.
"I think the next big thing will be the use of Virtual Reality in control systems. The medicine industry is contributing largely in this direction. Also the push towards cloud-based workflows is accelerating the integration of content generation (playout systems) with content management (MAMs) and processing (mixing, processing and transport). This will change the way content is created and mixed," said La Rosa.
"As the broadcast industry continues to move towards IP, broadcast operators must create their own 'new normal,' that works for both them and their clients. Part of this 'new normal' will result in new workflows, with IP and cloud technologies providing a backbone on which to build them. The decisions made around IP solutions will be different for every customer, based on their specific business requirements and the nature of where they are in the broadcast chain (i.e. live production, post-production, playout, master control, distribution, etc.), and many other factors," Brownsill noted.
Participants
Christian Struck, Lawo
Dave Letson, Calrec
Stephen Brownsill, TSL Products
Luca La Rosa, Telos Alliance