CBS Chicago drops 'Hour 18' name for 6 p.m. newscast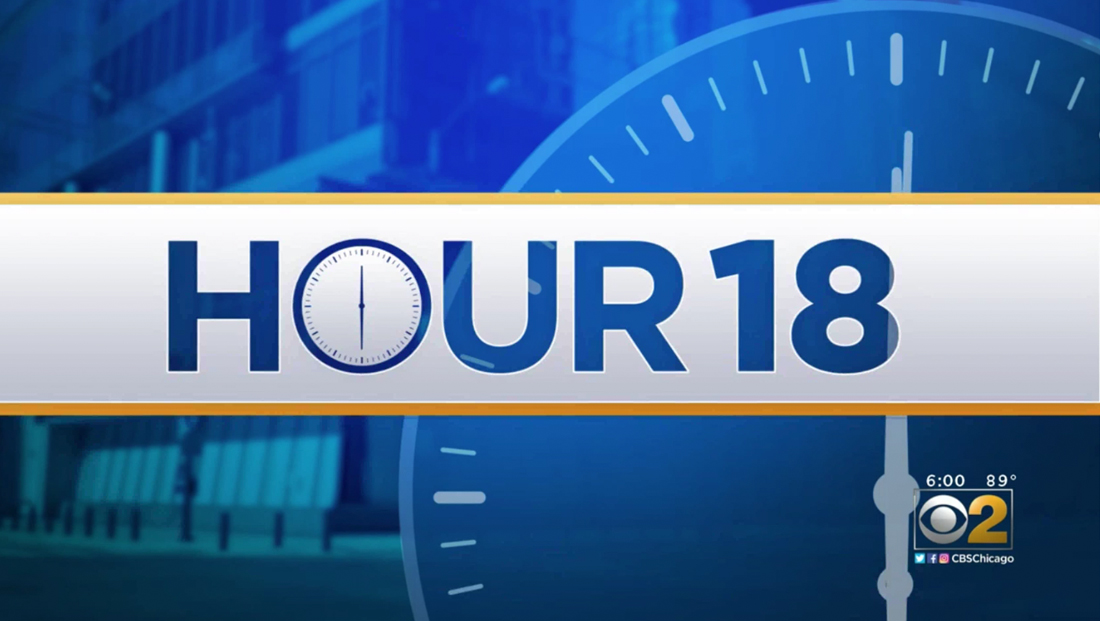 Chicago's CBS owned station WBBM has dropped the "Hour 18" name from its 6 p.m. newscast as of Jan. 24, 2022.
The station had been using the name since March 18, 2020, right near the start of the coronavirus lockdowns.
Initially, WBBM changed the title of the newscast officially, but reverted to calling it "CBS 2 News at 6 p.m." on official schedule grids but using the "Hour 18" graphics and referring to the newscast as such on air.
Jan. 24, 2022 marked the day CBS rebranded its CBSN news streamer as CBS News Streaming Network, often referred to as just "CBS News." Its regional CBSN networks, including CBSN Chicago, were also rebranded at the time, with WBBM's becoming known as "CBS News Chicago."

That same day, the station's 6 p.m. newscast began using the brief updated open animation that other newscasts had been using for some time, featuring the white, blue and yellow standard CBS owned station graphics package with both the "CBS 2" lockup and new "CBS News Chicago" logotype in TT Norms.
One of the stated goals of dropping the CBSN name and renaming the local streamers was to achieve more brand unity and consistency, so that may have been part of the reasoning behind dropping the "Hour 18" name.
Brad Edwards and Irika Sargent continue to anchor "CBS 2 News at 6 p.m."
The name, while unique, also didn't appear to help significantly with ratings since it's harder to imagine dropping it if the name had caught on. WBBM is one of CBS's lowest performing owned stations, frequently getting beat by independent WGN.
A similar design had been introduced on select newscasts previously with the CBSN logo in Didot. Red, white and yellow versions are also available for breaking news.
The station has also mostly stopped using the old, more traditional open with an announcer referring to the "CBS Broadcast Center in Chicago."
Instead, many newscasts now feature longer teases, many of them pre-produced, using graphics that were not part of the original CBS owned station graphics package look, but have been used at WBBM for some time now.
WBBM has made several other branding changes over the past few months.
In November 2021, WBBM stopped referring to its morning newscasts as the "CBS 2 Morning News" name in favor of "CBS 2 News" followed by "at" and the start time.
January 2022 saw the station drop its "Realtime Weather" and "Realtime Traffic" branding in favor of "First Alert Weather" and "First Alert Traffic", a move that other CBS owned stations also made in the following weeks. One notable exception is WBZ in Boston due to WBTS, the NBC owned station in the market using the "First Alert" name for its weather instead of the "Storm Team" moniker used at several other NBC O&Os.
WBBM has a history of experimenting with alternative looks and branding attempts to lure viewers, including efforts in the early 2000s with standout graphics, set and logo design. It also named its 10 p.m. newscast "The Ten O'Clock News Report by Carol Marin" in 2000, attempting to create a hard news focused broadcast — an experiment that lasted on nine months due to declining ratings.