Disney marks topping-out of new NYC building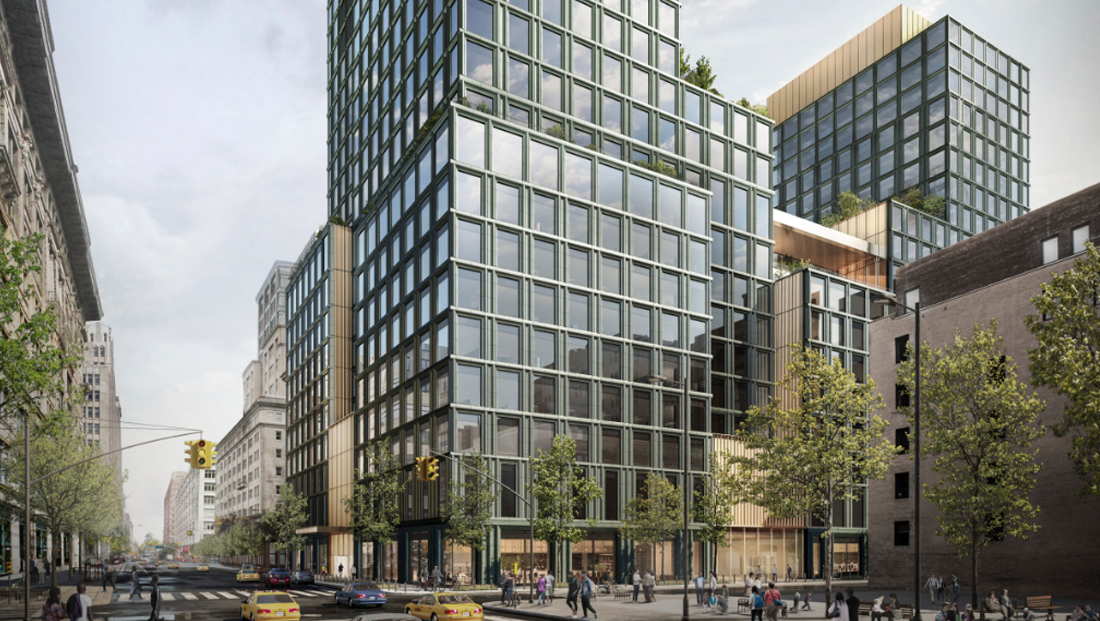 Disney's primary New York City facility marked an important milestone in April 2022: Its topping-out ceremony.
The 22-story building, which is part of the Hudson Square development, is being developed by Silverstein Properties and designed by Skidmore, Owings & Merrill.
Disney has signed a 99-year lease on space inside the building, which is expected to be finished in 2024.
While there isn't an official definition of topping-out, it typically refers to when the highest steel beam is put into place on a structure and can include a public or semi-public ceremony, often attended by representatives from the construction and architecture firms plus major tenants in the building, who sometimes sign the steel beam.
Topping-out ceremonies don't necessarily signal that construction is coming to an end anytime soon, however, because it's more of a sign that structural work has reached its apex.
Structures can have a significant amount of construction to go over after topping-out, including the more detailed work that includes installing exterior walls and adornments as well as all of the interior walls, systems and fixtures.
The new building, which will house a variety of operations for ABC, ABC News, Disney and other Disney-owned divisions, occupies an entire city block bordered by Varick Street on the east, Spring Street to the south, Hudson Street on the west and Vandam Street north.
This allows lower parts of the building to have floorplates of up to 85,000 square feet, which is ideal for large, sprawling media production spaces. As the building continues up, it branches into a pair of 320-foot tall towers, bringing the total square footage to 1.2 million.
Its official address is listed as 137 Varick Street, but is being marketed under the "Four Hudson Square" name.
ABC and Disney worked with SOM to include security features in the design, including traditional elements such as bollards at street level.
The facility will not feature a streetside studio like ABC's current facility does for WABC's newscasts. There will also be purpose-built spaces for handling studio audiences for "The View" and other productions. Reports also indicate that Disney and ABC are forgoing any prominent exterior signage.
It's not uncommon for broadcast facilities to have heavy security, as they often contain millions of dollars with of equipment and control content that potentially millions of people see every day. Because of their high profile, they can also be the target of protestors and troublemakers, including people seeking out contact with talent.
ABC and Disney currently produce "Live with Kelly and Ryan," "Tamron Hall" and "World News Tonight" — as well as other productions — out of its current primary NYC studios in addition to "The View" and "Eyewitness News" and those productions will likely need to relocate to Hudson Square.
ABC previously told NewscastStudio that, while no specific plans have been made for sets at Hudson Square, investments in LED panels and other assets at its current facility are being made with consideration for a possible future move, assuming they haven't reached the end of their lifecycles.
That facility, located near Lincoln Square, has been occupied under a leaseback arrangement with Silverstein since 2018. Disney sold the building to Silverstein at that time as well as entering into the agreement to be the primary tenant in the 4 Hudson Square building.
Disney has retained ownership of the so-called Armory building that houses ESPN operations. It also has studios in South Street Seaport and Times Square.
Disney and Silverstein have a 99-year deal with Trinity Church Wall Street to develop the property. When that deal expires around 2117, the property and building on it could revert back to Trinity-ownership assuming a new arrangement isn't reached.
Hudson Square should not be confused with 30 Hudson Yards, a separate development that includes the New York facilities for CNN and its parent Warner Bros. Discovery.