Huntsville station gets new set plus updated graphics with a slightly familiar look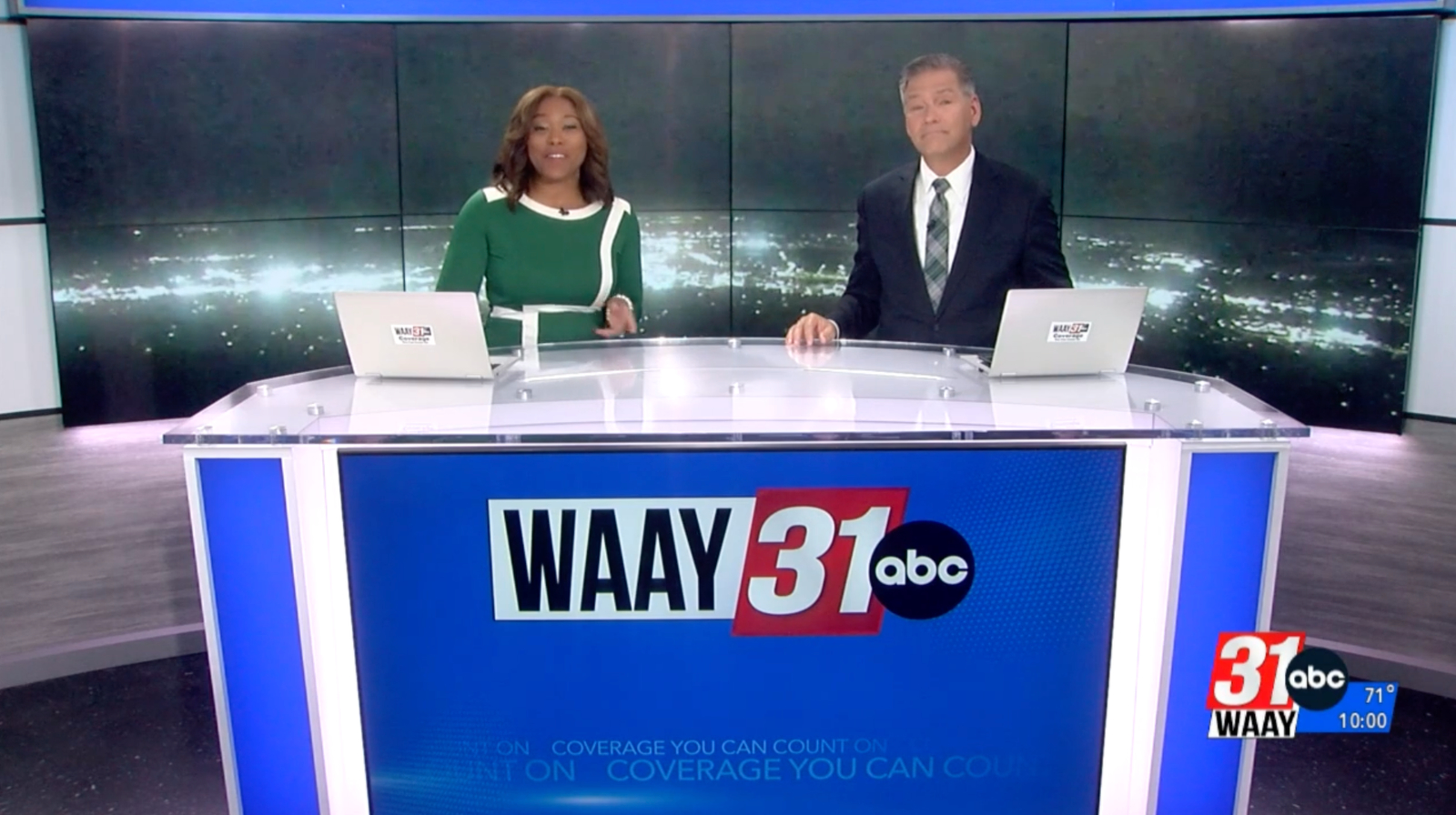 Huntsville, Alabama's ABC affiliate WAAY has launched a new set with multiple venues and an oversized weather center, all packed with tech — plus new graphics and music.
Designed by FX Design Group, the set features gently curving walls mixed with flat ones in a light gray with reveal lines.
Various parts of the set, including the header, are framed out in blue columns and horizontal elements, while light faux wood finish covers most of the knee walls and textural panels add another visual element in select locations.
Home base is a small anchor desk fronted with a large video panel and framed out with backlit side and center elements. Anchors sit on high drafting-style stools behind it and in front of a 2×4 video wall array capped with an internally lit header.

Meanwhile, camera right of the anchor desk is a 3×3 video wall set inside a bold three-sided blue frame and another internally lit ribbon along the top. This can be used for weather as well as as an alternate anchor venue and standup location.
The weather center, however, appears to take up a larger footprint than the main anchor area.
It features a large, curved combination presentation position-workstation that's capped off camera left by another large video panel.
Much of the base here is solid with dark reveal lines and light gray vertical elements. Just below the surface of the workstation are two backlit panel.

That camera left position is in front of a large OTS-style video screen mounted over a wall segment that's half wavy textural panels and half backlit glass. The design, however, suggests that weather staffers could broadcast from any point along the desk, including tag-teaming during severe weather.
The wavy panels continue toward camera right as the background behind a trio of video panels used to display live camera feeds and weather graphics. These panels are framed out with additional backlit ribbons both above and below them.
Digital Video Group provided technology for the set including monitors from NEC, Sharp and Philips with video wall processing from TV One. Lighting design was also handled by FX Design Group with fixtures from Ikan.
In addition to the new set, the station also debuted new graphics that draw inspiration from the station's slanted "31" logo.
Those angular elements are most prominent in the opens and stingers.
Opens typically start with a light gray background and animation that reveals an oversized beveled version of the number "31" as well as a blue angled segment entering from the left.

The sequence includes additional references to both "WAAY 31 News" (pronounced as the word "way") and the "Coverage you can count on" tagline before glassy angled elements move by in front of a city view that varies based on daypart. Light bursts also make an occasional appearance.

Finally, an outline, single color version of the "31" logo with a thick white border instead of red polygon appears in the middle of the screen before shrinking down and moving to the left, with the newscast title appearing next to it.
This final screen is about 75% blue, with a light gray and dark blue angled edge off to the far right.
The angles continue in the insert graphics, with the bug using a full version of the logo, including ABC globe, and an angled time and temp box to the right.
Lower thirds can be up to three tiers, with the top one using a blue gradient, while white and black are used for the next two, respectively.
L3 text is displayed centered, but appears to be positioned as if the bars extends the entire width of the screen, excluding the bug and slight empty space to the right of it, resulting in somewhat od spacing.
The new look features a bit of a jumble of typographic elements.
First, there's the clean sans serif Avenir and its condensed cousin used in the lower thirds.
Opens have three typefaces — all sans serifs — with one used to spell out "WAAY 31 News" that appears more similar, but not identical, to the one used in the main station logo lockup. The station tagline appears in a slightly bolder and sharper sans serif and the newscast title itself is in yet another font.
Much of the look relies on beveled edges and faint drop shadow effects that feel a bit dated.
The new opens and stingers appear to have slight similarities to the new CBS Television Stations package that's been rolling out across the country.
From the initial white and light gray screen in the open to use of a clear, wide sans serif and similar shades of blue and white, select graphics manage channel CBS's design despite using entirely different shapes.
The key difference is that CBS uses circular rings and shapes, whereas WAAY is straight edges and angles. The CBS look also uses bevel effects, though typically not on typography, but it has a bit more of a refined look. It also largely avoids using light bursts and glassy 3D elements in favor of flatter looks with more subtle dimensional elements.
WAAY's graphics appear to have been done in-house or using a team from the station's owner, Entertainment Studios (also known as Allen Media Group).
In addition to the visual changes, WAAY switched to "True News" from 11 One/Music. It had been using "This is Home" from Gari.
The latest in design, production and engineering
Subscribe to NewscastStudio for the latest delivered straight to your inbox.