ServusTV
Location:

Salzburg, Austria

Affiliation:

Network







Studio for ServusTV, part of Red Bull Media House, that launched in 2021. Veech x Veech has worked with the network on its previous studio projects as well.
The new ServusTV studio, located adjacent to the Red Bull Media House campus in Salzburg, is a high-tech fully robotic landscape embracing technological precision and innovative camera choreography all synchronized to create a vibrant fluid media landscape with over 25 million embedded LED pixels.
The 200-degree studio embraces robotic camera movements with two high-resolution LED screens that slide along recessed tracks. The design includes a secondary perimeter LED wall which adds ambient color branding in combination with the primary curved LED wall.
The S-shape desk is 3D-formed with a Corian surface is accentuated by integrated pixel-controlled LED lighting projected upon the transparent curved base structure.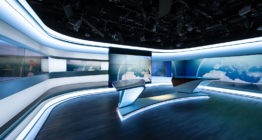 Set Design
ServusTV (2015 – 2021)
View a gallery of this project…
Photos courtesy of Veech x Veech