Starting up a brand new day, again…
It's been only 8 short years since The Early Show hit the air on CBS, ushering in a new way to wake up, and with The Early Show, many things were done different.
After years of falling in the ratings, CBS has finally decided to give The Early Show a major overhaul, trying to give it a home in the growing morning show race.
The last major overhaul came in 2006 when CBS gave The Early Show the new standard CBS graphics, but after even more declining ratings, CBS decided on a bigger change, new graphics, new music, new set, and new talent.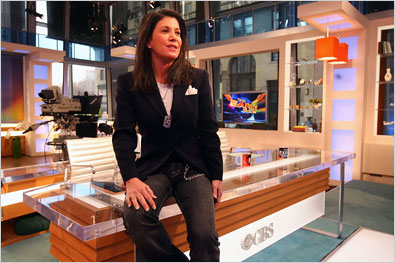 The new Early Show main desk, with new Producer Shelley Ross. Picture courtesy: Andrea Mohin/The New York Times

The new change comes with new talent, including new anchor Maggie Rodriguez replacing Hannah Storm. Along with the new talent, CBS has designed a new over the top graphics package, which resembles the CBS News package, but features new elements, uncharacteristic of CBS. Also, CBS decided to revamp their ageing street side studio located in the General Motors building in downtown New York City.
The new set features a much more modern styling including wood, metal, whites, and many, many, sit down areas. By my count, this new set has at least four couches, and many possible standup locations. The set also contains a massive display for use with weather. The set has many European styling cues, much like the new NBC Today Show and NBC Nightly News sets, but this set doesn't match the "new" CBS News set. One has to wonder if it is next on the list to be upgraded, not just for looks, but also for HD.
This new change offers CBS another chance to get ahead in the morning race, but is it too late? The show features new talent trying to gel and find their groove, but will CBS's new hard news approach be too blunt for most viewers looking for morning fluff? In the coming weeks we will see just how CBS fairs with its morning show makeover.
Please visit the all new NewscastStudio forum to discuss the new Early Show set and give your opinions.