Election on the Web
The Web is also playing a big role in Election 2008 coverage (this is the 21st century after all) and the battle is just a fierce between news organizations to see who can provide the best coverage.
MSNBC, which is using the URL "politics.msnbc.com" in on-air promotions, has leveraged its recent redesign to fuel its election coverage pages.
The main politics page was using a two-column layout to organize Republican and Democratic results and then further breaking them down by state. In addition, MSNBC uses state outline icons heavily to provide a visual cue to its data.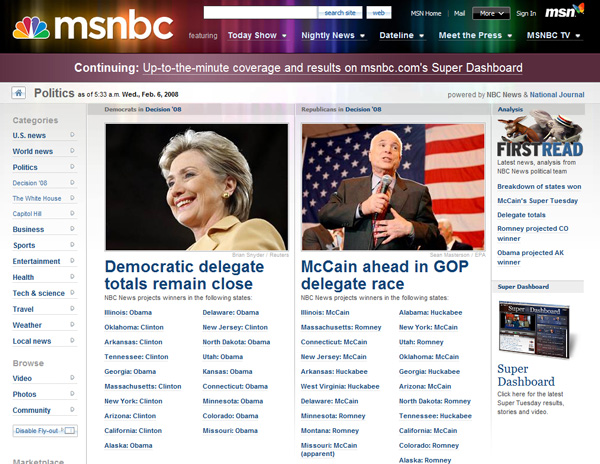 MSNBC places a heavy focus on interactive features, including a matrix that lets you match your views with candidates, a map displaying latest results and delegate counts and a guide to the election process. As is typical of MSNBC.com, these features are very visually appealing but also provide some good information. The king of MSNBC's interactive is the "Super Dashboard," which integrates live and taped video, results and headlines into one module.
CNN has branded its online component under the domain cnnpolitics.com, which directs users to its politics section. Taking visual cues from the rest of the also recently redesigned CNN Web site, a dark header creates a distinctive look (and makes the site-wide navigation links a bit hard to read on some screens).
CNN's layout emphasizes a dramatic photo presentation and stories more than data. Most numbers are placed under the scroll (and also beneath some promo boxes for CNN shows and other content). Although well-organized and clean, CNN's data presentation lacks some of the visual interest found elsewhere. The trend is repeated on the main CNN.com homepage, which photos and headline scrapes the dominant element and simple data charts below.
Fox News Channel is using the subdomain youdecide08.foxnews.com for its online coverage. The layout of this page seems a bit dated; headline and photo placement could be a bit more refined. A small clickable map directs users to individual state pages, such as Minnesota's. Again, the layout seems a bit half-hearted, though the data charts are clean and easy to read.
ABCNews.com used its typical layout (which was recently tweaked) to present Super Tuesday news. A rather cluttered section of the Web site showed the hot races but the combination of colors, photos and text seemed to a bit disorganized.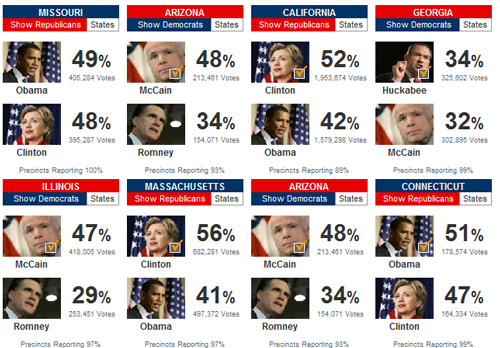 Elsewhere, ABC used drop-down navigation elements to allow viewers to sort by various criteria such as candidate, date and state, and also includes an interactive map as well.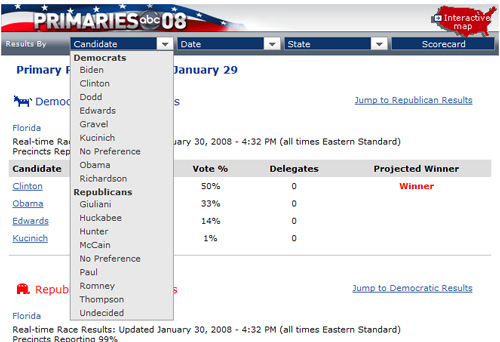 Over at CBSNews.com, the main area on the homepage was divided into two columns, each display the top story from each party along with links to related content beneath; a good approach at highlighting the big news. Well-organized data beneath allows users to dig deeper as they desire.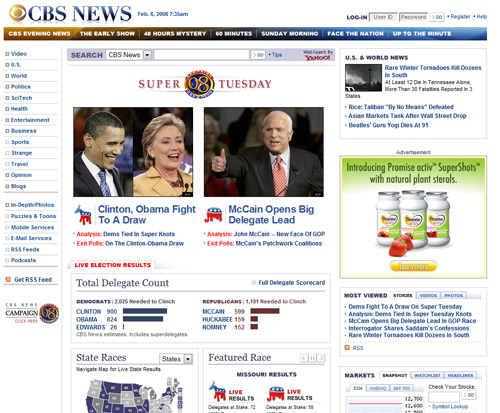 It's also interesting to note the box in the upper right that links to other news of the day; since Super Tuesday provided some other breaking news stories outside the political arena.
Inside the politics section, CBS used a traditional photo and headline layout, but has an interesting content module called "Campaign Toolkit" that organizes its calendar, polling data, campaign ads, photo essays and other content under one umbrella.
PBS is using a simple approach with an interactive map, headlines and campaign calendar. While not visually exciting, it is well-targeted to PBS's demographic and utilizes animated page transitions to pull up voting data as well as linking to past related stories.