Second Super Tuesday
MSNBC is showing off its nifty virtual graphics package again during tonight's primary coverage, shown in this Super Tuesday screen grab.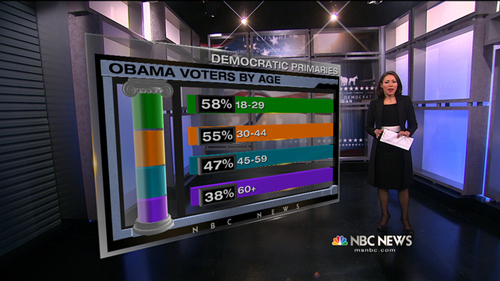 The network has already tweaked this area of the set, removing the red and blue graphics and replacing them with blue and gold hued imagery that seems to integrate better with NBC's "Decision 2008" graphics package.

Also of note: NBC's political director Chuck Todd is reporting from the balcony location in studio 3A that was previously used for Norah O'Donnell's exit polling data reporting location. On Super Tuesday NBC was using Studio 1A for his reports, as shown in this YouTube clip:
Tonight, O'Donnell is using the virtual graphics area of the studio for her reports, though the system does seem to be giving her a bit of trouble since she's pointing to graphics that aren't really there.Elsewhere on the dial, CNN's Campbell Brown is using the Election Center studio and making good use of the giant RP screens and attached newsroom area for panel interviews. Fox News Channel is again using the giant flat-panel monitor to present data, but it seems to lack some clarity over other presentation methods. However, Brit Hume isn't reporting from the massive America's Election HQ studio it used for Super Tuesday I; instead he's reporting from the new Fox Report set with its massive video walls.