Today's set designers soup up sets with tech, flexibility
Subscribe to NewscastStudio's newsletter for the latest in broadcast design and engineering delivered to your inbox.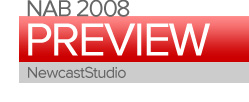 Once constructed solely with wood, nails and basic special effects, news sets have sprouted a slew of technological elements and flexible options in the face of the industry's transition to digital and HD broadcasting.

Ranging from rear projection screens, flat panel and plasma monitors, LED boards and other high-tech innovations, these additions mimic the increasingly wired world we live in and give news sets an eye-catching look with stations vying to top each other with the most impressive array of gadgets.
Rear projection screens are becoming increasingly popular, even in smaller markets. Through pricey, an RP screen creates key opportunities for displaying live video and branded graphics in a "larger than life" way. Frequently placed behind the anchor two-shot, common uses include video feeds, topical graphics, animation loops and live or taped cityscape feeds. Not only do RP screens give stations the flexibility of changing backgrounds instantly and the ability to give different newscasts unique looks, they also gives shots an active feel when motion graphics are used.

The longtime staple of plasma screens on stands has continued to be popular by continuing the flexibility of RP screens and adding the convenience of being mobile, allowing them to be used in different areas of the studio.

Weather centers are becoming more and more stocked with technology, as well. Large DLP monitors, flat panels and monitor arrays give the viewer a glimpse into the weather data and maps used by the station's meteorologists.

As technology continues to evolve, large format monitors will continue to play a prominent role in set design. RP screens are facing new competitors already as oversized LCD and DLP technology enters the market. Currently spanning as much as 100 inches, these monitors provide sharper, brighter pictures and easier maintenance alternatives to RP technology. In addition, these screens typically require less floor space, making it possible to fit huge monitors into smaller studios.

Despite this, these large format screens still have some cons. Prices still haven't become truly affordable, though, as with all technology, price drops can be expected in the near future. In addition, some of these monitors are extremely bulky and heavy, requiring special mounting considerations and hardware. However, as prices continue to fall and larger and lighter screens on the horizon, these units are poised to become viable alternatives to RPs.

The set design industry has also been particularly busy as stations begin to consider HD conversion issues. Many older sets are being replaced with scenery that stands up under the higher picture quality of HD, but also to accommodate HD's commonly-used 16:9 aspect ratio.

Continuing along the HD conversion trend, many stations are also scrapping their original facilities in favor of ground-up new construction. The reason? Rewiring and outfitting older facilities is often more expensive and intrusive than starting over. The fresh start is key for meeting the challenges of HD news production, including sets.

Flexibility is another key element TV stations are looking for in new sets. As budgets continue to shrink and the demand for more scenic options and variety grows, executives want to get the most set into their studio space and out of their dollars.

Designers are responding to this with, as already mentioned, mobile monitors and large format screens. Other techniques include changeable duratran backgrounds, movable anchor desks and presentation pods as well as entire set areas designed to serve as multipurpose interview, sports and franchise venues.

The next year will continue to be an exciting time in the set design industry as more stations hop on board the HD bandwagon and technology innovations continue to find their way into news sets. In addition, innovative new designs and trends will undoubtedly surface.
Look for profiles of leading set design firms in our continuing NAB Preview series, coming up every weekday through April 11.