'Countdown' sets up new site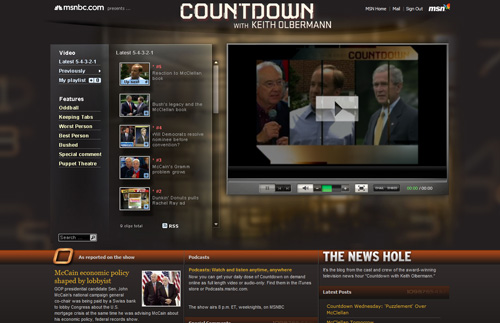 "Countdown," one of MSNBC's most popular programs, has debuted its own standalone site.
Earlier this year, NewscastStudio had speculated which MSNBC or NBC property would be next to get a branded site, though our guess was "Meet the Press." However, it seems logical that with Countdown's increasing popularity (it recently scored MSNBC a first-place demo win for the first time in years) would make it the next to get a makeover.
The layout is identical to the "NBC Nightly News" site but features different graphics and, also like "Nightly," uses video as its centerpiece. Like the "Nightly" site, the graphics are rich and bold and truly immerse the user in the program's brand. Text links to other content appears below, as does a dynamic module linking to other MSNBC.com content.
Interestingly, however, "The News Hole," the show's blog didn't get a redesign. In fact, most of the MSNBC.com blogs are still using the design from the site's previous incarnation that uses a small "dog ear" graphical element. Unfortunately, this look doesn't mesh well with the new look of MSNBC.com — though some blogs, including the little-updated Alpha Channel, have a much cleaner and better design.
We're still wondering when "Meet the Press" will get a new look. It seems to make sense with the increasing popularity of political news…