Couric's HD debut comes with set tweaks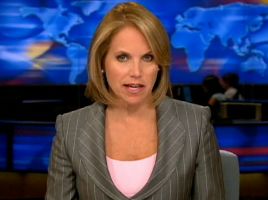 Last night's "CBS Evening News," the first in high def, introduced a new background on the show's newsroom set.
The world map, once an orangeish shade, is now a bold blue hue with some accents of yellow and red.The original set, designed by Broadcast Design International, was installed for Couric's first show Sept. 5, 2006.
It's not uncommon to see minor changes like these when broadcasts flip the HD set using an existing set. HD cameras behave differently than SD and issues such as lighting, contrast and color selection need to be reevaluated.
It's interesting to note that the new Couric set closely resembles the layout of the Rather and Scheiffer-era design. That set was also designed by BDI — with the additon of three projection screens during the Rather tenure.
The new environment adds a rear projection screen to the right and, while the scenic elements remained thematically similar, the colors, texture and depth were brightend up from the previous set's blues and warm wood tones. In addition, an interview area was added to facilitate the show's original mission of focusing on Couric's skills in that arena, though it has seen less use since that strategy was shed.
Photo courtesy of TVNewser.