KSWB-TV debuts newscasts with 'mega map'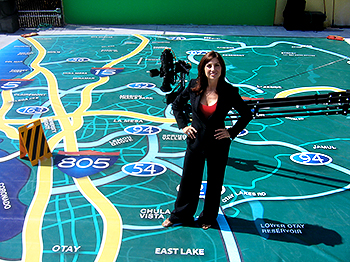 KSWB-TV, the station San Diego that recently swaped Fox affiliations with XETV-TV, debuted 37 hours of weekly news reports yesterday.
One of the newscasts' most prominent features is a sprawling "mega map" that is used to present traffic reports. The station's traffic reporter, Chrissy Russo, is able to walk over the city's highways and byways, pointing out trouble spots as a jib camera records the action.
Photo courtesy of Tribune.