Break into The Vault by Stephen Arnold Music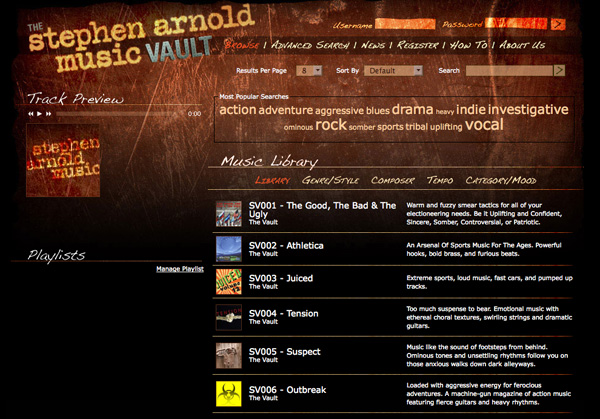 Rolled out in mid-summer, The Stephen Arnold Music Vault is your one stop source for all of Stephen Arnold's Music. The Vault is the anti-library, comprised of original tracks by Stephen Arnold and others that each break a music mold.
"What sets the new Stephen Arnold Music Vault search engine and library apart from others is a combination of high-quality and simplicity. The collections are managed and developed by real composers rather than merely agents, with most tracks created for real projects and scored to picture."
This new vault of music is a great resource for creative professionals looking for the right track. Users can easily browse by cds, track types, moods, instruments and many other keywords. Overall, The Vault is one of the better layed out music search engines.
"The search engine will allow customers to access its extensive collection of music tracks by H2U and 3Volution. H2U is a Swiss and German company, comprised of three of the most successful award-winning album artists and commercial ad composers in Europe. 3volution has developed music for some of the highest profile video games and movie soundtracks in the U.S. and is known for its bone-crushing heavy metal sounds. "
These new added collections add depth to the library and add tracks rarely heard in America.
The easy to use search engine combined with good music make The Stephen Arnold Music Vault a great music resource.
Learn more about The Vault at: http://anti-library.com/
Break into today at http://search.stephenarnoldmusic.com/