Green screen?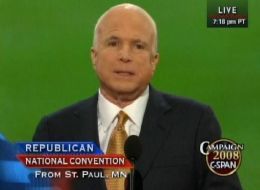 Both conventions this year had nice graphics projected behind candidates, but the RNC took it one step further. They made the screen green so home viewers or smart YouTubers can fill in whatever they want…
This background is suppose to be of grass, but watching it appears to be one giant  key wall. Throughout most of the convention patriotic images and red graphics were shown.
The Democrats also had a solid blue screen at a few times, but the majority of the time an image was projected.
With giant screens come giant power…