Western NY school gets new set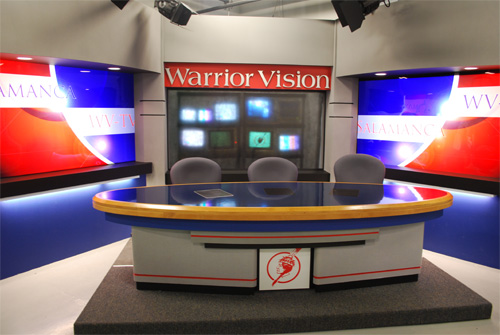 A Salamanca, N.Y., high school video program has a new look in its studio that rivals that of many smaller-market, professional stations.
With design help from Buffalo, N.Y., NBC affiliate WGRZ-TV and CBS affiliate WIVB-TV, the program has a new gray-toned set with a monitor wall background camera center. The right and left side of the set feature duras boasting bold, eye-catching colors that stand out well against the neutral finishes found elsewhere on the set.
The station, which airs locally on Atlantic Broadband, recently moved into new digs thanks to a school-wide renovation. The new facility includes a Grass Valley Indigo switcher and Ikegami studio cameras.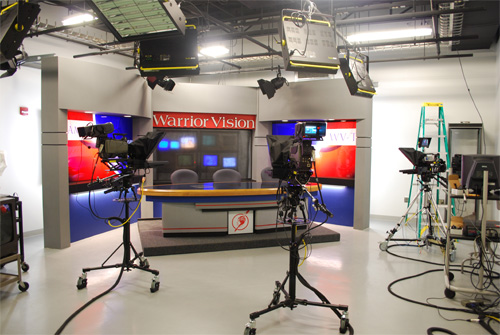 "We receive a lot of feedback that our operation and studio will rival many small market and college programs," says Donnald G. Hensel, the school's principal.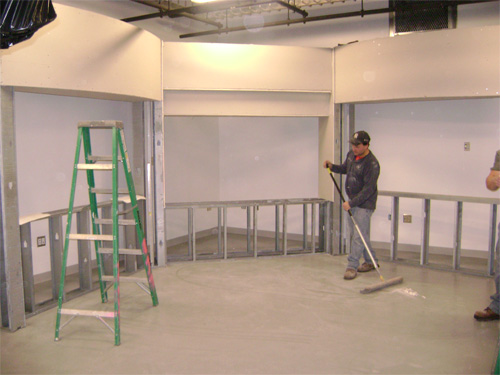 We agree. We're rather impressed with the work this school was able to create and its shows some great examples of how set design can be achieved on a budget. The monitor wall, for example, appears to be made from ordinary shelving units stocked with some old monitors. A translucent cover stretched over the opening finishes off the effect.
It's also important to note that the school's duras are designed to accomodate shot framing. There's a strategically-placed "gap" in the graphics in the middle that prevents the words from running out of an anchor's head, for example.
The set also features some nice details such as the downlights installed under the ledge on camera right and left and the black reveal lines on the columns.
Salamanca HIgh School got many of its ideas from NewscastStudio.
"Your Web site has helped us in the past year to get ideas from across the country to help build or set and settle design issues," said Hensel.
We're glad that the folks up in Salamanca found NewscastStudio to be helpful. That is, after all, of one of our main goals — to become the ultimate resource for television newscast inspiration.
The latest in design, production and engineering
Subscribe to NewscastStudio for the latest delivered straight to your inbox.