NBC begins rebranding O&O sites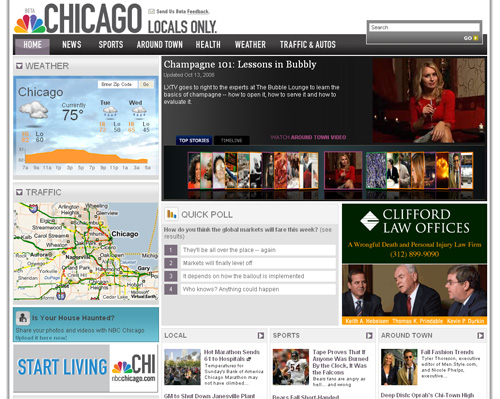 NBC owned and operated stations have begun rolling out a new look and branding scheme.
The first station to go live, WMAQ-TV in Chicago has switched from using the "nbc5.com" domain to "nbcchicago.com."
Los Angeles, San Diego and San Francisco are scheduled for new sites launching Oct. 16 while Dallas, Philadelphia and Washington debut Oct. 20 and New York and Hartford, Conn., come online Oct. 27.
With the name change comes a new design as well.
The new look utilizes a clean, vertical typface and a peacock-inspired color scheme that appears in the navigation bar hovers and the featured story box's "slideshow" feature. In addition, the new design ties in with the newly redesigned NBC.com.
The number of stories in the showcase box is a bit overwhelming, though the concept and animation does add a nice spark to the site.
The rest of the site is cluttered and even editorial content such as weather and traffic could easily be mistaken as an ad. The site also lacks "scanability" which makes it difficult to quickly get an idea of what's making news in each of the site categories.
That said, the site does have some nice shading that adds a subtle 3D look, a feature that's particularly prominent in the box headers found throughout the site.
It's also interesting to note the new sites feature a "Powered by Broadcast Interactive Media" tagline, meaning that NBC has begun dropping Internet Broadcasting Systems as its CMS provider.
The domains represent an interesting new direction as well. Assuming NBC follows the same scheme, the format appears to be "nbc(cityname).com" rather than call signs or "nbc(channel number).com" as has been used in the past.
The naming strategy seems similar to News Corp.'s O&O URL setups that use "myfox(cityname).com" as Web addresses. It also seems to be a part of a growing trend in the industry to shy away from using channel numbers since they are often irrelevant to cable and satellite users and the upcoming digital transition will render them technically inaccurate.
Also of note is the new sites' slogan "Locals only." While it's somewhat clever and certainly emphasizes the local nature of the site, it also seems a bit confrontational to outside users.
We're not clear what this new scheme means for MSNBC's individual local sites, which were announced shortly after the site's redesign launched but haven't been mentioned much since then.
Speaking of MSNBC, why doesn't NBC use the MSNBC look and feel, as well as the backend system, for its local station sites?