A look at how FNC uses extra HD space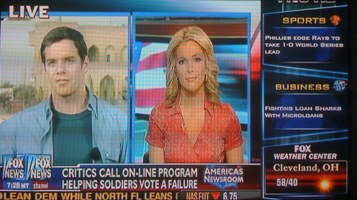 :
From TVNewser: Fox News Channel HD was recently added to the high def lineup available to DirecTV subscribers, and thse viewers have access to additional news and information in the right-hand bar similar to the approach used by CNBC and other cable news outlets.
In the extra space, rotating "modules" of information such as sports, business, weather and news headlines list tidbits of news and information. In addition, the space is also used to promote Fox News Channel programming.