Curry almost 'hit' by some graphics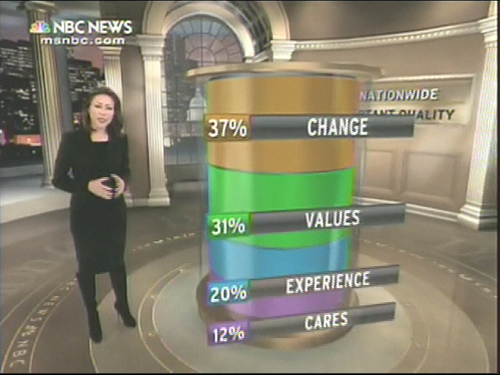 The network evening newscasts are under way in the eastern and central time zones, so we'll take a quick look at what's going on.
"NBC Nighlty News" utilized the network's 3D environment system featuring Ann Curry with exit polling data.
When Ann tossed back the anchor desk, Brian Williams quipped about how some of the graphics almost hit Ann, garnering a smirk from Curry.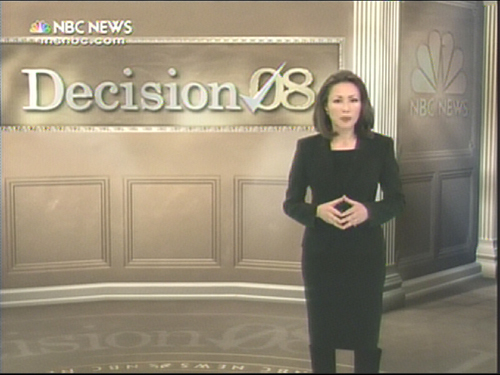 The NBC environment features faux columns, marble and other  structural elements you'd expect to see in a government building. However, with animated floor markings and walls that morph into to graphics, it's pretty clear this isn't a real studio set.
The one issue we saw with this studio is there's a pretty obvious green glow around Curry (you can see it above).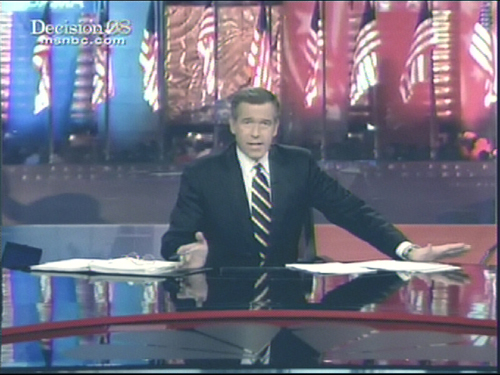 Meanwhile, Williams was anchoring from the NBC Sports set. Nightly News used an extended open that showed multiple angles of "Election Plaza" before switching to inside. It's a bit misleading, however, how NBC is projecting what appears to be a live video feed of Rockefeller Plaza behind Williams, creating the illusion of him anchoring from outside like the last election night when NBC went all out with "Democracy Plaza."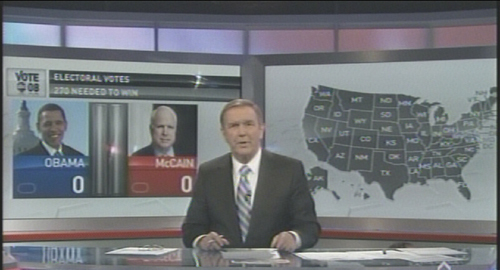 ABC News, originating from Times Square, had Charles Gibson seated between two large screen monitors with election data displayed on them.
ABC went for a clean look, with shiny silver finishes, light red and blue accent lighting and simple and straightforward map graphics.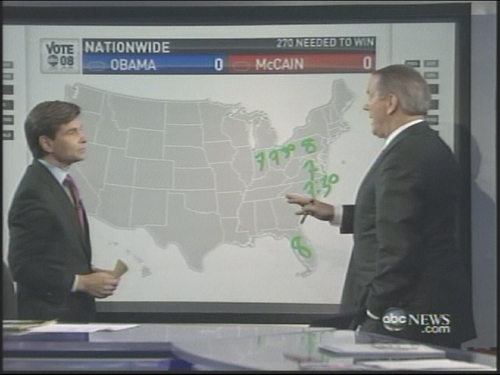 Those screens double as touchscreens for Gibson and George Stephanopoulos to analyze electoral scenarios.
Over at CBS, Katie Couric's main background was changed out for a stylzed American flag backdrop with subtle CBS eyes blended in on either side. We think this background looks better than the network's normal look; which is very bright and overpowering.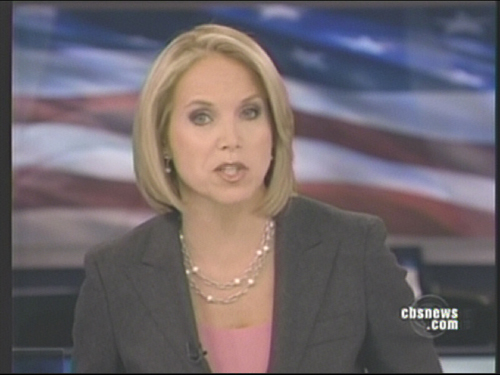 Also, the large screens suspended from the ceiling and huge anchor desk used in the primaries have returned.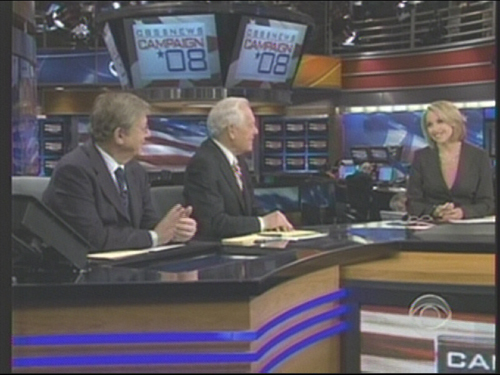 CBS had two of its analysts seated off to one side of the newsroom. While the camera angle is nice, the talent seems to be sitting at "the kids" table. There's too much of the desk in the shot and they seem scrunched into the space (which makes sense since it's a temporary location).
In addition, CBS was "double boxing" Couric and the analysts, a look that was a bit awkward since they were sitting fairly close to each other. Although this kind of illusion is used all the time in TV news, it just seemed a bit odd since the background elements were so similar.
We would have liked to see the analysts reporting from the anchor desk or, if that wasn't possible, perhaps a set outside of the main studio.