WNBC taking set design from the Death Star?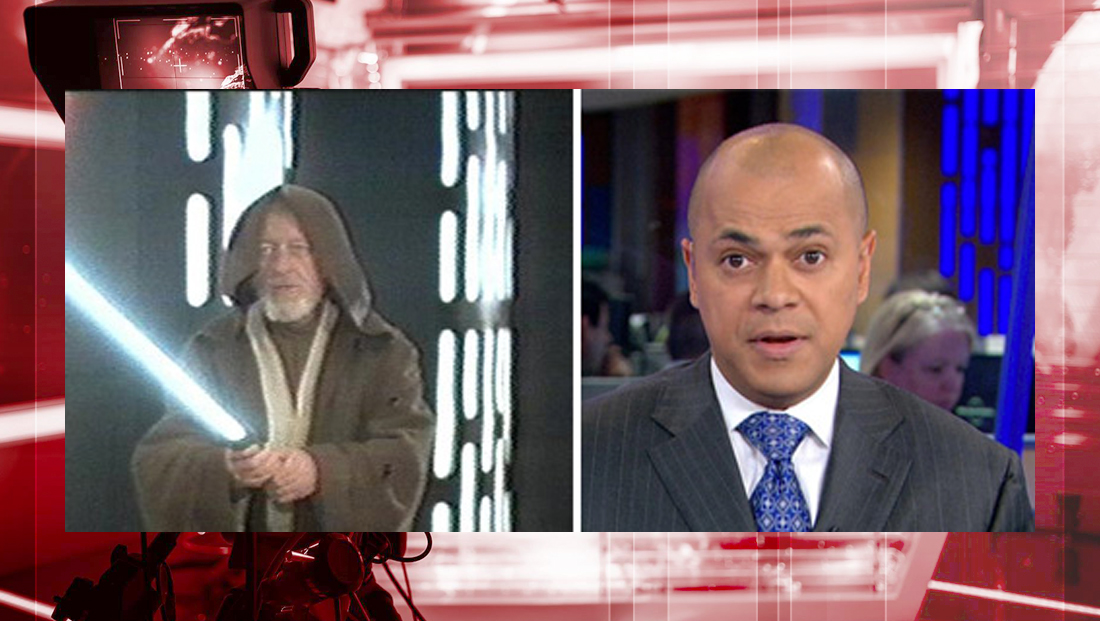 OK. Let me just get it out of the way. The first thing I thought of when I saw WNBC-TV's new set was the Death Star — if you take away the color, the vertical, back lit patterns found in walls are pretty darn close to the background elements seen throughout the Death Star sets.
Anyway, today WNBC-TV, NBC's flagship O&O in New York City debuted a new set that features a working newsroom background.
The rectangular anchor desk mirrors the one found on the Nightly News studio and certainly gives off a sleek, polished look.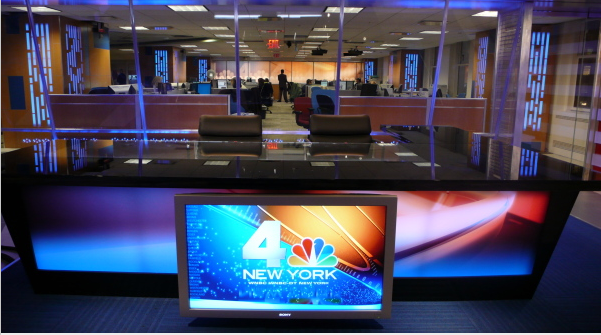 Throughout the set are bright blue and red sculptural elements that form geometric zig-zags and bars. The blue is a bit too harsh and seem a bit edgy for an otherwise straightforward market.
I do like the frosted NBC peacocks that extend across the half wall directly behind the anchor desk, but wonder why there's a gap in the center, directly between the anchors. It looks odd to see nothing but the floor and backs of chairs in this space.
I'm also not crazy about how you can see the drop ceiling. Although not as distracting as the lighting fixtures seen behind Atlanta's WXIA-TV's set background, it still makes it seem like the news is being reported from a regular old office building. It's also a bit distracting to have those accent lights behind the anchors. We wonder if the set might look a bit nicer if the drop ceiling was black?
Honestly, when we first reported the WNBC-TV renovations back in September, we were expecting that looked more like the combined MSNBC and NBC newsroom, also found in 30 Rock – something with a bit more polished look with more metal or perhaps something like the warmer "Nightly News" set. It actually would have been interesting to see a local NBC affiliate use a look similar to the network to create a very cohesive sense of brand unity.
The set also features a working weather center with backlit panels reminescent of MSNBC as well as a 103-inch monitor used for both weather and standups. Though one could debate if its wise to present weather in front of a real screen as opposed to chroma key due to visability issues, it was smart to place the screen in a central location that isn't branded with weather graphics so such a large investment can be used to its maximum potential.
Overall, however, this is definitely a standout look for a market known for rather stodgy local news sets.
It will be interesting to see if WNBC-TV is planning any additional sets for its new 24 hour local cable news channel.