NBC News promoting 'ICue' game for Facebook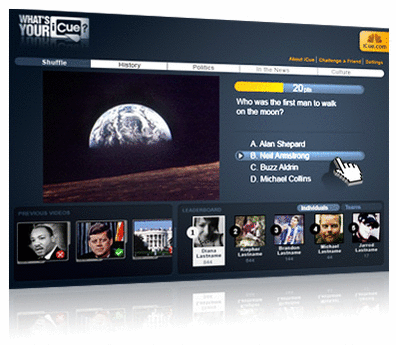 MSNBC has been running promos touting its "ICue" game. Visiting the URL listed on the ads, www.whatsyouricue.com, takes visitors directly to a Facebook application page.
The application itself combines archival NBC news footage with trivia questions, as shown above.
This is an interesting approach to a "young viewer strategy" but the historical nature of the game may not be as appealing to the Facebook-type crowd. Plus, if all the questions are as easy as the "Who was the first man to walk on the moon?" one shown in the sample, users could be insulted and tune out. Perhaps questions could have a more modern approach but use historic events as background to not only test players on current events but also show how modern times connect with our past.
That said, the idea itself is a great. The big three networks have such vast video archives that putting them to use in ways like this just makes sense (remember "Time & Again" on MSNBC?).
As online video storage and sharing becomes more and more widespread, affordable and practical, networks of all types need to consider the implications of their archival footage. Historically those archives have been well-guarded but today's information-driven age demands easier access to those materials. Plus, there's probably a decent way to monetize that content (that's already been paid for, remember) to meet the changing media climate and demands.
After all, it's not doing much just sitting on some shelf or server somewhere…