Post-Newsweek station sites redesign, rebrand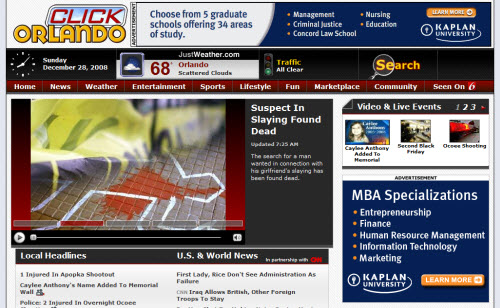 At least two Post-Newsweek stations have relaunched their Web sites under a new brand, with all of the group's sites receiving a facelift.
WKMG-TV, the CBS affiliate in Orlando, Fla., is now known as "ClickOrlando.com" – it was previously named Local6.com to correspond with the station's on-air brand. For a video tour of the new site click here.
WDIV-TV in Detroit is now known as "ClickOnDetroit.com." The chain's KPRC-TV in Houston has used "Click2Houston" for some time now.
The new branding is a bit puzzling, considering the most obvious choice should be the station's call signs, followed by a CBS-mandate style scheme such as "NBC10.com" or "CBS2.com."
That said, many stations have been experimenting with alternate domains, possibly as a way to distance themselves from channel numbers that have become increasingly irrelevant with the spread of cable and digital television's new channel assignments. Another reason behind the strategy is to reinforce the fact that a station is more than just a TV station.
However, one must wonder why, in this example, WKMG would want to not use its newscast brand online as well since it's already invested tons of time and money getting folks to know and use it.
One question, however, how much these domains "stick" with the public since more often than not they tend to be more complex and long than just a plain old domain. It's also interesting to note that this seems to be the result of a trend that's already come and gone: remember Internet Broadcasting's "The(Fill-in-the-blank)Channel.com" and "Channel(number)000.com" branding?
That said, the new site designs are much different than the usual Internet Broadcasting look, something that helps make the sites standout, especially in markets like Orlando where more than one site is powered by IB (in Orlando it's actually all three major network sites).
However, the new look is a bit dated and while some of the Flash logos work well, others cross the line to corny (ClickOrlando.com is perfect example).