ArtWorks at Work: Behind the design
Subscribe to NewscastStudio for the latest news, project case studies and product announcements in broadcast technology, creative design and engineering delivered to your inbox.

This is part two in our exclusive interview with Sam Mandragona, the outgoing creative director at NBC (miss part one? Read it here).
Mandragona has spent the last two decades with NBC working on numerous projects, including designing the graphics for MSNBC's launch, Decision 2008 and the network's flagship programs "NBC Nightly News" and "Today" and garnering numerous awards, including multiple Emmys and BDA honors.
Today's installment focuses on the creative process behind the Decision 2008 graphics.
NewscastStudio: When did you and your team begin planning for the graphical look of the 2008 election coverage?
Sam Mandragona: The first phase of design was begun in early 2007 with new logo designs submitted for approval. Discussions were then held with the senior producers and directors to review our previous packages and how we want to move forward, both technically and creatively.
NS: How do you begin to approach a design project like this?
SM: A core design team was established to review new technology, brainstorm on ideas and meet with the NBC News production staff. We reviewed the main deliverables necessary for the coverage, from primaries to election night. We also discussed new trends and technological capabilities that we would use to enhance the coverage. We would then regroup with the designers and work on the various concepts we would present. The final presentation incorporated three distinctly different design themes for the producers to choose from. The project itself would be completely done in-house which meant not only were we designers but actually responsible for learning how to model and build complex scenes for virtual reality production.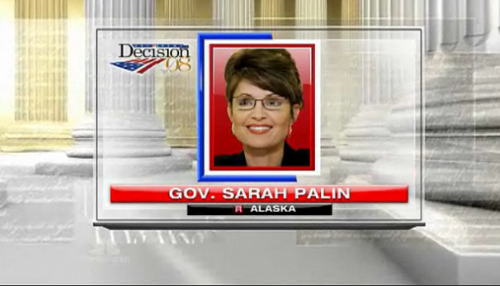 NS: How did your team decide to use columns as the main graphical theme of the election graphics?
SM: The column theme was one of the three design themes submitted for consideration. The NBC News Decision 08 producers felt this was the direction they wanted to go in for the coverage. It reflected government and tradition, which was important given the historical importance of this election.
NS: What do you think makes NBC's election graphics package stand out against other networks?
SM: We always want to differentiate our coverage visually from other graphic packages and create an identifiable recognition for our audience. By utilizing architectural details it gave the viewer an immediate perception of Washington DC and placed our talent in an environment that was familiar and not out of place. The challenge for this package was to create this distinction on a network level and for MSNBC on the cable coverage. We were cognizant that whatever we designed would also need to work for 2 different production groups and different audiences. We were aware that many of our competitors would be utilizing touch-screen technology. We decided that NBC needed to be distinctive so we focused on developing VR as our major production vehicle. This would allow us to do more analysis in a creative manner. The Chuck Todd VR set had an extreme amount of capability for him to use for analysis and illustrative purposes.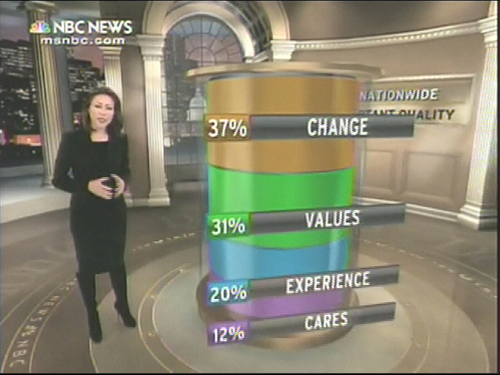 Our technical challenge was in doing this all in a real-time system. For instance, we couldn't use the existing databases for county level map graphics because the actual data sets would be too complex for the system to handle in real-time. The artists actually built by hand every county for every state so we could control the polygon count and not impact on the performance. Each of these hand generated counties all had actual data assigned to it so we had to be very accurate. It was quite an undertaking given that a state like Texas has over 200 counties alone.
NS: For the 3D environments used on election night, how did you decide what the look and feel should be?
SM: The environments themselves were actually the last elements to be designed. Real-time systems have a threshold of performance that can't be overlooked. The graphic displays were the most important element in the scene for the talent and the audience. We calculated the performance of the displays in the VR set, then designed the supporting environment. The goal was to create an architectural setting with many locations designated for specific purposes. The environment needed to be flexible for many different camera views to allow the directors the opportunity to make the coverage more interesting. The look and feel was then built within whatever level of machine performance we had available. There was definitely some compromises we had to make in the final detail of the environments based solely on computing power and performance.
Coming Dec. 30: A look at some designs for Decision 2008 that didn't make it on the air
Subscribe to NewscastStudio for the latest news, project case studies and product announcements in broadcast technology, creative design and engineering delivered to your inbox.