Behind the Storm: Getting ready for election night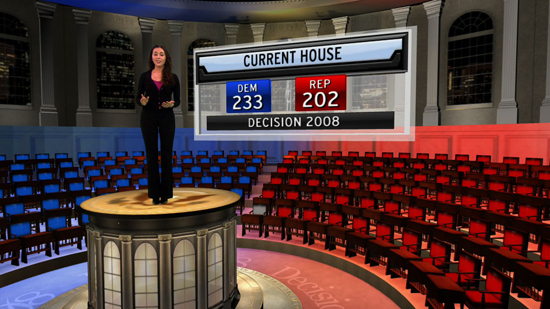 This is the second part of an exclusive three-part series on Brainstorm America, the company behind NBC News' 3D election graphics. Part two, coming Friday, will focus on how Brainstorm's team developed the NBC News look and feel. Part three, coming next Wednesday, will cover Brainstorm's vision for using its technology in local news. Read the previous installment here.

Brainstorm's involvement with NBC's Decision 2008 coverage began two years out and required the team to work closely with a wide variety of NBC staffers.
That team included Artworks, NBC's in-house design agency, a process covered in NewscastStudio's previous series "Artworks at Work." NBC also designated key artists who were trained on the system and who were given access to the Brainstorm technical team's know-how and assistance meeting the network's specifications and quality benchmarks in the final graphics.
More details and photos after the jump.
NBC continues to use the Brainstorm technology for "NBC Nightly News," "The Today Show" and even late night entertainment programming for event and data-driven graphics. In addition, the system has been utilized on some long-form programming such as "Dateline" and "Headliners & Legends" on MSNBC.
For its election night coverage, NBC opted to use Vinten's Quattro SE VR pedestal and 950e head along with an EncodaCam jib from General Lift.
Brainstorm was also engineered with stability in mind. Redundancy is built in at many levels and can cover most failures. Should the camera tracking technology fail, the system can still remain on air, though camera movements and shot selection may be limited. That said, the system has never had an on-air failure in the six years the NBC family has been utilizing it.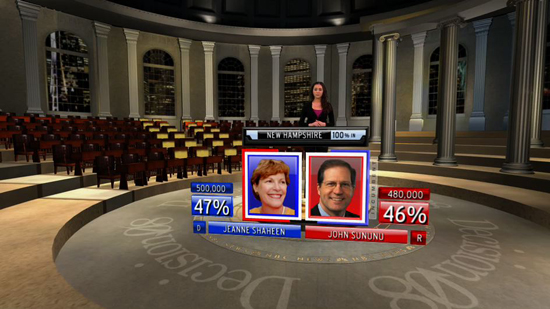 In fact, NBC left its Decision 2008 systems online until January of this year. Hoffman explained the systems were still actively running the graphics playback exactly as they had been three months before.
Ultimately the goal of any technology should be to help tell the story better – a fact that Brainstorm is very well aware of.
"In all my presentations I emphasize that the process always begins with the editorial staff. What do they want to say?" Hoffman explained.
Once the story is defined, Brainstorm technology can enhance the story in many ways, including better visualization of data, adaptable set environments to accent or explore variations in the storyline and, finally, speed of production.
However, the storyteller is still central to any Brainstorm application, says Hoffman. This point resonates with many of the feelings viewers had on election night as some technology felt too gimmicky and over-the-top, not adding any real context to the coverage.